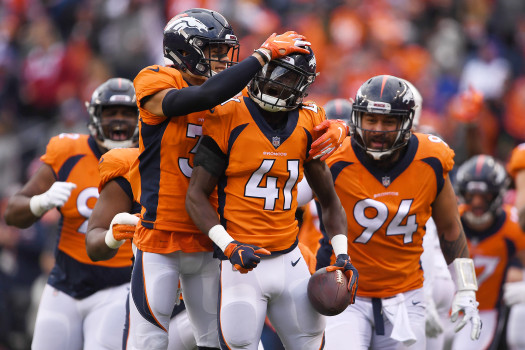 Broncos cornerback Isaac Yiadom is entering his second NFL season and certainly has high expectations for himself and the defense. The 2018 third-round pick is aiming to build off a season in which he saw action in 13 games with one interception and three passes defended.
Yiadom joined Eric Goodman and Les Shapiro on Mile High Sports AM 1340 | FM 104.7 to discuss how he can improve with a year of professional football under his belt.
"As the season went on last year, I started to get more comfortable playing out there, more confident in my game, so I have been working a lot this offseason and I feel good," Yiadom explained. He continued by saying he considers himself a veteran in his second year and that there is no more room for rookie mistakes.
When asked how Vic Fangio's system benefits Yiadom's skill set, he responded, "It helps me play fast, I'm really comfortable in the playbook, so the number one thing it helps me do is play fast." Fangio was the defensive coordinator for the Chicago Bears last season, orchestrating the third-ranked defense in the NFL.
Yiadom is getting reps in training camp with veterans such as Chris Harris Jr., Kareem Jackson and Bryce Callahan. He described what it was like playing with those guys, saying, "Every time I'm on the field, and somebody tells me I did something wrong, and they have something to tell me to help better my game, I am going to listen to them." Yiadom also harped on how crucial it was for players, such as Jackson, being in the meeting room dishing out advice to the young guys.
The Broncos organization undoubtedly anticipates Yiadom will make the leap in year No. 2 and become a solid NFL cornerback.
"I am not ready to give up that spot anytime soon," said Yiadom when asked if he aspires to be the Broncos nickel/dime cornerback this season.
Gaining experience and playing meaningful snaps as a rookie should benefit Yiadom as he enters his sophomore season in the NFL.
You can listen to the full interview here or below, including what he had to say about his coaches believing in him.
Catch Afternoon Drive with Goodman and Shapiro every weekday from 4p-6p on Mile High Sports FM 104.7 | AM1340 or stream live any time for the best local coverage of Colorado sports from Denver's biggest sports talk lineup. Download the all-new free Mile High Sports Radio mobile app for Apple or Android.