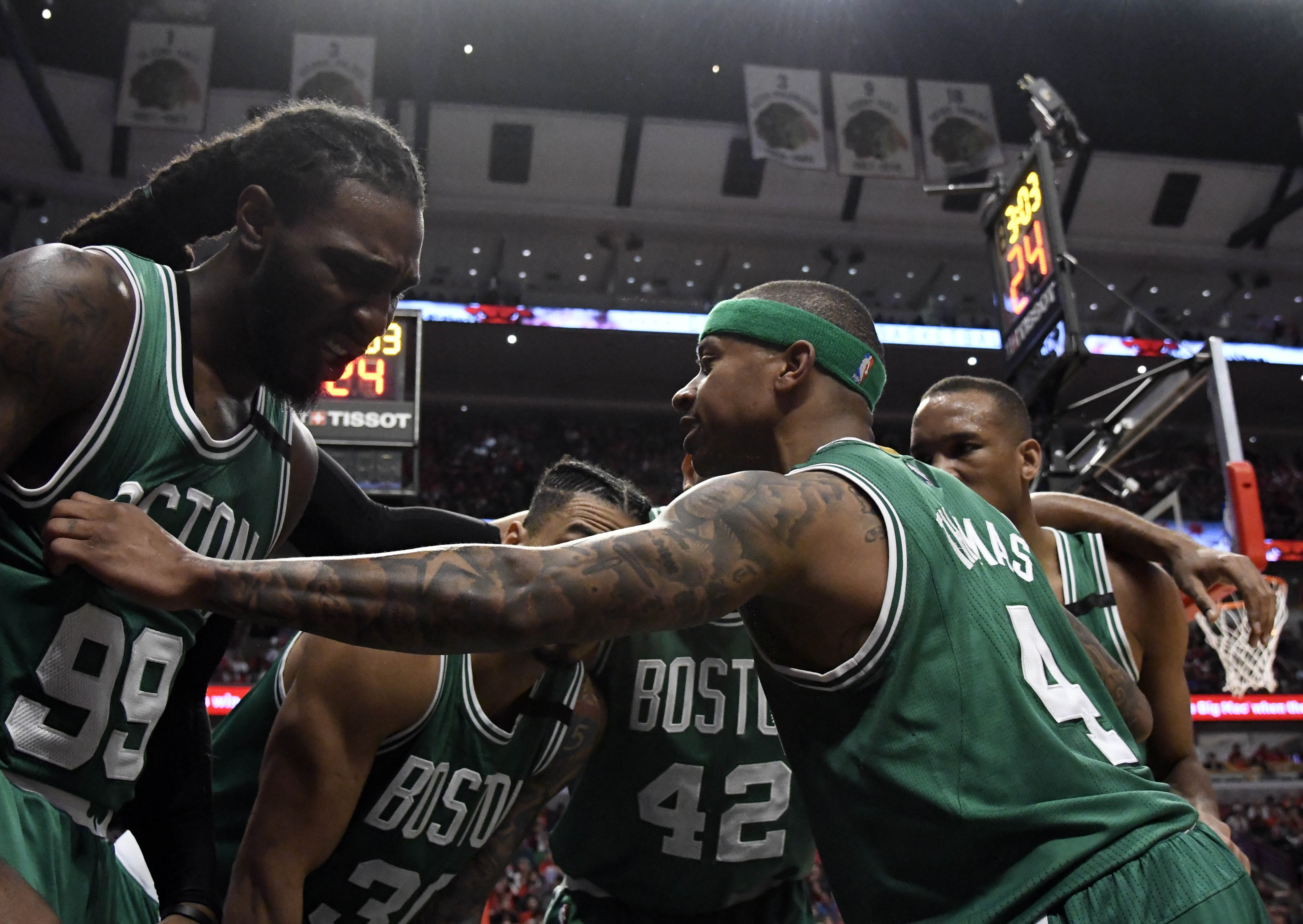 If there is one thing — other than defense, of course — that is clearly lacking when it comes to the Denver Nuggets roster, it is bold personalities. The only player who brings swagger and exudes confidence consistently is Will Barton. Sure, Jamal Murray, Gary Harris, and Nikola Jokic have unique personalities, but they are not in the mold of a 'killer' or an 'alpha' at this point in their careers.
Because of that, Isaiah Thomas may be exactly what the Nuggets locker room needs — a fiery, self-assured, and mentally-impenetrable individual who stares down impossibilities as if overcoming them is inevitable.
Having Thomas' elite mental toughness and self confidence on the roster could bring new life to Denver's tranquil locker room and embolden the young Nuggets core to be their unadulterated selves. All three of Harris, Murray, and Jokic still have heaps of untouched potential to tap into as they continue to develop as people as well as players. Adding the confidence and bravado of Thomas could be one of the keys to eventually unlock the best version of themselves.
"We have a quiet locker room," Malone told Adrian Wojnarowski of ESPN. "It won't be bad for us to have his voice and personality in there. I want Isaiah to be Isaiah."
So what does it mean for "Isaiah to be Isaiah" and how will he help the Nuggets locker room? Well, answering that question requires a closer look at the ebbs and flows of Thomas' career arc and how it molded him into the player and individual he is today.
Thomas was a three-year collegiate player at the University of Washington before eventually being selected as the 60th and final player in the 2011 NBA Draft by the Sacramento Kings. He was consistently overlooked and disregarded throughout his path to the NBA and that same trend continued through his first two years in Sacramento. Thomas never was able to get a rhythm with the Kings during his first two years; at least until a savior from Queens was employed to lead Sacramento prior to the 2013-14 season.
Michael Malone — now the Nuggets head coach — was hired as the Kings head coach and he proceeded to empower Thomas to just be himself. Malone did not try to force Thomas into any traditional point guard role like so many coaches before him, but instead did what he could to get the most out of the player that Thomas is — not the player that some wish Thomas would be.
"He was a guy that trusted me from the jump," Thomas said of Malone back on March 10th, 2017. "He believed in me, and when he was able to coach me, he allowed me to play through mistakes, allowed me to be myself, and was someone that was a 100 percent real with me from day one. So someone that I'm really close to, and we talk to this day."
The struggles that Thomas had to endure to begin his NBA career were nothing new to him as he has had to overcome his diminutive stature and people underestimating his ability his entire basketball life. What is most interesting is how being overlooked is something that both the Nuggets organization and Thomas share.
You see, the Nuggets are still attempting to remind the NBA community — and the city of Denver even — that they exist in their current form. Discussing the Nuggets with random fans around Denver rarely leads past 'I miss Carmelo Anthony' or 'I still can't believe they fired George Karl'. There are some phenomenal Nuggets fans, but to say that the team is perceived correctly by the city of Denver as a whole would be a false statement. The Nuggets are desperately trying to prove their ability and their worth to the national audience just like their newly signed backup point guard.
Thomas is in a very similar boat. He was an MVP candidate just over a year ago, but when things began to go wrong for him they went tragically wrong. Thomas hurt his hip during the 2016-17 season and proceeded to play on it throughout the playoffs. Then Thomas' sister, Chyna Thomas, tragically passed away in a car accident and it turned Thomas' life upside down. One of the few places that Thomas found solace was on the hardwood so, instead of rehabbing his hip injury and choosing not to play, Thomas fought through the pain of his hip as a coping mechanism to deal with the pain of losing his beloved sister.
"It was hard for me to sit out. I just lost my sister, one of the closest people in my life. Basketball was the only thing that was going to help me out. I played until I literally couldn't play anymore," Thomas told Wojnarowski. "And that was not a good business decision if I was looking in the long term, but I was looking in the 'right now.' That's just what it was."
After the 2016-17 season ended with Thomas watching the final three games of the Eastern Conference finals from the bench, he was traded from Boston to Cleveland after Kyrie Irving requested a trade. Thomas, now a member of the Cleveland Cavaliers, was never able to get back to being 100 percent healthy and it showed in his game. By the time the 2018 trade deadline rolled around, Thomas was a casualty of the nearly complete roster overhaul of the Cavaliers and was suddenly on his way to Los Angeles, the city that rarely lives up to its angelic name. From there, Thomas ended up getting shut down by the Lakers to have the hip surgery that he likely should have had a year earlier which has left his value in shambles.
Now that the chaos has slowly subsided, Thomas has signed for a minimum contract with Denver and his sights on proving himself to the world once again — just as the Nuggets are. That need to prove doubters wrong is what connects Thomas to the Nuggets organization. These are two parties that are desperately searching for not just acceptance, but also the opportunity to prove their greatness. The passion that Thomas embodies is why he fits in Denver and it was the main point of conversation between Thomas and the Nuggets President of Basketball Operation Tim Connelly prior to each side agreeing on Thomas' one-year deal worth $2 million.
"I wanted to talk to [Connelly] eye to eye," Thomas told Wojnarowski. "I wanted him to feel my passion for playing."
From that point forward, the Nuggets immediately knew that the fit between Thomas and Denver was ideal considering the circumstances for both parties. Denver needed a backup lead guard that can create for himself and his teammates and Thomas needed a landing spot to where he can show that he is able to produce at a high level. Denver needs to break their five-year playoff drought and Thomas needs a large stage to show the world that he is still the flame-throwing lead guard who can score in bunches. That is the first mutual goal that the Nuggets and Thomas share — making the playoffs.
"Be a playoff team," Thomas told the Washington Post when asked what his expectations were for his upcoming season in Denver. "That's the goal. They were one game from the playoffs [last year]. I'm just there to help, in any way I can possibly help. I know Mike Malone trusts who I am, as a player and a person, and he's going to give me the opportunity, and I'm going to take advantage of it."
The next goal on Thomas' list is proving he is healthy and, according to Thomas' former assistant coach Jay Larrañaga who is with Thomas at Team USA's minicamp, he has looked much like his former self even if he still is unable to play full contact five-on-five. Larrañaga also took the opportunity to speak on his adoration for Thomas.
"Isaiah is the best," Larrañaga told the Boston Globe. "I told him a bunch of different times in Vegas how much I'll always owe to him. He's doing great. He wasn't able to do any of the live stuff, but he was like the best shooter in every shooting drill. He just made shot after shot, and he feels good. He's motivated to reestablish himself as one of the best point guards in the league. I think he's healthy. I think he's in the same situation he's been in about 100 times in his career where he's got to just re-prove himself."
If there is one thing that Thomas knows how to do, it is how to prove himself. Seemingly every day of Thomas' basketball life has been proving doubters wrong, so in a strange way this is very normal situation for Thomas. All that is left to do is what Thomas has always done and what he does best: get buckets and prove everyone wrong once again.