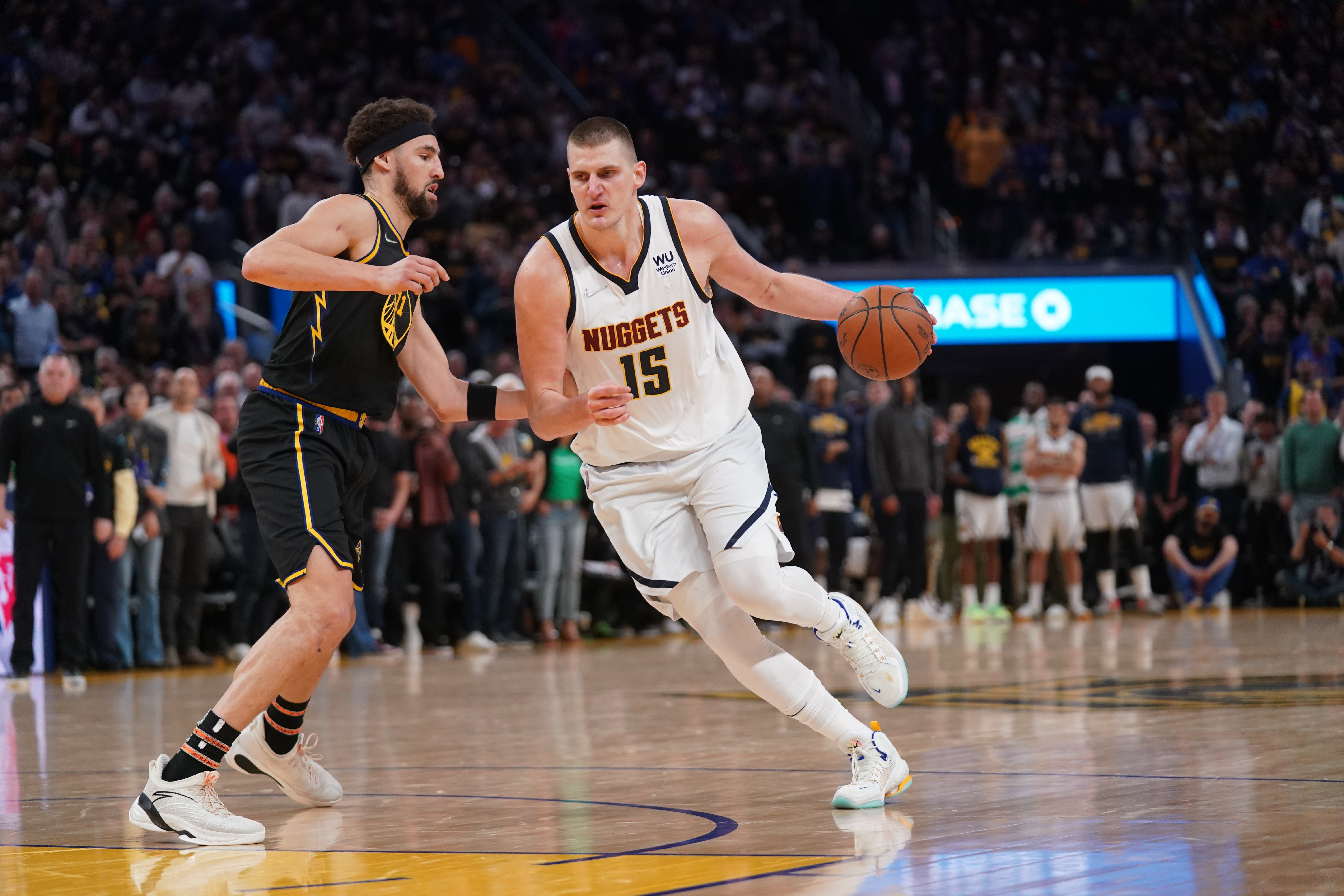 It was like watching Hoosiers for the 10th time. Like having a pretty good hunch that Ronald Miller and Cindy Mancini would eventually get back together. Like betting big on the fact that Lincoln Hawk was ultimately going to win that big-ass semi-truck.
We knew Nikola Jokic was going to win the MVP.
In what has become the worst process for awarding a league's most valuable player in all of sports – after all the speculation, straw polls, talking heads, one month and two rounds of playoffs – the NBA has finally named its MVP. Just as we suspected, it's our guy, the Joker himself, Nikola Jokic.
Actually – ironically perhaps – the Association itself has still not made an official announcement. No, the news the Denver's big man will take home his second-straight MVP award arrived this morning like most any other big NBA news – a "Woj Bomb." Yes, ESPN's Adrian Wojnarowski "broke" the news this morning, citing "sources" reliable enough to conclude that the Joker was the winner. The official, "formal" announcement has yet to be made by anyone named Adam Silver, but is expected later this week (insert eye-roll emoji here).
There's no doubt that Nikola Jokic is deserving of the award – apologies to Philly, Memphis and Milwaukee – as Jokic had a season for the ages. His raw stats were even better this year than last year, as he averaged career highs of 27.1 points and 13.8 rebounds per game. He also averaged 7.9 assists, good for eighth in the league. And if you're an analytics junkie, he was off the charts good. The number crunchers might tell you he's the most amazing thing that's happened to basketball since the peach basket.
Sure, Jokic's team isn't vying for an NBA title, unceremoniously bounced in the first round by the Warriors, but one can always make the argument that they had no business being there in the first place. Jokic put a wounded Nuggets team, a squad that was missing it's second and third best players due to injury, on his back and drug them to a 48-34 record and No. 6 seed in the West. At present he still holds the second highest scoring average in this year's postseason with 31 points per game, as well as the second highest rebounding average with 13.2.
But this is not meant as a reminder that Jokic is deserving, or as a counter-point to those who will gripe in favor of Joel Embiid, Giannis Antetokounmpo or Ja Morant. Not hardly. This is merely a question for Mr. Silver.
Why make everyone wait?
This has gotten ridiculous. The delayed announcement of the NBA's regular season MVP isn't really all that fun; the benefits of doing so are mysterious at best. By now, the debates have already taken place, and a month-long body of playoff work by any player in the discussion has taken place, distorting why the winner should or shouldn't have won in the first place – or, should have won it a month ago once the vote was made.
Had Jokic been named the MVP not long after becoming the first player in NBA history to score 2,000 points, grab 1,000 rebounds and dish out 500 assists in a single season, few would debate that he deserved the award. The announcement would have been (should have been) ahead of the playoffs, which – right or wrong – are not considered criteria in naming the MVP. But instead, there's this strange waiting period. Maybe it's intentionally planned to create drama, discussion and debate, but it feels as if the opposite effect occurs. Those debates take place early in the playoffs and die down once the first-round series get good. By now, the MVP announcement feels like an afterthought. Furthermore, those who just can't quite accept the fact that the award is based on regular season accomplishments, will undoubtedly cite the fact that Jokic's team is no longer playing as a reason why he shouldn't have won. They'll disregard that Jokic, even in a losing effort, was nearly unstoppable in the postseason; he just didn't have any help.
Worse yet, is the fact that fans in Denver don't get to enjoy or share in the thrill of Jokic's win. Without the nebulous delay, Jokic should have received a standing ovation in front of his home crowd, a gesture that could send Ball Arena into a frenzy just before tipoff of the Nuggets opening playoff game. Sure, Nuggets fans will eventually get that opportunity, but it will have to wait until October or November, hardly a climactic timeframe.
Jokic will have to average 40 points, 15 rebounds and 11 assists to win a third-straight MVP next season. That's just something that doesn't happen anymore; there are only two players in the history of the NBA – Bill Russell ('61, '62, '63) and Wilt Chamberlain ('66, '67, '68) – to ever win back-to-back-to-back MVPs. The modern NBA and its MVP voters like to spread the weath and keep things interesting. So even if the head-scratching method of announcing the MVP changes, it's likely Denver won't benefit for a while – not next season at least.
But maybe if changes are made it will be better for the next guy and his city.
We're sure glad that our guy won again, but really and truly, thanks for nuthin', NBA.