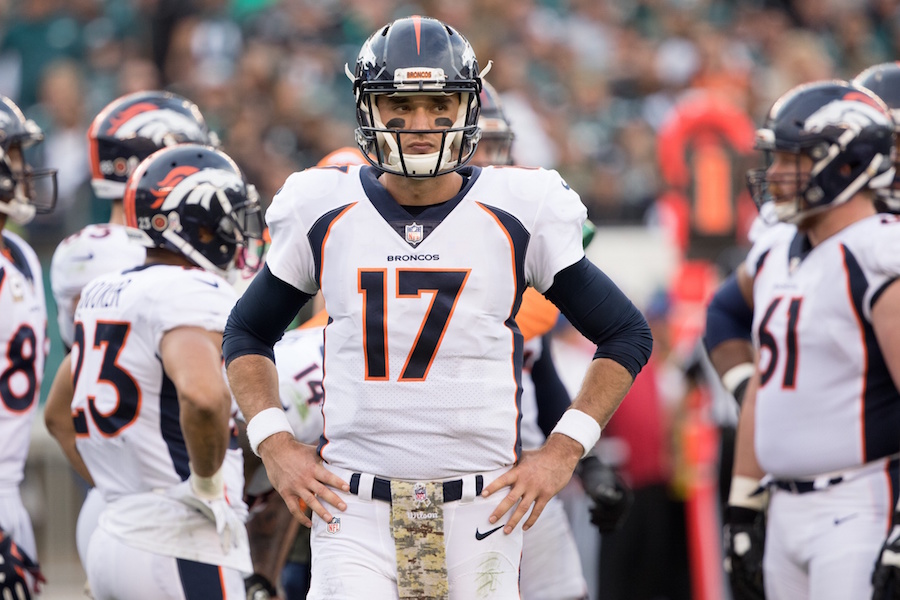 There's no getting around it. The first weekend of November 2017 was simply awful across the Colorado sports scene. With a combined 14 "meaningful" contests (not including a pair of exhibitions) on the docket from Nov. 3 through Nov. 5, Colorado teams walked away with just three victories and perhaps one moral victory – whatever those are worth.
Here's a rundown of how a downright depressing weekend in Colorado sports played out…
Friday, Nov. 3 – 5 p.m.
Denver (HKY) at Western Michigan
The No. 1 team in the country had not lost a game entering their weekend series with NCHC rival Western Michigan. The Pios were skating with a one-goal lead with less than 1:15 remaining in Kalamazoo before Colt Conrad and Dawson DiPietro lit the lamp to stun the defending national champs. Denver finished 0-for-9 on the power play and 2-for-3 on the penalty kill.
Final Score: Denver 5, Western Michigan 6
Colorado Teams' Record: 0-1
Friday, Nov. 3 – 7 p.m.
Nuggets vs. Heat
The Nuggets kicked off their longest home stand of the 2017 season with a victory, but it didn't come easy against a heat team that entered the game 3-4. Paul Millsap hit three clutch free throws in the game's closing seconds (after missing a pair one possession prior), and Denver had to make a big defensive stop to lock up a narrow one-point victory. The win moved the Nuggets above .500 (5-4) for the first time this season.
Final Score: Heat 94, Nuggets 95
Colorado Teams' Record: 1-1

Friday, Nov. 3 – 7:10 p.m.
Eagles at Steelheads
After running out to a 6-0 start to open the season, the defending ECHL champs dropped back-to-back games, including one earlier in the week to Idaho. Colorado got some late heroics as a late goal from captain Matt Garbowsky forced overtime. Michael Joly delivered the game-winner for the Eagles in OT and moved Colorado teams to a winning record for the only time this weekend.
Final Score: Eagles 4, Steelheads 3 (OT)
Colorado Teams' Record: 2-1
Saturday, Nov. 4 – 1:30 p.m.
Air Force vs. Army
It had been 306 consecutive games, dating all the way back to the 1992 Liberty Bowl, since the Air Force Falcons had been shut out. You have to go all the way back to Nov. 1, 1980 since they were shut out at home. But both of those things happened in a demoralizing loss to their service academy brethren.
Final Score: Army 21, Air Force 0
Colorado Teams' Record: 2-2
Saturday, Nov. 4 – 5 p.m.
Colorado State at Wyoming
In a year filled with so much promise (the Rams were bowl eligible with 4 games remaining on theirs schedule), Colorado State has struggled mightily in rivalry games. After falling in the Rocky Mountain Showdown, CSU has since lost games to Air Force and Wyoming. The loss also put a big dent in CSU's hopes of winning a Mountain West Mountain Division title. They now need to beat Boise State (which they've never done) and get some help from either Air Force or Fresno State (preferably both).
Final Score: Colorado State 13, Wyoming 13
Colorado Teams' Record: 2-3
Saturday, Nov. 4 – 5 p.m.
Avalanche at Flyers
Colorado emerged victorious in a back-and-forth game that saw the Avs take the lead four times during regulation, only to have Philadelphia answer to tie things up. Nathan MacKinnon and Mikko Rantanen each scored in the shootout to give Colorado the victory. Semyon Varlamov made 33 saves in the game. It was the Avs' third consecutive win.
Final Score: Avalanche 5, Flyers 4 (SO)
Colorado Teams' Record: 3-3
Saturday, Nov. 4 – 5 p.m.
Denver (HKY) at Western Michigan
Game 2 of their weekend series with the Broncos was equally unkind to the defending champs, as Western Michigan tallied three goals in 43 seconds in the third period to hand Denver their second loss of the season. Senior goaltender and Mike Richter Award winner Tanner Jaillet could not stop the onslaught, as WMU put up seven goals – the most allowed in the Jim Montgomery era.
Final Score: Denver 4, Western Michigan 7
Colorado Teams' Record: 3-4
Saturday, Nov. 4 – 7 p.m.
Colorado at Arizona State
The Buffs were unable to build off the momentum from last week's big win over Cal, as the Sun Devils ran wild on CU. After jumping out to an early lead, Colorado could not hang on late. The Buffs allowed rushing touchdowns on each of ASU's final three drives as the Sun Devils pulled away late in Tempe. CU fell to 5-5 overall and 2-5 in the Pac-12 with the loss.
Final Score: Colorado 30, Arizona State 41
Colorado Teams' Record: 3-5
Saturday, Nov. 4 – 7 p.m.
Northern Colorado at Sacramento State
A disappointing 2017 campaign for the Bears was made worse against the Hornets, who put up 50 points on Saturday night. Quarterback Conor Regan threw two interceptions and lost a fumble, accounting for all of UNC's turnovers on the night. The Bears were 0-for-10 on third downs in the game. The loss dropped UNC to 1-5 in the Big Sky and 2-6 overall.
Final Score: Northern Colorado 21, Sacramento State 50
Colorado Teams' Record: 3-6
Saturday, Nov. 4 – 7 p.m.
Nuggets vs. Warriors
Having lost in consecutive years to the Nuggets at Pepsi Center, Golden State came out on a mission. Playing their sixth game in nine days, including four on the East Coast and the second of a back-to-back, it was clear Denver didn't have much gas in the tank to run with the defending champs. The Warriors outscored the Nuggets 36-23 in the first quarter and 43-21 in the third, cruising to an easy victory.
Final Score: Warriors 127, Nuggets 108
Colorado Teams' Record: 3-7
Saturday, Nov. 4 – 7:10 p.m.
Eagles at Steelheads
The Eagles' good vibes from their Friday night victory in Idaho would not carry over into Saturday night. Colorado could not stop the Steelheads' power play unit, which went 4-for-5 in the contest. Trailing by just one entering the final frame, Colorado surrendered four goals in the third period to suffer their third loss on the season.
Final Score: Eagles 3, Steelheads 7
Colorado Teams' Record: 3-8
Sunday, Nov. 5 – 11 a.m.
Broncos at Eagles
The Eagles proved why they have the NFL's best record, but a Denver defense that entered the game as one of the best in the league on all fronts was simply dismantled by Carson Wentz despite the second-year quarterback being without his top receiver (tight end Zach Ertz) and his Pro Bowl tackle (Jason Peters). Things weren't much better for the Broncos' offense, which turned the ball over twice and made it to the red zone just twice.
Final Score: Broncos 23, Eagles 51
Colorado Teams' Record: 3-9
Sunday, Nov. 5 – 12 p.m.
AAA Texas 500 at Texas Motor Speedway
There was a silver lining for Martin Truex Jr. in his second-place finish on Sunday. The NASCAR Monster Energy Cup Series points leader accumulated enough points to mathematically guarantee a spot in the Final Four at the final race at Miami-Homestead in two weeks. The gray cloud hanging over Truex, however, was that he surrendered the lead with just 10 laps to go at Texas, allowing Kevin Harvick to steal a victory and punch his own ticket to Miami.
Final Results: Kevin Harvick 1st, Martin Truex Jr. 2nd
Colorado Teams' Record: 3-9

Sunday, Nov. 5 – 4 p.m.
Avalanche at Islanders
A mid-game trade of longtime center Matt Duchene clearly had an effect on the outcome of this one. Colorado coughed up five goals in the first two periods including a pair of power play goals by Nick Leddy in the second. Alexander Kerfoot added a pair of scores in the third to make the score look moderately close, but the Avs were never really in this one.
Final Score: Avalanche 4, Islanders 6
Colorado Teams' Record: 3-10
Other notes…
The Colorado State Rams men's basketball team played a pair of exhibition games, Friday and Sunday. CSU picked up victories in both, but things were probably much closer than head coach Larry Eustachy would have liked against Colorado Mesa (86-75) and Northern Colorado (83-79) in a pair of home games against inferior competition. The Rams tip off the regular season against Sacramento State on Friday, Nov. 10