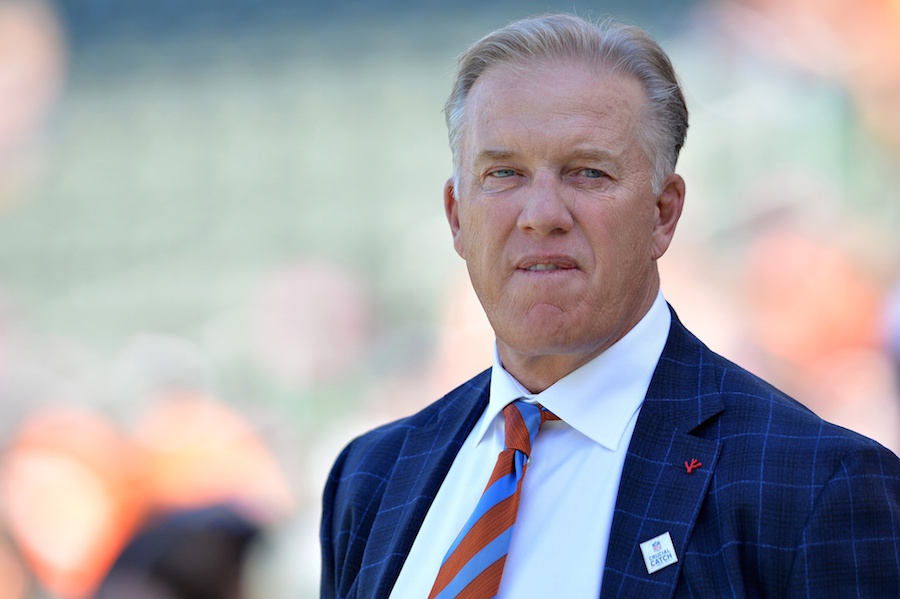 Part of my Twitter bio reads "I am slightly irrational."
I can be at times; I'm the first to admit it.
But two things: One, I don't tweet or write things I don't believe. Two, it's Twitter. It's a social media site that gives us all a platform to reveal immediate emotions. It's human nature to say stupid stuff in the heat of the moment.
With that in mind, I've seen some dumb stuff on Twitter, but one narrative floating around lately has been by far the dumbest.
"The Broncos should fire John Elway"
Shut the front door, that take is awful.
John Elway led the Broncos to two Super Bowls in three years. They won the AFC West five times in a row under his guidance. He's earned the right to see this rebuild (rebrand, relaunch, whatever) through. He made the mess, but with his résumé, he has earned the right to fix it.
A popular argument — one I've even made myself — is that it wasn't Elway, it was Peyton Manning. While that has some validity, Elway was the one who brought PFM to Denver. Even if Manning was the bigger reason for all the Broncos' recent success, without Elway, there is no Manning. It might just be one move, but it's one massive move. Words can't do it justice; it was the best free agent signing in NFL history.
Elway also retooled the defense after the embarrassing Super Bowl XLVIII loss to the Seahawks, wooing Aqib Talib, T.J. Ward and DeMarcus Ware to Denver in a span of 48 hours. We all know how that worked out; all three of those guys were huge parts of one of the best defenses of all time, a group that won Super Bowl 50.
Firing Elway — aside from the fact he just signed a new contract last summer so it's unrealistic — is an asinine notion. Who could even fire Elway? Does Joe Ellis have that power? I'm not so sure, which is another reason it's a silly debate.
Everything above is 100 percent true, but there is a caveat.
Even if he doesn't deserve to lose his job, Elway needs to take a long look in the mirror.
Look at what Adam Gase did on Sunday while the Dolphins were bashing the Broncos. That onside kick up 33-9 in the fourth quarter was a giant middle finger to Elway from Gase. He didn't like the fact he wasn't considered for the Broncos' head coaching job in 2015, instead kicked to the curb with John Fox and Jack Del Rio (who had jobs lined up, because they knew they were in trouble, but that's a different story).
Gase helped orchestrate the greatest offense we've ever seen with Manning in 2013. He thought he deserved a chance to lead this Broncos team, but Elway felt differently. Gase showed us all how he felt about that on Sunday.
And Gase isn't alone. Fox has a beef with Elway. Del Rio has a beef with Elway. Rumors have swirled Manning has a beef with Elway. It wouldn't be a shock if Eric Decker has a beef with Elway. Or Orlando Franklin. Or T.J. Ward. You get the point.
Elway isn't exactly getting the best reputation around the league, as evidenced by this report from Bleacher Report's Mike Freeman that Elway has now been labeled a "coach killer" in some NFL circles.
No. 7 needs to realize he's the boss, but he also needs to realize he's more responsible than anyone else for this mess. This has his fingerprints all over it. Maybe mending some relationships and taking some responsibility is a good idea.
And to his credit, Elway did that on Tuesday, telling the team-owned radio station he's embarrassed by this dreadful 3-9 season so far and that he's going to fix it.
That was a big step one, but it was just that — step one.
Saying John Elway should be fired is a moronic take, but asking him to make some changes isn't.
I'm slightly irrational, but even I can be rational on this.