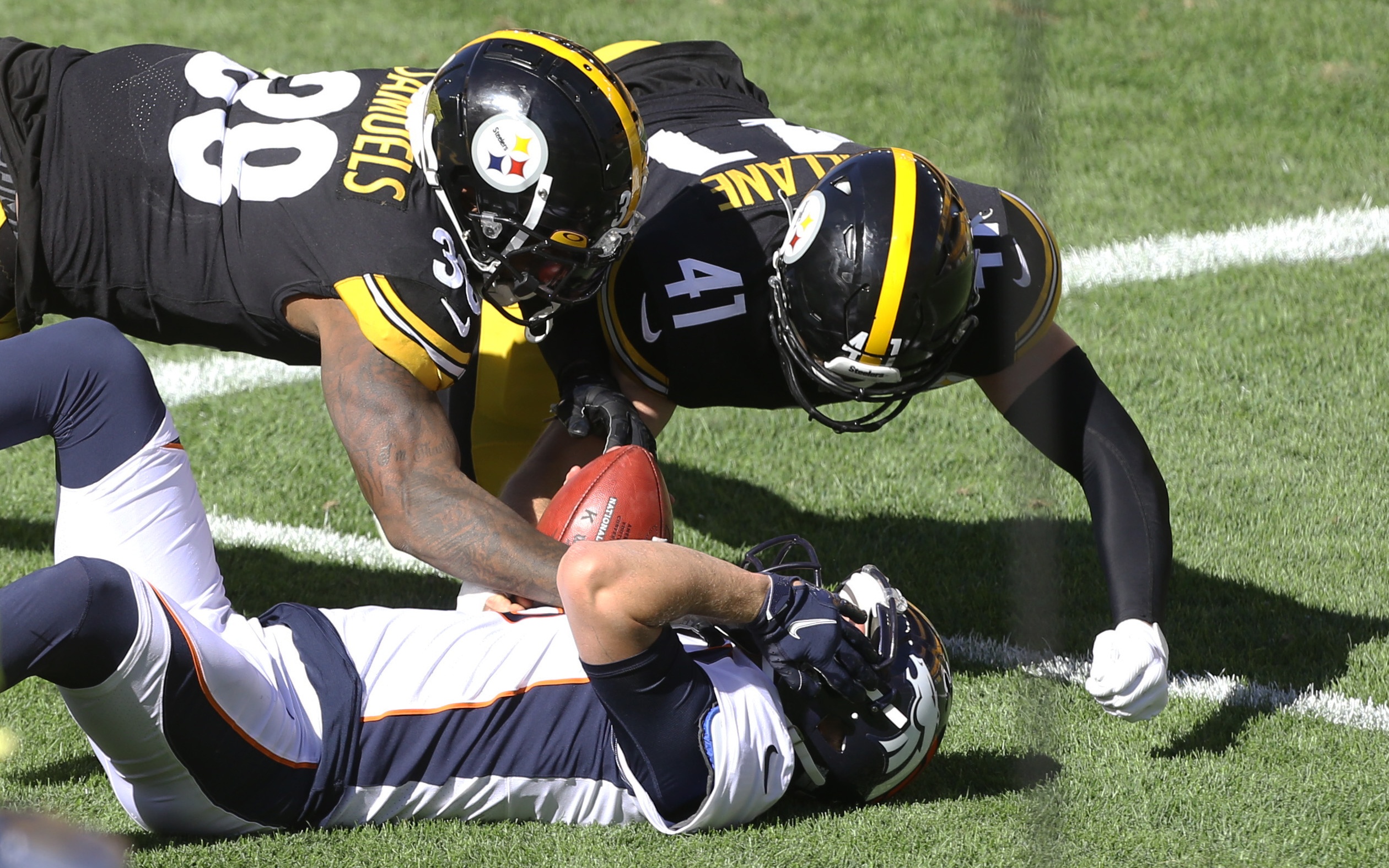 Hey, it was a show of great grit from the Denver Broncos on Sunday.
But, grit, fight and desire alone just don't win football games; execution does.
And when they needed it most, the young, injured and inexperienced Broncos couldn't make the big plays.
Early on, Ben Roethlisberger threw it deep and into the end zone, and rookie cornerback Michael Ojemudia couldn't come up with what looked like an easy interception. Pittsburgh's drive continued and was eventually capped off by a John Conner touchdown for the 7-0 lead.
"We have a chance to hold them to a field goal, but they convert a 3rd and long," head coach Vic Fangio said of the team not making plays at key times. "Or we had a chance for an interception we didn't make. So, instead of being 3-nothin' at least in our favor, or 3-nothin' in their favor, we're down 7-nothin'. Those types of sequences in games have a major impact on the outcome of the game."
And, unfortunately for Fangio's Broncos, there were more critically poor sequences in the loss.
After an awful punt by the Steelers, Denver had the ball on Pittsburgh's 36 yard line. After moving to the 17, there was a false start, an 8-yard sack and a 2-yard loss to settle for a field goal. In the third quarter, the Broncos moved it to the Steelers' 4-yard line but couldn't punch it in as backup quarterback Jeff Driskel took a sack on first down and threw incomplete on the next two.
"We have to find ways to make those plays to get the outcome we want," leader Justin Simmons explained after the loss.
Of course, there were some awful standalone plays, too. The fumbled snap on the punt-turned-safety, for instance. Or the 84-yard touchdown for the Steelers. Or the back-to-back throws when they needed only two yards at the end of the game.
Yes, the Broncos kept it close, and they came back from 14 down to make it a 3-point game at one time. Until the Steelers turned it back on and pulled (mostly) away.
Yes, Denver was injured, and they still battled, and still fought as hard as they could. That was a good sign, especially after losing quarterback Drew Lock on the second drive of the game.
But, what's becoming clear is that the Broncos are not a playoff team this year. And the Pittsburgh Steelers are.
To wit, per NFL Research, Ben Roethlisberger enjoyed a 100-plus QB rating in his first two games. The last three times he did that, the Steelers went to the Super Bowl. Big Ben has big, strong receivers and tough running back Conner, but Pittsburgh is clearly led by their defense. The Steelers enjoyed two turnovers along with 18 QB hits and seven sacks on Sunday.
That's elite-level good.
Denver isn't awful, but they're not playoff-worthy, either.
The Broncos good on defense, and they have a chance to be top-10 if AJ Bouye can return soon. And that's without Von Miller, who landed on the Injured Reserve in Week 1. But offensively, they aren't skilled enough without Lock (even though Driskel played well) and they're too young overall.
Rookies Jerry Jeudy and KJ Hamler mostly put on a show Sunday, but each had costly drops, too. The offensive line continues to be a never-ending work in progress, getting their quarterback injured on Sunday. And there's still a lot of room for improvement when it comes to learning the ins and outs of Pat Shurmur's offense for everyone, while his play calling can improve, too.
The Broncos played against a playoff team on Sunday, and that showed Denver's lack of execution means they're going to miss the postseason for a fifth straight year. In fact, they've likely played two playoff teams while starting 0-2.
And losing by a combined seven points may seem like a moral victory, all the moral victories in the world won't get a team in the playoffs. Only real wins can do that.