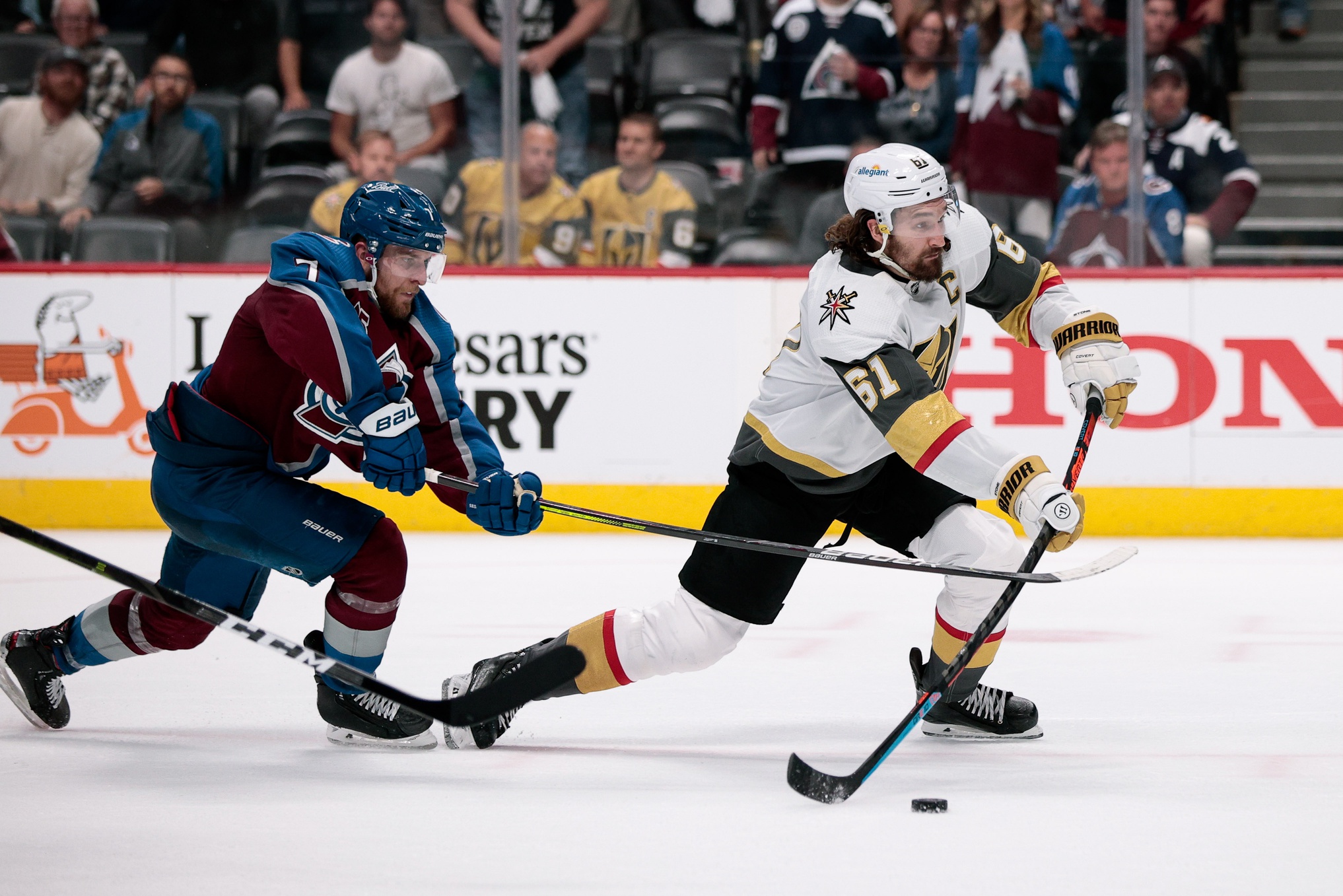 Rumors of the Colorado Avalanche's demise were somewhat exaggerated.
You knew, whether you'd admit it aloud after the previous eight periods of play, that the club wasn't going to roll over and let the series slip away into the history books as a bit of a collapse.
Yet another second-round bow out. Dim the lights. Drop the curtain.
After vanishing in Vegas for Game 4, the Avs had plans.
Head coach Jared Bednar wanted to find space down low in the offensive zone and to shore up some line mismatches that have hurt the squad. Forward Tyson Jost said the squad was looking for confidence with the puck and a chance to create some snowballing momentum by stringing together positive-impact shifts. Defenseman Conor Timmins was determined to transition out of the home zone faster and support the offense by jumping in on the rush.
Colorado got all of those things and even the early lead on a here-you-goal gift from Golden Knights golden glove Marc-Andre Fleury.
But on a night when everything was pointing toward an Avalanche victory, Vegas found a way. Turnovers in the third period turned into markers for the enemy and then it came down to the next-goal-wins moments of overtime.
Brain farts of the worst kind plagued both teams, but they hurt the Avalanche more.
The end result was a heartbreaker for the team, and for fans. And you have a right to be upset. You can't blame the loss on the refs or the ice or the full house at T-Mobile Arena and less than full barn in Denver. So you're going to have to point your fury at two goals on bad plays from the home team. Or really you should blame Vegas for capitalizing more than the Avs.
It took some excellent shooting to beat Philipp Grubauer, but now the series has tilted away from the force of nature from the Rocky Mountains.
This is life in a heavyweight postseason series. This back and forth slugfest from the juggernauts of the Western Conference is more or less playing out as it should. It was, and still can be, anyone's series.
Things ain't over until the Brunhilde-clad soprano starts singing.
It's all or nothing on Thursday.
"It's not regular season and it's not the Blues for that matter. It's Vegas," Bednar said of the series after the defeat." I think we showed tonight that we can play with Vegas and create the chances we need and still defend properly."
There's a blueprint for success underneath the frustration and lost opportunities, one that is replicable—though it won't be easy without the last change.
"We were forechecking hard. We were skating, coming up with pucks in the neutral zone and kind of turning it quick on them and didn't really let them get set up in our zone," captain Gabriel Landeskog said of what was working. "We were quick to contact and quick to stop their cycling game, and we were able to turn it and go the other way. So lots of positive to take out from tonight."
As for what Bednar said to the burgundy and blue after Tuesday's tilt: "I told them that's exactly how they have to play to win. Go do it again in Vegas, but eliminate those little mistakes."