Gary Harris has been praised and lauded as the Denver Nuggets most consistent player by his fellow teammates, the Nuggets' coaching staff as well as front office personnel for the majority of the 2017-18 NBA season, but after a scary fall in the fourth quarter against the Detroit Pistons, it looked like Harris could go from Mr. Consistent to unavailable at the worst possible time.
With the Nuggets battling for their first playoff appearance since the 2012-13 season, every single game now matters and losing Harris with just 13 games left in the season could have been catastrophic.
Thankfully, the Basketball Gods were kind to Harris and the Nuggets. A source within the Nuggets organization has told Mile High Sports that Harris' MRI only showed a small sprain or strain in a small ligament in his knee.
Pair that with Harris' X-ray results coming back negative and it seems as if the Nuggets and Harris both dodged quite the bullet. Two separate sources told Mile High Sports the exact same thing; "it's the best news we could have hoped for".
When watching the video of Harris' fall and seeing him clutch his right knee immediately after landing on it, it is hard to not see their point.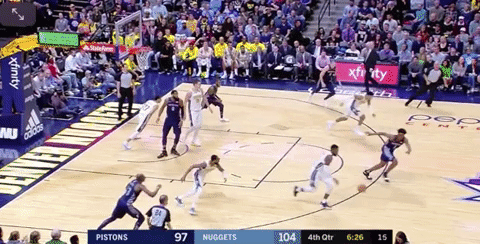 Now the question becomes more about Harris' availability. Harris will be day to day likely from here on out and will have to be monitored just as frequently. He may have dodged a major injury, but there is still a considerable amount of pain whenever a knee ligament is strained. Harris will likely have to play through a strain for likely the next couple of weeks as one source described to Mile High Sports.
As of Friday afternoon, Harris is questionable to play in Memphis against the Grizzlies who the Nuggets play to kick off their season-long, seven-game road trip. Harris will be re-evaluated on Saturday morning before the Nuggets play the Grizzlies so the next step for Harris will be to see if he can go through shootaround in Memphis that morning.
Still, at least the Nuggets have not lost their most consistent player to a long-term injury. Harris will be direly needed down the stretch and it seems as if he will be available for the Nuggets sooner rather than later.