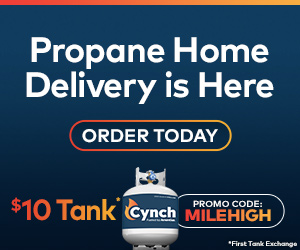 As hard as it is to believe, we're already two-thirds of the way through the summer with the baseball season in full swing and college football on the horizon. With so many people planning vacations or taking some time for themselves, no one could be faulted for losing track of their propane levels. Yet, this point of the summer is a critical time to make sure you don't run out of propane when you need it the most. The problem? Replacing your empty tank is a struggle. Lugging that thing into your car and off to the local convenience store? Pass. There has to be a better way, right? There is.
Our friends at Cynch, propane home delivery, come to your house, pick up your used tank, and leave a fresh tank at the location you select – whether it's your porch, front doorstep, or driveway. No long, drawn out process. Just a fresh propane tank to fuel your grilling and entertaining needs through the end of the summer and beyond. As a new Cynch customer, you can now get your first tank exchange delivered for just $10 when you use promo code MILEHIGH at check out. The best part of this offer? The cost of your first Cynch tank exchange will cost less than half of what you'd pay for an exchange at your local convenience or hardware store. It only takes 5 easy steps to have your propane tanks right at your door – could it get any easier?
Go to www.cynch.com.
Enter your zip code.
Order your tanks.
Select a delivery date.
Set out your used tanks for exchange.

That's pretty simple.
The mid- to late-summer provides perhaps the best opportunity to spend time with family and friends, who can visit and spend days around the grill and nights around the fire pit. Running out of propane could ruin your gathering, but with Cynch propane delivery there's no excuse to have this happen to you. Whether you're a grilling extraordinaire or someone who enjoys sitting around a fire pit, there's a solid chance you've run out of propane at an inopportune time. Cynch makes the process of getting a fresh tank quick and easy. Convenient and reliable, Cynch is propane tank delivery on your time and schedule. Sit back, relax, and feel enjoy the stress-free experience of knowing that Cynch will bring you a fresh propane tank while you stay cool with the AC cranked up.
If you don't have a propane tank to exchange, or just want to add an extra propane tank to your rotation, we've got great news! Cynch will deliver a fresh tank with no exchange required for just $59.99.
Maybe grilling on a hot summer day isn't your thing. That's not a problem. There are so many ways to utilize propane for your backyard gatherings. The cooler mid-summer evening weather means you'll have plenty of opportunities to spend time with family and friends on the patio around the fire table. Gather your favorite people around a fire table without having to prepare yourself to chop wood and clear out those nasty ashes. Cynch can deliver propane to fuel your clean fire pit with their stress-free delivery service. Even better, a propane fire pit takes less time to prepare, which makes it a great option for spontaneous meetups with friends and family!
Our friends at Cynch are the masters in utilizing propane in a variety of ways. The thing that sets them apart from industry competitors is their incredibly affordable and convenient propane delivery service. Once you've created your Cynch account, future orders are even easier.
Cynch wants to make your propane delivery hassle-free, so enjoy the convenience of getting the tank delivered and having someone else do the heavy lifting for you. Go to cynch.com to get started, so you can keep your mind on the question that really matters: what are we grilling? Give them a try today using our promo code MILEHIGH. *
*Plus sales tax where applicable. Valid through 9/30/21. Offer valid in Cynch service areas only. Certain restrictions apply. Click here for details.