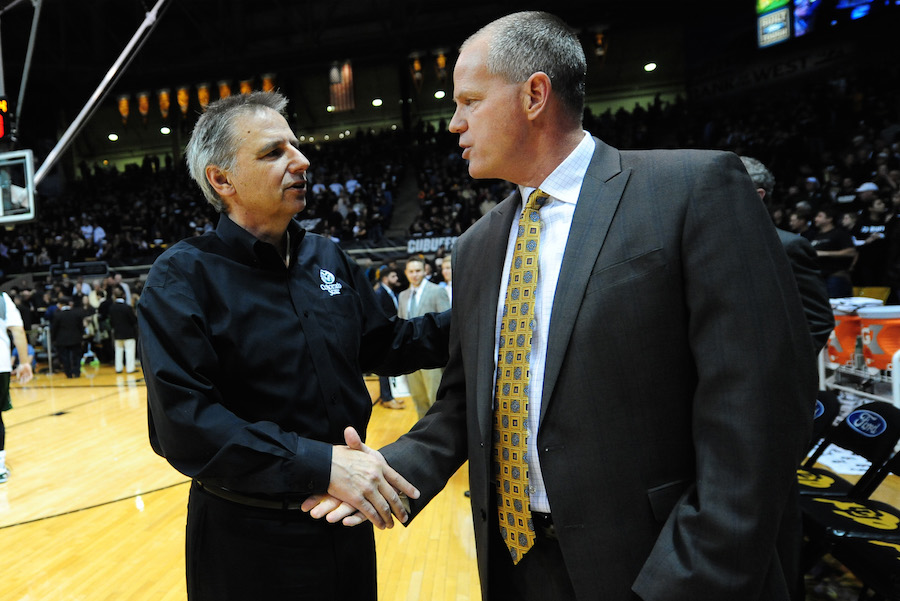 This story originally appeared in Mile High Sports Magazine. Read the full digital issue.
Says Mark: It's time to revive the Mile High Classic
College basketball wasn't a big deal around here back in 1989. The Denver Broncos were in the middle of the Elway Era and the Colorado Buffaloes were fighting for the big prize in college football. It was pigskin heaven in these parts.
Yet for whatever reason, the folks at CU and Colorado State decided it would be a great time to hold one of those holiday college basketball tournaments at old McNichols Arena just after Christmas that year. Somehow, someway, they got together and convinced Dean Smith and North Carolina, along with second year head coach John Calipari and his UMass program to pay a visit to the Mile High City for a four-team get together. Quite a foursome.
The Buffs, under head coach Tom Miller, weren't as formidable back then as Tad Boyle's current squad, and they fell to UMass in the opening round. Meanwhile, Coach Boyd "Tiny" Grant was leading CSU though one of the most successful periods in school history. For this event, the Rams drew the 24th ranked Tar Heels – featuring future NBA star Rick Fox – in the opening round. CSU stifled Fox and upset the Heels 78-67. CSU toppled UMass the next night to win the Mile High Classic.
Crowds of around 10,000 showed up both nights… in the middle of bowl season.
"It was a great outreach for both CU and CSU and their thousands of alums in the Denver area," said former CSU Sports Information Director Gary Ozzello. Yet even after that success and rave reviews, the Mile High Classic ceased to be.
"I don't think there was a reason ever spoken," Ozzello wondered. "Certainly from a CSU perspective we were interested in continuing. I'm sure part of it had to do with [lack of] financial sponsorship."
With the tide changing and college hoops becoming a bigger deal around here again, now would be a great a time to start making plans to bring the Mile High Classic back for the foreseeable future. CSU has inched that direction by scheduling a game against Kansas State at the Pepsi Center next season. One small step.
Coach Boyle and Coach Eustachy, this is on you now. You're in charge of your schedules. Make. This. Happen.
There's another dream foursome waiting out there. Bring in former CSU coach Tim Miles' Nebraska squad (with a huge local fan base and potential sponsor base) along with national powerhouse (and former Boyle employer) Wichita State. It would be a fantastic, yet still regional field. Fans from all four schools could attend. MHSM editor and noted basketball junkie Doug Ottewill thinks even bigger than I do – he'd bring in two more national brand names, along with the University of Denver and University of Northern Colorado and make it an eight team field. That might require the Denver Nuggets to give up their digs for the better part of a week. Would any hoops fans object?
Absent a Mile High Classic, this year in late December the Buffs are traveling to play in a similar event in Las Vegas, while the Rams are spinning their wheels against an outfit called USC (South Carolina) Upstate (whatever that is) and Division-II Regis at Moby Arena. Ho freaking hum. (Strength of schedule – or lack thereof – crippled CSU's NCAA tourney chances last March, by the way.)
If we want college hoops to continue to grow and thrive in the football-crazed Rocky Mountain region, events like the Mile High Classic need to replace some of these powder puff non-conference games.
Tad? Larry? Whadda say?
In Response to Mark: Tad Boyle
"The idea of the Colorado Classic is absolutely fantastic and I would be more than willing to partake in it. Putting it together is another story, because there are so many moving parts. The one thing about college basketball since that time is that the landscape of scheduling has changed dramatically because now you have 'exempt tournaments.' We can play 27 regular season games, plus an exempt tournament. Or, we can play 29 regular season games. Take the Maui Invitational for example – you go over there, you play three games and it counts as one. This year, we'll play an exempt tournament in Las Vegas; we'll get four games out of that … You could get an exempt status (and you'd need more games), but the University of Colorado or Colorado State would not be the promoters or the organizers of the event. It would be a third party. Take ESPN for example, ESPN runs the Old Spice Classic, the Puerto Rico Challenge, the Charleston Classic. So, you'd have to get someone to run the Mile High Classic – it's a great name. If North Carolina comes out, are they going to want to play Colorado in Denver? Is that more of a road game or a home game? What are they going to want in return? A home game. That's not a true neutral court game for them … That's where the rubber meets the road. I'll tell you this; if anyone can get Duke or Indiana or Carolina – you name the marquee program – to come to Denver, I'll do it in a heartbeat, 100 percent, no questions asked. Now, if they want a return game, that's where I call a timeout. I'm not going to play a game in Denver and then have to return a game in Bloomington or Chapel Hill. I'd play KU at Pepsi Center, and then return a game in Sprint Center in Kansas City. That's fair. But not Pepsi Center and Allen Fieldhouse. Mark's article sounds fun, and if it's reality, I'm all for it. I'm not saying it can't happen, and I would love to see it happen (but the way scheduling is now makes it tough). Anything that is good for college basketball in this state, I am all for."
Tad Boyle, head men's basketball coach, University of Colorado