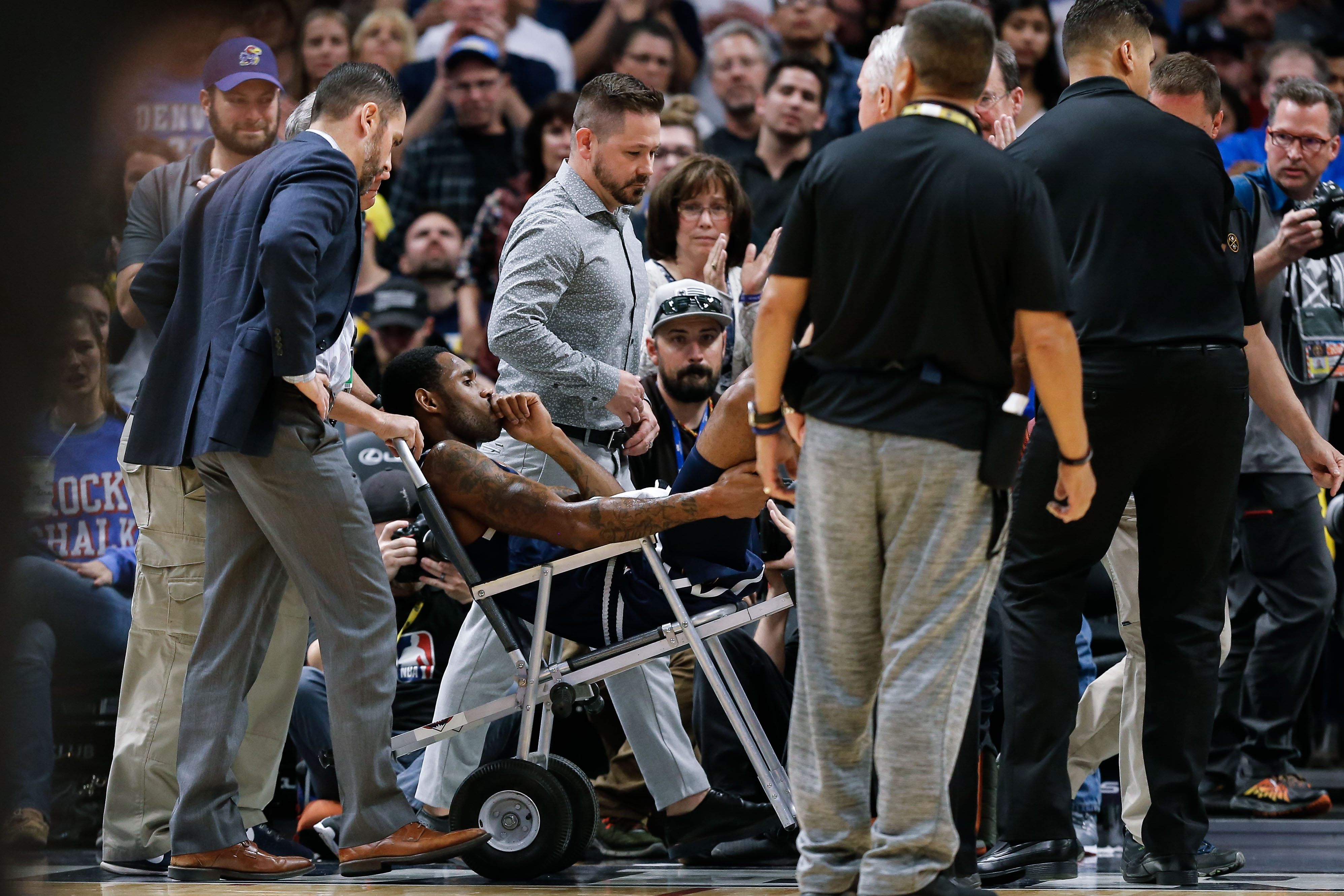 On October 20th, Will Barton tore his adductor muscle in his hip/core area which led to him needing surgery to repair the damage.
While the physical aspect of Barton's rehab seems to be going as well as possible, the part that he is struggling with is the mental taxation of not playing basketball. To explain things simply, Barton — who lives and breathes basketball — is struggling with the fact that he is not able to play. He has never had any sort of major injury that has forced him to miss an extended amount of time and this is the very first surgery of his life.
"It was tough on me," Barton explained when asked about having to take an extended amount of time away form playing the game he loves. "I have never been seriously injured. I have never had surgery before. I have never really had to miss this much time from basketball so it is tough. Especially watching games and knowing I won't be back for a while. Usually, when I miss a game, I know I'll be back probably after game or two, but now knowing I won't be back for a while is tough. You are always watching and you're always a competitor even when you're not playing."
There are a three things that Barton is using to help him through the anxiety of not playing basketball. The first, and most impactful, thing Barton is doing to keep his spirits high is being around his teammates as often as possible even if he cannot physically participate in team activities.
"I need it," Barton explained when asked about what being around his teammates does for his mental state. "I do not really like being alone. When you're injured, it is easy for you to go the opposite way because you feel left out and you're not playing. I need that team camaraderie. I need to be around the guys even though I am not playing just to let them know I am still in the fight. It is tough days for me so I just need to be around them laughing and joking and taking my mind off of the exact injury because it is easy for me to get down. I just do not like not playing basketball so it is hard."
The second thing is falling back on his support system that consists of his mother, his brother, and his friends. Barton relies heavily on that support system; so much so that his friends have joined Barton in Denver to assist in keeping him positive and happy.
"My friends check on me daily," Barton explained. "Some of them are out here just to make sure I am good and to keep my spirits high. Just to take my mind off of it because they know how much I love being on the court."
The third thing that Barton is doing to keep himself mentally strong is diving into watching as much film as he can. He is obviously watching his Nuggets team, but he has also been watching lots of film the rest of the league. Barton has always been a player that watches an absurd amount of film, but now that film work has become a connection to basketball —  a safe-haven of sorts — that he needs to keep his mind straight.
"I can't get into the gym really and workout like I usually do, so I am watching games. Of course I am always watching our games, but I am watching around the league. I just, man, you do not want to know the things going on in my mind. It concerns me so now that I can't play, I watch more just to feel more connected to the game."
Still, it is important to remember that nothing has ever stopped Barton from achieving his goals. While this situation may be tough for him, he is finding solace in the fact that his teammates are winning.
"It is tough. It's tough," Barton said. "The good thing is that we're having success and we're winning so that helps."
Now, just 20 short days after sustaining his injury, Barton is improving physically and he is getting closer and closer to returning to the hardwood.
"I feel better — getting stronger everyday." Barton explained to the media at shootaround the morning before the Denver Nuggets tip off against the Brooklyn Nets.
Barton is progressing and is beginning to expand what he can do on a basketball court. No longer is he taking things easy when it coms to his rehab. Barton is now pushing himself to begin on-court activities.
"I can do a little bit of stuff," Barton explained. "I am getting up a little bit of shots, but I am mostly just focusing on rehab. Lots of core work. Lots of adductor work. Trying to get some cardio in. Now, we are trying to get shots up. We do a lot."
For the rest of his rehabilitation, Barton has to do the one thing that he is most frustrated by — wait. His rehab is on schedule and he is improving, but he is still likely more than a month away from being able to suit up for a game. Barton does not have an update on how long it could take for him to return. All he knows with certainty is that he wants to get back on the court with his teammates as soon as humanly possible.
"Whenever this thing lets me, man," Barton explained when asked when he thinks he could return. "I wish it was tomorrow. I am just taking it day by day."
"I don't know. I honestly don't know," Barton said when asked if he could return by mid-December. "I feel like rehab is going real well. I feel like my body is responding real well, but I do not know. I can't tell you exactly when. Hopefully, it is tomorrow, but who knows."
The Nuggets badly need Barton back and Barton badly needs the ability to play basketball back. Both parties are doing everything they can do to expedite the process, but, for now, Barton is doing everything he can to impact his team as a vocal leader.
"Just trying to still be a leader like I was doing when I was playing," Barton explained. "Just watching the game, analyzing, and trying to tell guys what I see without trying to force it or be petty because I know how it is being on the court. It is different being on the court and going through stuff. You don't see the same things as people watching. I just try to find a balance within that."
That is all that Barton has to hold onto for the time being. He is grinding through his rehab, doing his best to remain in close proximity to his teammates, studying up by watching tons of film, relying on his family and friends to keep his sprits high, and doing everything he can to continue helping the Nuggets win more and more games. For now, that is all he can do, but you can bet that Barton is chomping at the bit to get back on the floor and be physical able to go to war with his basketball family.