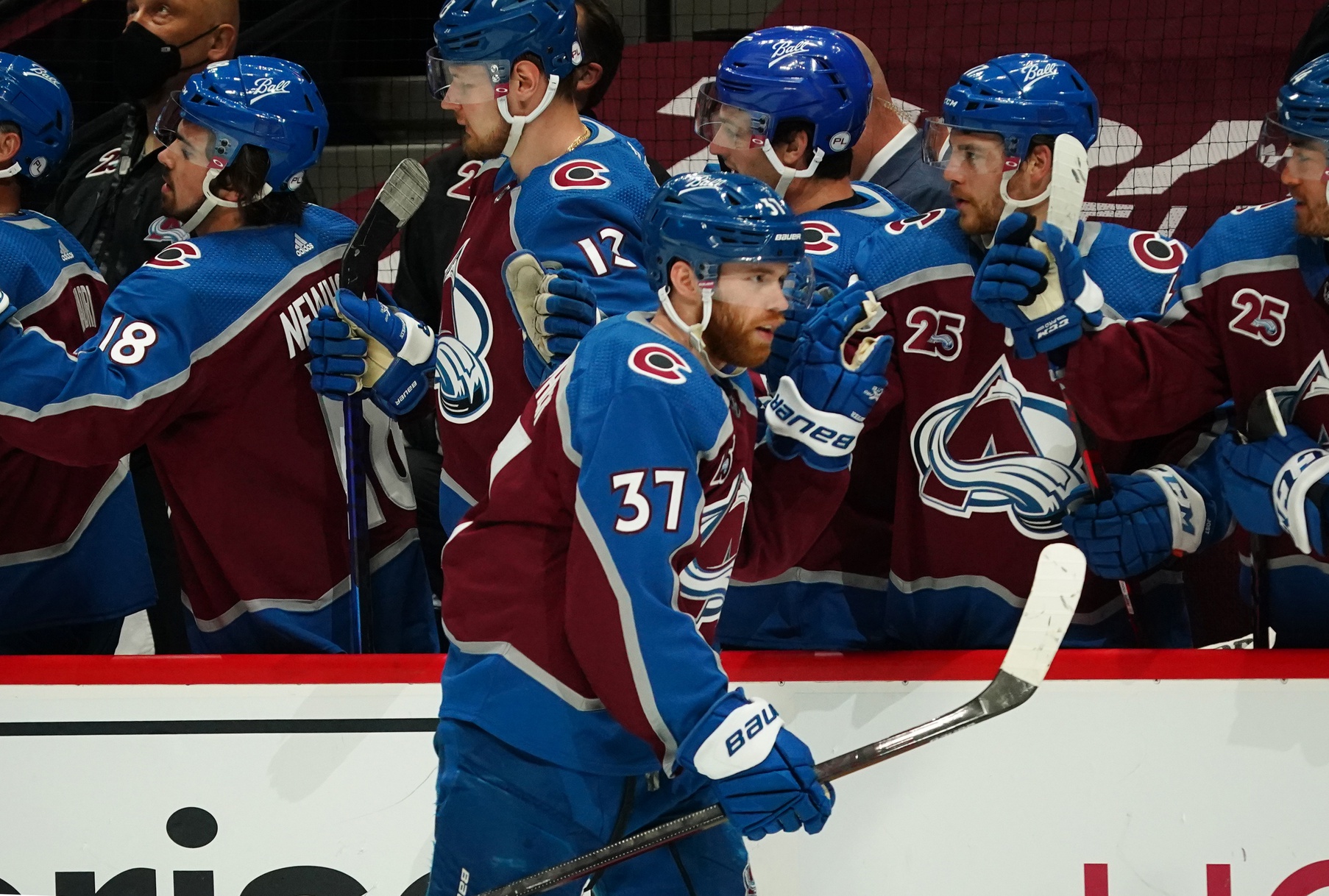 It all comes down to Game 56.
J.T. Compher scored a hat trick and the Avalanche exploded offensively without superstar center Nathan MacKinnon, defeating the Los Angeles Kings 6-0 at Ball Arena on Wednesday.
The Avs host the Kings in the 56th and final regular-season game on Thursday and a victory will clinch the West Division title and the Presidents' Trophy. Colorado (38-13-4, 80 points) is two points back of the Vegas Golden Knights, who won their regular-season finale at San Jose on Wednesday to keep their Presidents' Trophy hopes alive.
Colorado owns the tiebreaker over the Knights, with 33 regulation wins. The Knights have 30.
"We can control our own destiny," Avs captain Gabriel Landeskog said. "Our goal from training camp was to win the league and win the Presidents' Trophy and make sure we have home ice all the way through the playoffs. We put ourselves in a position to win a hockey game tomorrow to do that."
If the Avs win Thursday's finale, they will play the No. 4 St. Louis Blues in the first round of the Stanley Cup playoffs. If they lose, Colorado remains the No. 2 seed and plays the No. 3 Minnesota Wild.
The playoffs begin Saturday but it is unclear when the Avalanche will begin.
MacKinnon did not play for the third time in four games. He was mostly ineffective against Vegas on Monday, finishing with zero points and two shots 20:32. Avs coach Jared Bednar said MacKinnon was dinged up in that game and his absence is unrelated to the injury that kept him out at L.A. last week.
Bednar said the hope is for MacKinnon to be ready for Game 1 of the Stanley Cup playoffs.
Philipp Grubauer got the nod in goal, making 18 saves for his seventh shutout — tied with former teammate Semyon Varlamov of the Islanders for first in the NHL.
Bednar confirmed that goalie Jonas Johansson will start in Thursday's finale. If Grubauer does not appear in relief, his season ends with a spectacular 30-9-1 record, a .922 save percentage and 1.95 goals-against average.
"Johansson's been good for us," said Bednar about starting the 25-year-old Thursday. "You got to be fair to Johansson, too. He's been doing a good job with his preparation. He knows it's his game tomorrow."
The game swung in the Avalanche's favor from the onset. The Avs did not surrender a shot to L.A. until the final two minutes of the first period after taking a 2-0 lead. They outshot the Kings 27-11 through two periods and 37-18 for the game.
Compher added two more goals in the second period, completing his first career hat trick, where the Avs took a 6-0 lead and put the game away. Forwards Joonas Donskoi, Pierre-Edouard Bellemare and Landeskog also scored. Top-line winger Mikko Rantanen pitched in with three assists and defenseman Devon Toews added two helpers.
Compher has four goals in two games after scoring the game-winner on Monday.
"It's good for my confidence to see them go in, especially at an important time of the season," Compher said of his recent scoring surge. "I pride myself on playing big in big games."
Colorado has not won the Presidents' Trophy in 20 years — since it last won the Stanley Cup in 2001. Since then, only three teams have won both in the same season (2002 Detroit, 2008 Detroit and 2013 Chicago).
Footnotes. Defenseman Sam Girard made his return to the lineup. Girard missed the last six games after suffering a lower-body injury in a home against San Jose on April 30. He finished the game with one assist and a plus-1 in 19:02. "I thought Sam was good, maybe a little rusty early," Avs coach Jared Bednar said. "Some of his puck touches weren't as clear as they normally are but he did some good things for us, defended well, all the things we've come to expect from him." … Without MacKinnon, and forward Carl Soderberg, who missed his second of three games, both Kiefer Sherwood and Jayson Megna were inserted into the lineup and played on the fourth line with Bellemare. Each of them recorded an assist on Bellemare's tally.