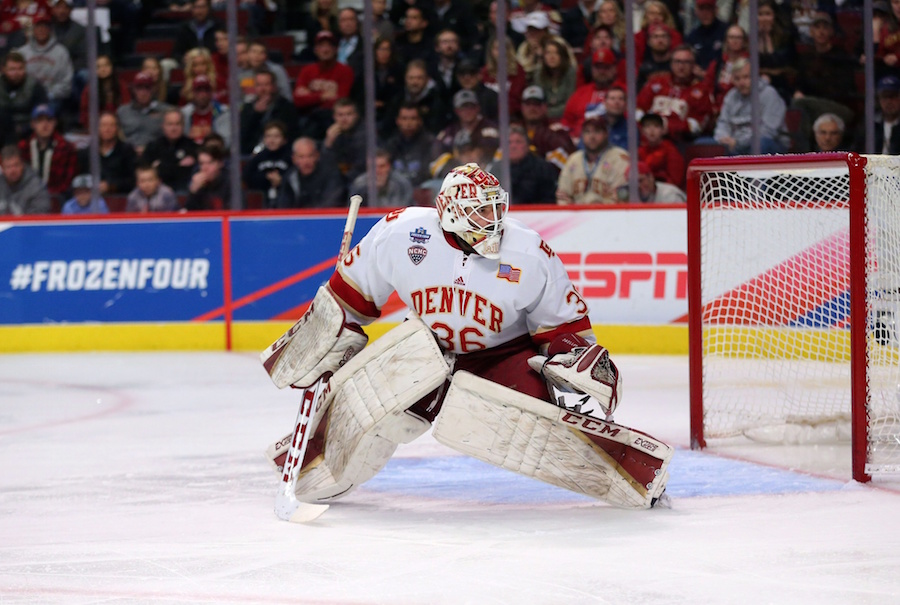 Prior to their game against Omaha, the Pioneers held a memorable tribute for the passing of longtime equipment staff assistant, Petey Naffah, 31, who passed away last month after a sudden onset of bacterial meningitis.
"Petey was such a special guy, who will never be forgotten. It [the ceremony] was very emotional, and we won tonight for him," an emotional Jarid Lukosevicius said following the 5-0 victory over the Mavericks.
After some back-and-forth action from both teams, it would be the Pioneers who would get themselves on the scoreboard first, as Pioneers forward Jared Lukosevicious would redirect a shot from Pioneers defenseman Ian Mitchell on the power play, giving the Pioneers the 1-0 lead over the Mavericks.
The Pioneers extended their lead at the 2:42 mark of the second period, with Mitchell receiving a drop pass from Dylan Gambrell, cruising into the slot and snapping the puck past the Omaha goaltender Evan Weninger. The remainder of the second period would see plenty of scoring chances from both sides, but the score ultimately remained the same.
Troy Terry extended the Pioneers lead at the 4:52 mark of the third period when he snapped a powerplay goal past the shoulder of the Omaha goaltender to give the Pioneers the 3-0 lead.
Only a few minutes later, the Pioneers would extend their lead when they converted on the power play again. Lukosevicius would receive a pass in front of the net from Henrik Borgstrom, where he outwaited the Omaha goaltender to tally his second goal of the game.
The final goal of the night came at the 12:37 mark of the third period, as Erich Fear would tally his first career collegiate goal with a shot from the point.
Ian Mitchell finished the game with four points, and Tanner Jaillet made 35 saves for his 3rd shutout of the season.
"When Tanner [Jaillet] is on his game, it certainly helps. He is really good at breaking the puck out, and so we don't have to play much defense, and that's what I love not playing much defense," Lukosevius joked following the game.
The Pioneers will look for the series sweep against the Omaha Mavericks tonight with faceoff scheduled for 7:05 pm MT.