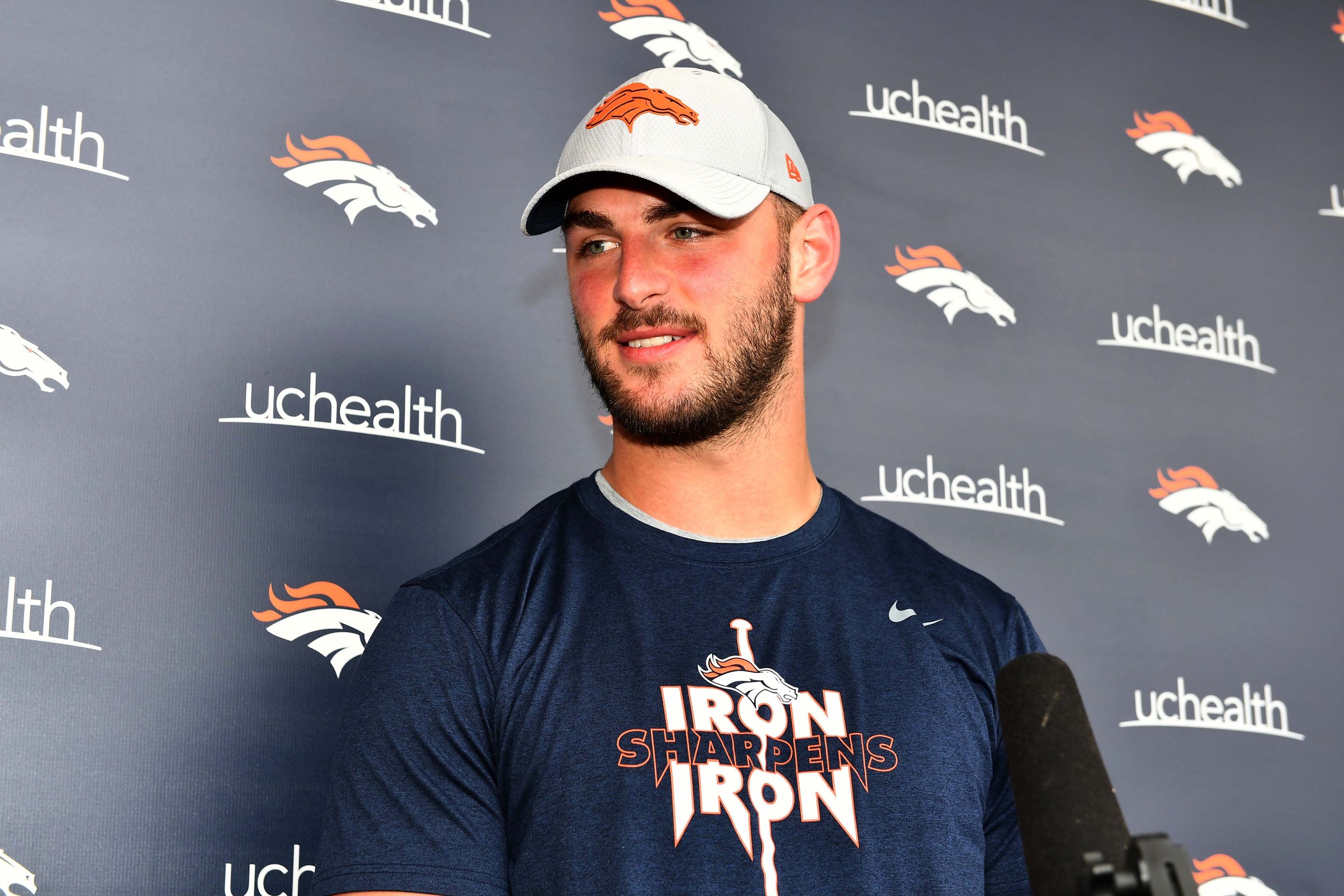 After missing his rookie season with injury, can Jake Butt be the tight end the Broncos have been searching for? He sat down with Mile High Sports' Doug Ottewill to talk about last season's frustrations and the opportunities of 2018.
*A version of this story appears in the August issue of Mile High Sports Magazine. Subscribe here!
How are you feeling?
I feel really good. I've had a chance to lift and to focus on getting fully healthy, getting strong.
What was it like to only be able to observe last season?
It's good and bad, but there is no substitute for getting out there and playing football. There is really no better experience than getting out there and doing it yourself. That being said, getting to learn, getting to observe what it is like to be a pro, look around the locker room and seeing what guys are doing to be successful, how a guy is reaching the level that he wants to be – I am trying to implement those things from my game last year into my game this year.
Was it different for you going through a second knee injury?
[Already having suffered one knee injury] definitely helped, but at the same time I feel like every single ACL is different. I had the mental aspect and it helped me understand how the rehab process would go, but this one was different than my last one. My last one took about six months, and this one is going to take a little longer, and that is just part of it. Just to know after going through it that you can get through it a second time [is big].
What does this opportunity with the Broncos mean to you?
John Elway gave me an opportunity; getting picked where I did in the fifth round. His willingness to believe in me gave me an opportunity. I want to go out and prove him right this year.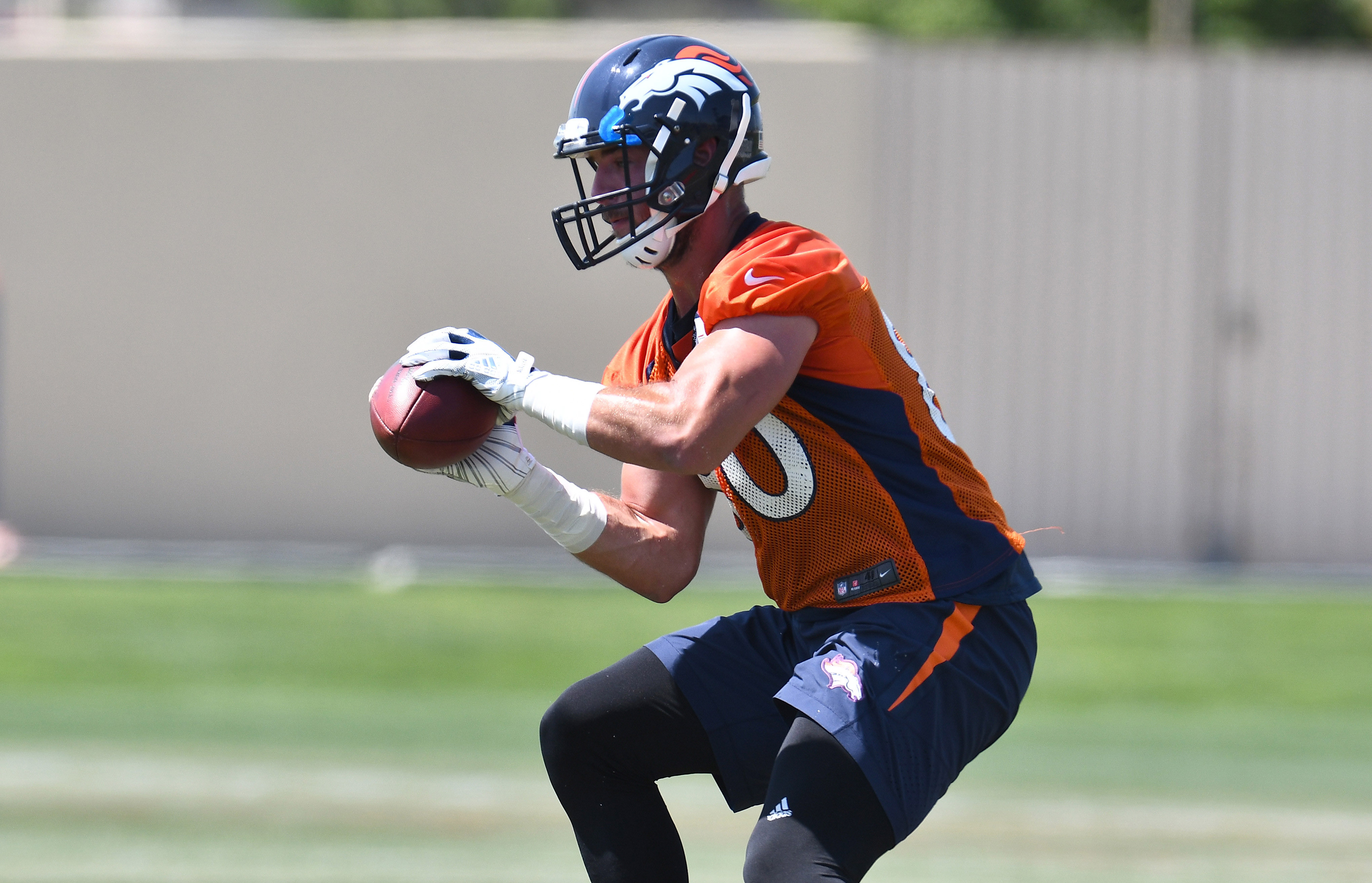 Do you feel like you have a chip on your shoulder?
Absolutely, I play with a little bit of a chip; I have been that way my whole life. I know there are plenty of people out there who believed in me and felt confident, but I always kind of see and look at the people who don't. I know guys get motivated differently, but that is one way I have always stayed motivated. When someone doubts me, I want to prove them wrong.
Do you regret not going into the NFL Draft after your junior year of college?
I know I could have [gone pro] after my junior year, but there were some goals there that I wanted to accomplish as a team and come back and complete – some of which I did, and some of which I didn't. At the end of the day, some people might look back and say I should have [left early for the draft]. I don't really have any regrets from any decision I have made, in my college career or really in my life. I feel really good about everything. I feel blessed and lucky to be where I am. I feel like I am in a really good position to contribute to the team.
Where does your competitive drive come from?
Ever since I was a little kid, there has been a desire to win – and that has always been the number one goal. We used to play sports in the backyard with my brothers all the time. We had five acres, so we had a football field, a soccer net and a basketball court. That is all we ever did. We never played video games growing up. Even back then, in the least amount of pressure situations, I wanted to beat my brothers in everything we did and they wanted to beat me, too. So it is really something you can't teach. It is tough to develop.
I think you can win with players that really put the team first and really put winning first. Winning is fun. Winning is the number one goal.
You played everything in high school. Where do you stand on players who focus on only one sport?
When you look at the numbers of athletes who "specialized," there are very few across the NFL. Actually it is a lot more common to not specialize. I can't really understand the movement toward specialization or if there is one. Honestly, in high school, just achieve success. You are out there just trying to develop and figure out what your passions are. When I was in high school, I was not thinking about the NFL. I was thinking about how we were going to try and win this game, this week. When you are playing different sports it takes the pressure off – "Hey, I have played football a lot, but now it's basketball season." So I think people should try to get into as many different things as they can – especially early on – and figure out what your passions are.
What was one of the highlights of your summer?
I was able to participate in Ed McCaffrey's "Dare to Play Football Camp" this summer. He reached out about the camp, and of course, it was for a great cause. I just really appreciated him thinking of me and bringing me out. It was special as much for me as it was for any of those kids. We got them hyped before the game and got to coach them up a little bit – just really get to spend time with these kids and their families. Overall, it was just a really rewarding experience for everyone involved.
How do you balance making a team, practicing hard, and being cautious of your injury?
Having that gene, that competitiveness, you want to go out there and do everything you can to get better and earn a spot and an opportunity. But at the end of the day, this is a business and it's a long season and you need to be honest with your body. Big thing is we have coaches that have GPS measures so that they can listen to the body.
Who do you model your game after?
I wouldn't say that [I necessarily try to model myself after one specific tight end]. I do watch a lot of film a lot of guys. I watch a lot of 'Gronk' [Rob Gronkowski] just to see how him and [Tom] Brady work together – Jason Witten, Zack Ertz and Travis Kelce. Just seeing what works around the league. What are these guys doing that is getting them open? I try to see what each guy is doing and see how I can add that to my game.
Has there been a veteran player who has helped you adjust to the NFL? 
I spent a lot of time with Matt Paradis when he was coming back from his injury, so we were doing a lot of rehab together. Paradis is a great leader and a great dude to really be around, especially when you're young and you're trying to figure out how this league works. That guy is a pro, so he's been a big help. Demaryius Thomas and Emmanuel Sanders both have been awesome. My dad has been awesome, my family, my whole support system. I feel really lucky to be surrounded by such a great supporting cast.
What do you enjoy about Denver?
[Denver has] a great fan base here, and I am lucky to be a part of it. Just being around the fans; seeing how passionate they are about winning and Broncos football… they want to win just as bad as we do as players. We really want to win games this year and really want to give these fans what they deserve.
***
*For more from Mile High Sports Magazine, subscribe here!