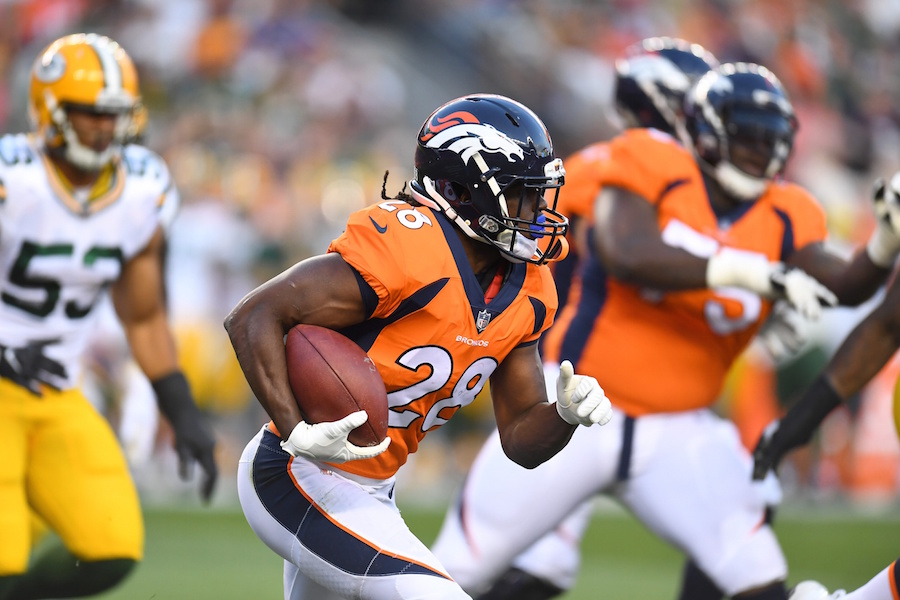 The third preseason game isn't necessarily a make-or-break game for most players on the NFL's 53-man roster bubble. Those players have a full fourth preseason game to sweat out, as well.
But for Jamaal Charles, Saturday's Preseason Week 3 contest between his Denver Broncos (yes, you read that correctly) and the Green Bay Packers, it was one game and one game only that would decide his fate.
We'll spare you the drama and tell you that Charles appears to have booked his spot on the roster. Only an injury in practice over the next week could complicate matters, as he will not play in the final preseason game.
Charles will be the fourth running back on the roster, joining C.J. Anderson, Devontae Booker and De'Angelo Henderson.
He wasn't the only player to all but lock up his spot on Saturday, though.
Denver saw strong performances on both sides of the ball from players who entered camp on the bubble but should find themselves on the 53-man roster come next Saturday.
Defensive end Shelby Harris had his second consecutive monster game for Denver. After shining against the 49ers (he recovered a pair of fumbles, notably), Harris once again proved that he deserves a spot on the roster with his performance against Green Bay.
The former Oakland Raider led the team in tackles with seven. He stuffed the stat sheet (and the Packers offense) with three sacks, four tackles for loss and three QB hits. His sack fourth-down sack of Brett Hundley effectively ended the game and virtually guaranteed his spot on the roster.
With Denver so thin already on the defensive line, as Zach Kerr went down with a knee injury (on top of Billy Winn's knee, Derek Wolfe's ankle and Jared Crick's back) on Saturday, Harris will be vital to their depth.
Harris has only eight NFL games on his resume, all with Oakland in 2014 and '15. He has 14 combined tackles and one sack to his name. Harris spent time with Jets and Cowboys in 2016, but did not see the field.
Can't say I know much about Shelby Harris, but it's very clear he's better than Adam Gotsis… Who was yet another Elway second round pick.

— Will Petersen (@PetersenWill) August 27, 2017
Shelby Harris continues to make a strong case for making this roster. Especially when you factor in injuries on the D-line https://t.co/eGRo435St6

— Ryan Edwards (@redwardsradio) August 27, 2017
Shelby Harris is making the team tonight. #Broncos

— Raj Sharan (@Raj_Sharan) August 27, 2017
The game appropriately ends with a Shelby Harris sack. His third of the game. Beast tonight.

— Nick Kosmider (@NickKosmider) August 27, 2017
The other Bronco who can sleep easy on Saturday and Sunday is wide receiver Jordan Taylor.
Taylor again proved to be a favorite target of Trevor Siemian, pulling in three passes for 36 yards on the night. Their 22-yard connection in the first quarter helped set up Denver's first touchdown of the game. Last week the pair hooked up for a 19-yard touchdown to close the first half against Chicago.
Siemian and Taylor worked very close together on the scout team in 2015, their first year with the team, and the familiarity is apparent. Taylor could be a dangerous 3a option behind Bennie Fowler, who took command of the No. 3 receiver spot early in camp.
Taylor spent all of 2015 on the practice squad, serving as Peyton Manning's personal wideout during Manning's recovery from plantar fasciitis. In 2016, he made the 53-man roster and logged 209 yards and two touchdowns on 16 catches.
Good back shoulder throw and a big-time catch by Jordan Taylor, and I agree with @SteveAtwater27 who just said, "he's on the team!"

— Brandon Krisztal (@BKDenverSports) August 27, 2017
Trevor Siemian and Jordan Taylor have a really good connection. may help Taylor find a spot on the team. #4Broncos

— Michael Spencer (@MichaelCBS4) August 27, 2017
Keep an eye on how much these three play in Preseason Week 4 on Thursday. If they're standing on the sidelines, it'll be a sure sign they'll be on the 53-man roster next Saturday.