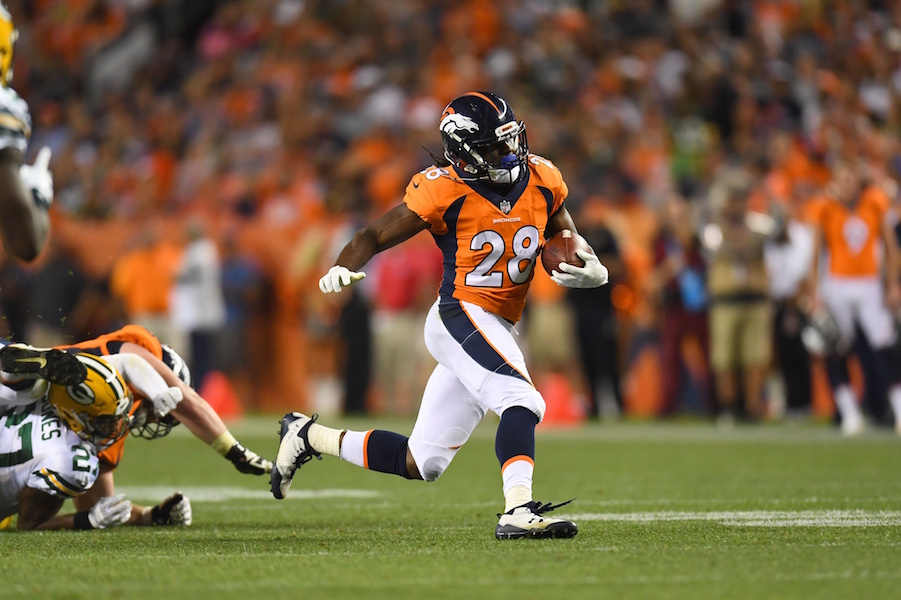 Jamaal Charles had effectively one half of live-action football to prove to the Broncos coaching staff that his right knee is healthy enough to continue his NFL career in Denver. Charles shined with his six first-half touches, averaging over six yards per carry on four carries and 7.5 yards per catch on two receptions.
In addition to Charles' quality work with the ball in his hands, he also showed his veteran savvy as a pass blocker. On at least three occasions Charles picked up a blitzing pass rusher to by Trevor Siemian some time.
Charles had Broncos Country quite excited to see him flash the form he had used to carve up the Broncos for many years with the Kansas City Chiefs. Then he gave them quite the scare when he headed to the medical tent after making an awkward cut and taking a big hit on a 12-yard run in the second quarter.
The veteran went into the on-field concussion protocol tent and emerged a few minutes later with the trainer. He was evaluated and then cleared to return to the game. While concussions are certainly a very serious matter, Broncos Country was on edge wondering if it was a knee issue.
Charles bounced back on the very next possession, helping the Broncos produce a game-tying field goal drive to end the half.
By all accounts, it looks like Charles has booked his spot on the team and could be a dangerous complement to C.J. Anderson and Devontae Booker, not to mention rookie De'Angelo Henderson. The Broncos backfield is stacked, and Broncos Country can breathe a little easier after Charles' productive night.
The team at MHS was keeping a close eye on Charles through the first half. Here's what they had to say, along with some of our favorite follows on Twitter, as Charles' night played out.
Jamaal Charles enters game for Broncos after C.J. Anderson left with an apparent injury

— Jon Heath (@JonHeathNFL) August 27, 2017
Charles in. Had to make a late pass rush pickup on first down — and then ran for 7 yards on 2nd down to the right side.

— Andrew Mason (@MaseDenver) August 27, 2017
Jamaal Charles knows how to run the rock. Evaluation will also include how he recovers from the pounding.

— Mike Pritchard (@mipritchard) August 27, 2017
Trevor Siemian and Jamaal Charles weren't on the same page on third down.

— Nick Kosmider (@NickKosmider) August 27, 2017
My guess…. #Broncos Charles didn't know the play… 4th down..

— Eric Goodman (@EricGoodman) August 27, 2017
Trevor Siemian is out here throwing darts. Hits Green on a 22 yard catch. Good throw into the window keeping Green on the run. #Broncos

— Ronnie K (@RonnieKRadio) August 27, 2017
worth noting the only person really doing their job in pass protection on 3rd down was Jamaal Charles, who picked up the blitzing LB…

— Brandon Krisztal (@BKDenverSports) August 27, 2017
Plus territory this series for the #Broncos…time for Jamaal Charles to prove it!!

— Mike Pritchard (@mipritchard) August 27, 2017
I think it's safe to say, #Broncos Jamal Charles has made the team…

— Eric Goodman (@EricGoodman) August 27, 2017
I've seen enough. Jamaal Charles is on this Broncos team. Age may change some things, but special is special. Jamaal is special.

— TJ Carpenter (@TJCarpenterShow) August 27, 2017
Charles is probably going to have to be on a pitch count all year, but he still has "it." Could be the ultimate "change of pace" threat.

— Andrew Mason (@MaseDenver) August 27, 2017
Jamaal Charles taken into the medical tent. On his last run he made a hard cut that looked really awkward.

— James Palmer (@JamesPalmerTV) August 27, 2017
Charles has come out of the tent. Trainer has his helmet the whole way. #Broncos

— Ronnie K (@RonnieKRadio) August 27, 2017
Hearing that the tent that Jamaal Charles is in, is a new league protocol for concussion testing…every team has one…

— Brandon Krisztal (@BKDenverSports) August 27, 2017
Charles exits tent. Checked out OK. Trainer gave him his helmet back. And he's listening to coach now. @DenverChannel

— Troy Renck (@TroyRenck) August 27, 2017
Injury update for the Broncos: RB Jamaal Charles was evaluated for a possible concussion and has been cleared to return.

— Patrick Smyth (@psmyth12) August 27, 2017
Jamaal Charles was evaluated for a possible concussion. Cleared to return. THE KNEES ARE OK!

— Nicki Jhabvala (@NickiJhabvala) August 27, 2017
#Broncos Charles back in the game

— Troy Renck (@TroyRenck) August 27, 2017
Jamaal Charles just straight up destroyed the #Packers LE on a chip block.

Catch-and-run for 5 on the next play. #Broncos

— Ronnie K (@RonnieKRadio) August 27, 2017
Jamaal Charles has seven touches for 42 yards tonight.

Six yards per touch.

— Ryan Koenigsberg (@RyanKoenigsberg) August 27, 2017