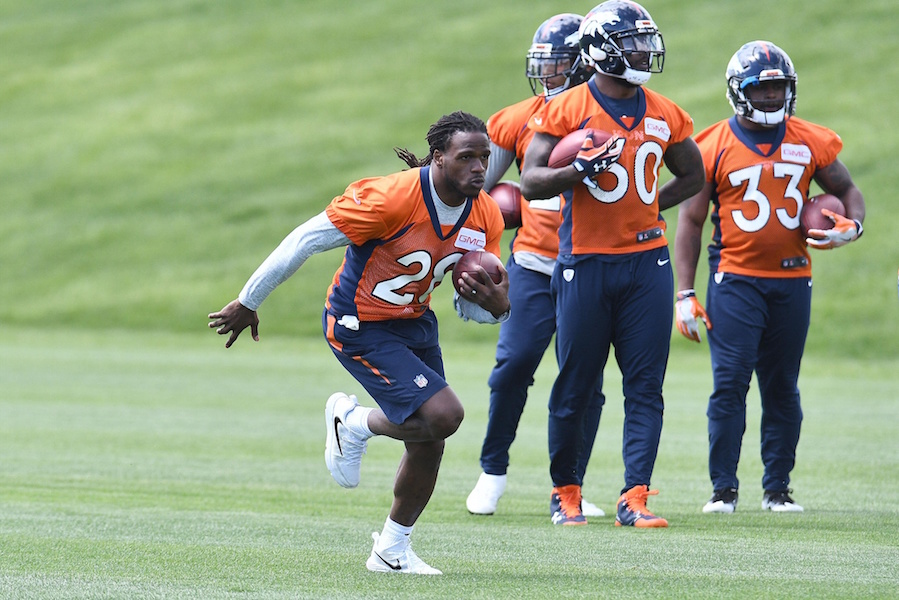 Jamaal Charles used to be the man.
The Denver Broncos experienced it firsthand.
During his nine years with the Kansas City Chiefs, Charles rushed for 7,260 yards and 43 touchdowns earning him four trips to the Pro Bowl and two All-Pro selections.
Charles, the Chiefs' all-time leading rusher, tore his ACL five weeks into the 2015 season and wasn't able to resurface in 2016. He played in only three games, carrying the ball just 12 times for 40 yards and one touchdown before being placed on injured reserve in November.
When the Chiefs released him in April, the Broncos decided to kick the tires on the 30-year-old running back, and they liked what they saw.
According to Charles, he's coming into training camp with the mindset that he still is the man.
"Why would I not think I'm going to be the man," Charles said during the Broncos' OTA practices last month. "My whole life, I've always felt like I'm going to the be the man. That is what I want to come up in here. If I'm not going to be the man, why am I here? I should be at home sitting on the couch."
Charles has made it clear that he doesn't want to just show up and collect a check; he came to Denver with the purpose of making an impact. It's important for him to prove to his new teammates that he can still play.
"It is important to me," Charles said. "When I left Kansas City, I was still at the top. It's just the injuries."
In an attempt to keep the injuries under control, the Broncos made sure that Charles took it easy this spring. They focused more on rehab than football, in an attempt to get him ready in time for training camp.
"He's made great progress as far as his rehab," head coach Vance Joseph said. "He came here, his quad was really weak. Now, it's gotten stronger. He's running hills. He's with [assistant head coach/running backs] Eric [Studesville] with a couple individual drills, so he's getting closer. His timeframe won't change; he'll still be ready for training camp for us."
The fact that the Broncos aren't forcing Charles to do something his body is not yet ready to do sits well with the veteran.
"I feel really good right now," Charles said. "I'm just happy that they're taking their time with me. They're just being patient with me. I'm happy to come to an organization like this."
Charles will join a backfield that consists of C.J. Anderson, who is coming of a knee injury of his own, Devontae Booker in his second year, Juwan Thompson, veteran Bernard Pierce and De'Angelo Henderson, the Broncos' 2017 sixth round draft pick.
With a plethora of experience, Charles knows that he can be a valuable resource to the Broncos' young backfield.
"[I want to] make everybody better and make the running backs better," Charles said. "I want to turn [Devontae] Booker into a Pro-Bowl running back when I leave here, and turn C.J. [Anderson] into an All-Pro. I just want to come in here and just bring the energy and the experience."
One thing in particular that Charles brings to Denver with him is his NFL record 5.5 career rushing average, a mindset that he hopes to bestow on the Broncos' backfield.
"With my experience and what I've done in this league for going on 10 years, I get to bring it here to the Broncos and even inspire them more just to show them the record I have, 6.0 [yards per carry]," Charles said. "Every time I touch the ball, I put it in their mind you want to get six yards. Just trying to leave them here with good examples and experience."
Regardless of what takes place during training camp, Charles is not looking back.
"The past is the past," Charles said. "If I was still a Chief, I would be there now. I'm here now. I was fired. Hey, it's a business. I'm excited to be a Bronco."