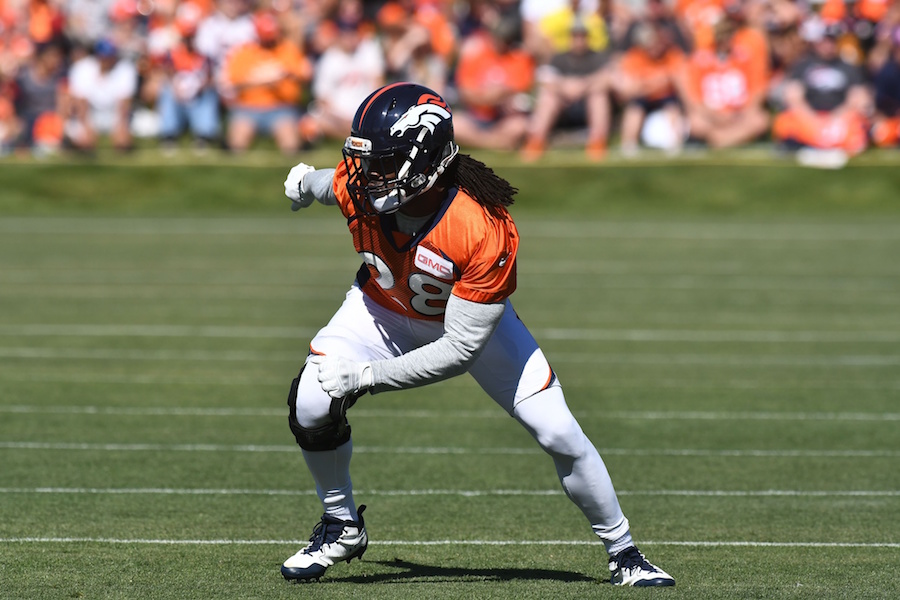 Jamaal Charles, signed by the Denver Broncos as a free agent this offseason, will play in the preseason. However, Head Coach Vance Joseph did not indicate specifically when, or how much, Charles will play.
If you've been on of the thousands of fans that have attended an open training camp session at UCHealth Training Center over the last three weeks, you might have seen Charles going through individual drills or running with the team.
The Broncos have been very careful with the four-time Pro Bowler as he works his way back from back-to-back knee injuries that ended his tenure in Kansas City. It's the reason he didn't play in the Broncos' preseason opener, and the reason he might not play in their upcoming preseason game against the 49ers.
On Saturday, head coach Vance Joseph said he wasn't sure if Charles would play this upcoming week, but said that the ninth-year back will play before the preseason concludes.
"We've got San Fran this week, we've got Green Bay, and even Arizona Week 4," Joseph said on Saturday. "He'll eventually play; it depends on the docs and how he's feeling."
By design, Charles has been relatively quiet on the field throughout training camp, but he's chomping at the bit. Even if he doesn't play in his second consecutive preseason game, he'll be ready when his time finally comes.
"Whatever they tell me to do," Charles said on Saturday. "I'm out here and whenever they throw me in the fire, I'll be ready."
According to Charles, his knee hasn't given him any problems when it comes to cutting, and he really can't worry about it anymore. He's focussing on only what he can control.
"I feel comfortable cutting, and I like going on my right side more just to get used to cutting again and used to pushing out with my right side more," Charles said. "At the end of the day, I'm out here just trying to get better every day."
Although Charles is not yet fully back in action, Joseph said on Saturday that he's not running out of time to make the final roster.
The Broncos head into the midpoint of the preseason with a logjam in the running backs room, but Charles isn't worried about his chances of escaping cuts.
"I feel confident," Charles said. "If it's their job to perform, and they go out there and look better than me, oh well, they're better than me. My job every time I touch the field is just try to outshine them as well, too."