The Denver Nuggets have a closing problem. Time and time again this young team has played well for three quarters and put themselves in a position to win the game, only to have that win slip through their fingers like sand in the final minutes. That was not the case on Monday night.
In one of the season's most important games — a match up with their division rival Portland Trail Blazers — the Nuggets found themselves in a familiar position. They had played Portland well for three and a half quarters and the two teams appeared evenly matched. This was a game that featured 22 ties and 18 lead changes, but with just under six minutes remaining, the Nuggets were trailing by six following a pair of free throws from Al-Farouq Aminu.
The game was in danger of slipping away and Denver desperately needed a closer that they could turn to. Portland has Damian Lillard and CJ McCollum for moments like these, while Denver's been without a true closer all season long — until Monday night.
After Aminu sank those two free throws, Jamal Murray responded by drawing a foul of his own and he hit both free-throw attempts to cut the lead back down to four. Then later in the game, with just over two minutes remaining, Murray struck again by knocking down a 25 footer to tie the game at 95 points apiece.
Murray had been feeling it since the tip. The former Kentucky Wildcat had tallied 30 points before the fourth quarter even began. On a night when Denver's offense was sputtering, Murray created looks for himself from start to finish and he converted one insanely difficult shot after another. It was the Jamal Murray show and he was eager to close this game out for his teammates in front of the Nuggets faithful fans.
"All game long, and in key moments down the stretch, he wanted the ball," Nuggets' head coach Michael Malone told the media after the game. "Here is a young kid — only 20-years-old — going up against an All-Star in Damian Lillard and (he was) not afraid of the moment."
Indeed it was Murray and Lillard at the center of the game's most crucial possessions in the final minute of play. With 41 seconds remaining, and the game tied at 97, Damian Lillard converted on a layup despite contact at the rim. He drew a foul and had a chance to give the Blazers the lead with a free throw. Coming into the game, Lillard had hit on 92 percent of his attempts from the line this season — much to the surprise of virtually everyone in the building, Lillard missed.
Malone took a full timeout and drew up a play with the game in the balance. He went back to his hot hand. "I was supposed to shoot it (from three)" Murray said, "but I shot anyway, it all worked out."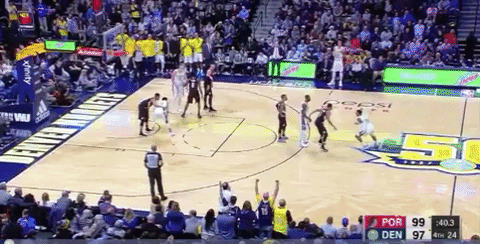 Murray came off of a screen from Plumlee, but instead of shooting from three, he opted to drive to the basket. Murray responded to Lillard's play with a layup of his own, and he too drew a foul, but Murray converted on the and-one opportunity allowing the Nuggets re-take the lead 100-99 with thirty seconds left.
Gary Harris played suffocating defense on both of Portland's dynamic guards and Will Barton would go on to sink four free-throw attempts in the final seconds to seal the game for Denver, But the story was Jamal Murray — who finished the game with a career-high 38 points.
"Yeah, I was just leading the team, talking a lot, just trying to do my part," Murray said after the game. "It's more than just scoring; it's coming down and switching onto CJ and Dame, getting turnovers, whatever it was — playing defense, playing an all-around game, not just putting the ball in the hoop."
The mood in the locker room was high and a collective sense of relief was almost tangible. This was a big win, but it was how they got it that should generate some confidence and momentum moving forward. They closed the game out strong.
"It was a collective effort," Murray said in the locker room. "I can't say it was just me. We did a great job coming together."
Murray may have been quick to deflect the credit, but he earned it and his teammates expressed their confidence in the youngster.
"In the future, I think he can definitely be a leader," Wilson Chandler told Mile High Sports after the game, "He can score, he can shoot, he can drive, he can knock down his free throws. I mean, that's what a closer is — and he has the confidence."
Will Barton shared those same thoughts.
"He's talented enough," Barton told Mile High Sports in the locker room after the Nuggets' win over the Trail Blazers. "He's competitive enough — which is huge — he works hard and he wants it. He reminds me of myself, but better at that age."
Murray is far from a complete product and this Nuggets' team has plenty of work to do just to earn a sorely needed playoff appearance, but this game — and that performance from Jamal Murray — could help this team get the wheels back on the wagon. Denver can move forward with some newfound knowledge: they have a closer in the making.