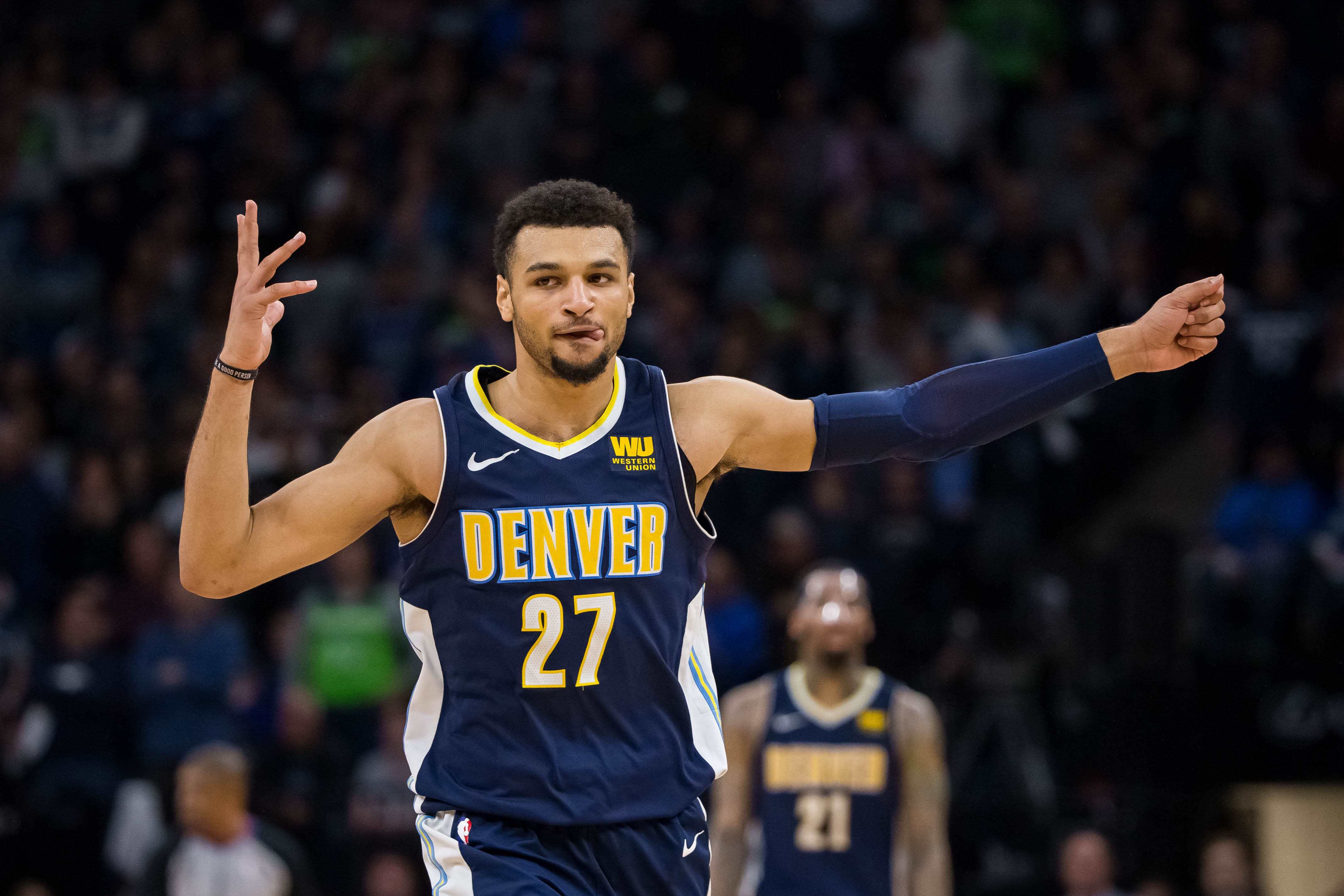 Leading up to the start of Denver Nuggets training camp, T.J. McBride will be doing full film breakdowns of each and every player on the Nuggets roster to show what makes them good, where they have improved, and what they need to improve upon in the season to come. Check back every Tuesday, Thursday, and Saturday for the next player breakdown.
The first player in the Mile High Sports offseason scouting series is none other than starting point guard Jamal Murray.
Murray had a strong sophomore season in which he averaged 16.7 points, 3.7 rebounds, and 3.4 assists per game while shooting 45.1 percent from the field and 37.8 percent from the three-point line. Just as a cherry on top, Murray also managed to get to the free-throw line 3.1 times per game and converted 90.5 percent of his shots from the charity stripe. Offensively, Murray had a strong season, but like the rest of his teammates in Denver, he had some massive defensive struggles.
Murray came into the league as a great shooter, grew into a better individual shot creator over the course of the 2017-18 season, but still has a long ways to go as a defender before he can reach his potential.
Elite three-point shooter
If there is one elite skill that Murray possesses — and has always possessed — it is his ability to hit three-point shots from anywhere on the court regardless of the situation. Murray can hit catch and shoot three-pointers as if they are layups, can pull up off the dribble at will, and has the range to rain down mortar fire from anywhere from the half-court line to the rim.
The most impressive part of Murray's shooting ability is how effortlessly he is able to hit shots off of the catch like he does below.
According to Synergy, a statistical database that tracks each and every possession of each
season, Murray ranked in the 92nd percentile for catch and shoot jump shots. That means that Murray was in the top eight percent of all NBA players and managed to score 290 points over his 227 total catch and shoot jump shots. Murray is automatic when shooting off of the catch.
Murray is not just a strict catch and shoot jump shooter either. His shooting acumen goes far beyond that and the video below gives just a glimpse into how great of a shooter Murray can be from distance.
This is the definition of a 'record-scratch' three-pointer. Murray does not expect to find himself so open and it clearly throws him off for a slight second, but he is still able to rise up with a live dribble and nail a long three-pointer. Draining a three from that distance is tough enough, but to do it off of the bounce off of an attempted escape dribble is absurd and Murray made it look easy.
Murray told reporters during his exit interview that his goal is to get his three-point percentage up around where his free-throw efficiency sits and he said so with a completely blank stare. Murray was not kidding, and when watching how easy he makes three-point shooting look in the videos above, it is hard to argue with his far-fetched goals even if they seem like a complete impossibility.
Murray's ability to be a knock-down three-point shooter is not news though. So where did he improve the most last season as a player?
Offensive self-creation
While Murray has been, and will always be, a phenomenal shooter, the one skill that he struggled with prior to the 2017-18 season was offensive self creation. At one point in his basketball career, Murray relied upon teammates to get him the ball in advantageous spots to accumulated points. Now, Murray can create his own shot and get a bucket on any given possession if needed.
The one newly-added shot that opened up Murray's game the most was the stop-and-pop jumper from the mid-range. Murray has the three-point shot to create space for himself, but being able to pull up off of a dribble and hit a jump shot from the elbow will force defenses to guard him on all three scoring levels — three-point distance, mid-range, and at the rim.
If Murray is able to hit pull-up jumpers from the mid-range like he does above, he will eventually begin forcing the center to step up and provide help defense which will pull him further and further away from the rim creating more space for cutters and finishers in the paint. This is the one shot that can open up the floor even more for Murray, and he began to incorporate it into his arsenal more and more as last season went on.
One of the other ways that ways that Murray has been able to improve his shot creation is by being quicker, having better footwork, and being more creative than his opposition. Just look at the shot below for evidence.
Murray's ability to stop on a dime, not commit a traveling violation, let the defender fly by him, and hit the easy mid-range look is as rare as it is unique. In addition to being unique, it is also quite effective. Murray is not quick enough to conventionally create space with a live dribble so he has to find other ways of doing so. Mitigating his lack of lateral quickness and first-step burst by being able to stop faster than anyone on the floor is a stroke of brilliance from the young flame throwing guard.
The other facet of Murray's game that has allowed his self creation to shine is the fact that he is finally healthy again. After having surgery over the 2017 offseason to treat a double sports hernia, Murray is finally back to 100 percent healthy for the first time since before he arrived at the University of Kentucky, and it shows in his play like the two dunks below.
Murray having the ability to explode has made him an entirely different player going towards the rim. No longer is he getting his shot obliterated by shot blockers at the rim, but he is instead rising up and finishing with power authoritatively over the top of bigs.
When he isn't finishing with power, he is using the extra lift to remain in the air longer. Having an elongated hang time has allowed Murray's finishing at the rim to prosper and not suffer as it did his rookie year.
With a full arsenal of creative finishes at the rim, a lethal three-point shot, and a budding mid-range game all of a sudden Murray's creativity began to show itself as it does with the up-and-under floater below. Being that Murray can hurt a defense in so many ways, how is a defender supposed to cover Murray in the clip below?
The threat of Murray's three-point shot is what gave him the room to use his step-back jumper, but instead of just taking the shot, Murray uses his step-back jumper as bait to get Lonzo Ball in the air before sneaking under his contest to hit the floater in the paint. The fact that Murray can score this creatively just shows how much his game expanded with the ball in his hands last season. He progressed from potentially worrisome as an on-ball creator to a full-blown nightmare for opposing defenses.
Now that Murray is beginning to put together all of the pieces of the puzzle, his full game is becoming actualized. No longer is Murray just an off-ball shooting threat, but instead now he can hurt opposing teams in anyway he feels. If he wants to run through a maze of screens as an off-ball scorer, he could. If he wants to isolate onto one of the NBA's best defensive big men and break his ankles — as he does in the video below — he can do that too.
Murray can continue to improve offensively, but he is already an efficient volume scorer in the making. There are very few worries with him on offense, but where Murray is going to need to challenge himself is on defense.
Still a long ways to go defensively
As a defender, Jamal Murray is still a long ways away from being helpful.
Statistically speaking, Murray was one of the worst defenders in the NBA last season ranking in the 10th percentile as an overall defender according to Synergy. While defending pick and rolls with Nikola Jokic is never kind to an individuals defensive metics, to be in the bottom ten percent of NBA players defensively is a tough pill to swallow.
This video below is a great illustration of where Murray is as a defender. With the playoffs on the line against the Minnesota Timberwolves on the last day of the regular season, the Nuggets needed a stop to have a chance to extend their lead and Murray is defending Jeff Teague.
Murray battles for the entire possession. He fights over a Taj Gibson screen, bothers Teague all the way to the rim and forces him to reset the offense so great work there, but this is where things begin to go bad for Murray.
After forcing the ball out of Teague's hands, Murray begins to ball watch too much. He likely thinks that there is a very small chance that there is a ball reversal quick enough to get Teague a shot prior to the shot clock buzzer sounding, but that was a fatal miscalculation. Murray gets sucked into the paint and Andrew Wiggins manages to whip a pass across the court to Teague, who Murray is supposed to be defending.
Unfortunately, Murray over-contests the idea of Teague taking a three-point shot and ends up trailing him as Teague slices into the paint, which would be fine if the shot clock buzzer wasn't so low already. Pushing an opposing guard into the help defense is schematically correct, but because Murray failed to contain Teague on the perimeter, he was able to hit a floater prior to the shot clock buzzer to give the Timberwolves a lead that would eventually give them their first playoff berth in 14 years and subsequently eliminated Denver from the playoffs. If Murray had stayed on Teague's hip and not allowed him the ability to take two steps toward the rim, the shot would have been more difficult and maybe the Nuggets end up in the 2017-18 NBA playoffs and not the Timberwolves.
The play is really a microcosm of Murray as a defender. He worked hard on defense, attempted to cause disruption by stunting down into the paint, and then failed to finish the defensive possession based on time and situation. Yes, defense is at least 50 percent effort,  which Murray always gives, but without knowing exactly where to be and when, Murray sometimes finds himself working harder instead of smarter on defense.
Defensive issues are not unique to Murray either. While this section is meant to highlight Murray's shortcomings defensively, there are very few young lead guards in the Western Conference torture chamber who are able to defend at a serviceable level, if at all. The fact that Murray gives so much energy and effort on that end of the floor is a great starting point, but now he needs to learn how to be a better mental defensive player which will take time.
If Murray can become even a league average defender at the point of attack, Denver's overall team ceiling would be raised a considerable amount. There is barely a shred of defensive potential on the Nuggets roster, but being able to slow opposing offenses at the point of attack is the first step to becoming passable on defense. That responsibility lies firmly with Murray and until he finds a way to improve his defensive impact, the Nuggets will always be behind the curve on defense.