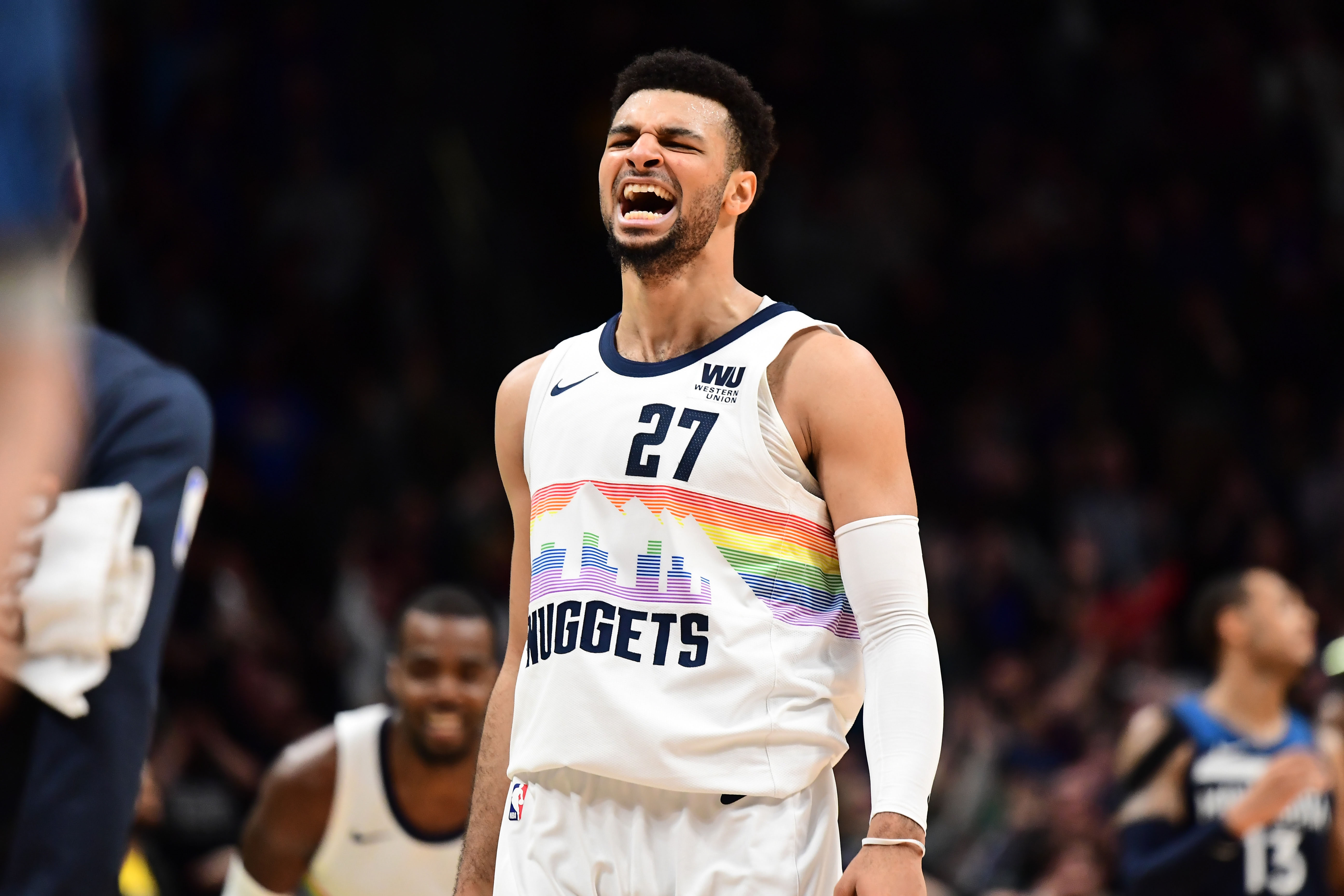 After 24 days of traveling the world — jumping between Toronto, Columbia, Italy and a quick trip to Las Vegas to watch the Denver Nuggets summer league team — Jamal Murray has officially signed his five-year maximum contract extension back in Canada in his hometown of Kitchener.
Looks like @BeMore27 officially signed his 5-year, $170 million max contract extension according to his IG.

Also, he did so rocking a @Dreamville shirt 🔥🔥 pic.twitter.com/ivTkuVYLOf

— T.J. McBride (@TJMcBrideNBA) July 24, 2019
Here is Murray's statement on his extension:
"I want to thank the man above for showing my family and I how life works in a full circle," said Jamal Murray per team email. "I also want to thank the Nuggets organization for believing in a kid from a small unheard-of town in Canada, and finally to Nuggets fans, I can't wait to shoot more arrows for you all."
After drafting Murray seventh overall in the 2016 NBA Draft, Nuggets president of basketball operations Tim Connelly is now reaping the benefits of his decision. Over the past three years, Murray has emerged as one of the most promising young lead guards in the National Basketball Association. In addition to his individual skills, Murray is also a fantastic pairing with Denver's Serbian superstar Nikola Jokic. Because of those two facts, Connelly was more than ready to offer Murray the full $170 million maximum contract extension as soon as he was legally able.
"The Kroenke family has shown tremendous commitment to continuity and stability, and this is just another example of trusting in what we are all building together as an organization," stated President of Basketball Operations Tim Connelly per team email. "We were thrilled when we were able to draft Jamal in 2016 because we believed then, as we do now, that he is an extraordinary player and a key part of what we want to accomplish here in Denver. Jamal has shown what he is capable of in his first three seasons in the NBA, particularly in last year's playoff run, and his future is extremely bright."
Murray has proven himself to the Nuggets in such a way that everyone involved was not only on board with giving Murray a maximum extension, but eager to get the deal done as quickly as possible. That group included Nuggets Governor Josh Kroenke and his father, Stan Kroenke.
"It's an exciting day for our franchise to officially announce this contract extension with Jamal," said President and Governor Josh Kroenke. "My father and I know what kind of kid Jamal is both on and off the court, and there wasn't a second of hesitation to get this done as soon as we could. He is an extremely talented player and we look forward to watching him continue to grow as one of the cornerstones of this team for many years to come."
Lastly, Nuggets head coach Michael Malone gave a statement on Murray's extension. Malone and Murray's strong relationship is well-chronicled and that adoration for Murray conveys in his quote.
"First I'd like to say congratulations to Jamal, I couldn't be happier for him and his family," said Head Coach Michael Malone per team email. "He is a special young man who I've been lucky to coach since he was a rookie and I look forward to many more years together. Jamal has put in the time and hard work from day one and I have zero doubt he will continue to do so with the intense drive of becoming the best basketball player he possibly can and helping lead the Nuggets to our ultimate goal, an NBA Championship."
Murray averaged 18.2 points, 4.2 rebounds, and 4.8 assists per game in 2018-19 while shooting 43.7% from the field and 36.7% from three-point range in 75 games played. He helped carry the Nuggets to their first playoff berth since 2012-13.
Murray than followed up his strong regular season with an even more impressive playoff debut. In his first 14 playoff games, Murray averaged 21.3 points, 4.4 rebounds, and 4.7 assists while playing 36.3 minutes per game.
Murray's maximum contract extension will kick in at the start of the 2020-21 season and will play him $170 million over five years. The deal ends after the 2024-25 NBA season.