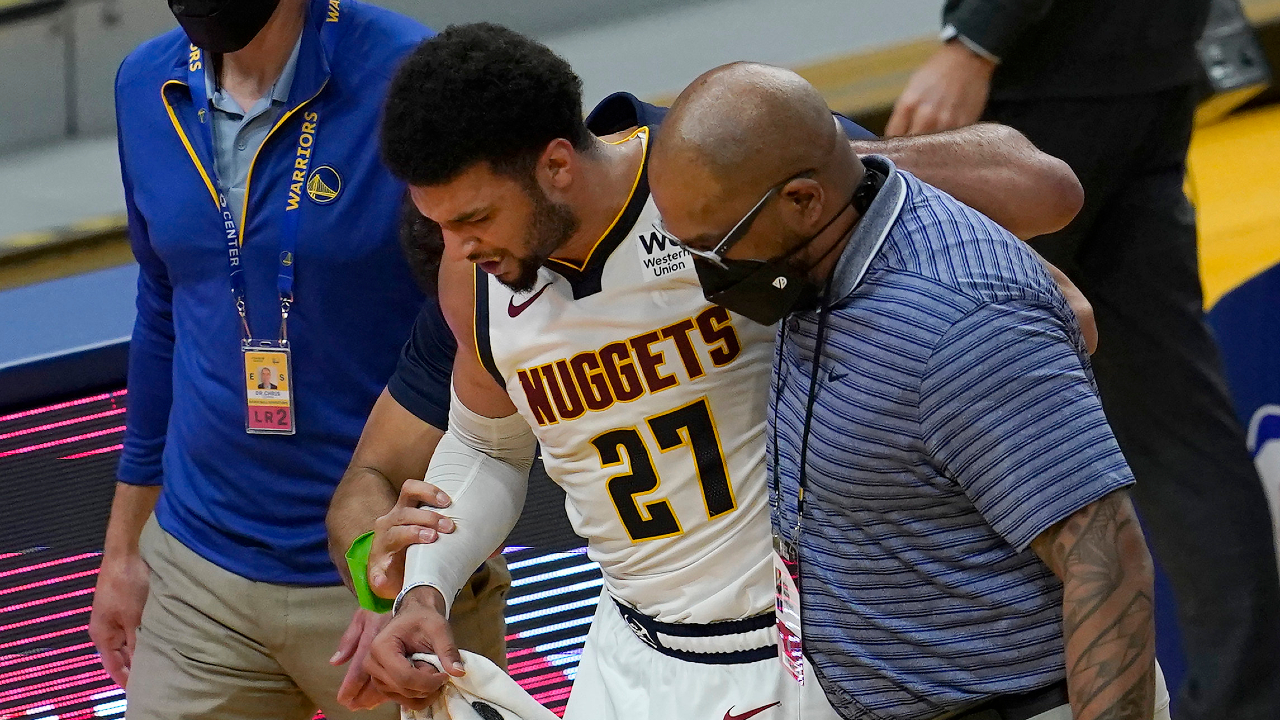 Nuggets star guard Jamal Murray has suffered a torn ACL in his left knee according to Shams Charania of The Athletic.
Murray left the game on Monday night with under one minute left in regulation after hyperextending his knee on a drive to the basket. He fell to the floor and had to be helped back to the locker room.
This is a devastating blow for the Nuggets as they were just hitting their stride and making some serious noise in the Western Conference currently sitting in fourth place. Murray averaged 21 points, 4 rebounds and 5 assists this season.
"He's the dude," Michael Porter Jr said of Murray. "Nikola and Jamal have been here and they've brought this team to new heights. You talk about their closing all the time. We need Jamal and we all know that."
Last playoffs in the bubble, Murray put the league on notice helping Denver come back from two 3-1 deficits to advance to the Western Conference Finals. Without Murray, none of that would've been possible.
Prior to this injury, Murray had sat out for four straight games with right knee soreness and Denver was able to pull out three of those games but we all know the playoffs are a different beast. 3x NBA All-Star and MVP candidate Nikola Jokić is going to have to put up even bigger numbers if the Nuggets want to be in serious contention.
Jokić, who is averaging 26 points, 11 rebounds and 9 assists this season, does a lot to get his teammates involved but now is the time for him to take over. Getting to the free throw line is going to be key for the big man as well. The officiating hasn't been fair in that regard but he's going to have to find ways to get those calls.
Who needs to step up?
Everyone. The Nuggets have dealt with numerous injuries so far this season and have had several lineup changes but they've still been able to figure it out. Facundo Campazzo, who has taken Murray's place in the starting lineup, has shown progression but he has to limit turnovers and be more consistent with his shots.
Denver's second unit has to step up especially at the start of third quarters. The starting five have been the only ones to develop big leads while the bench has come in and allowed opponents to get back in games. The energy just hasn't been there especially for a team that's serious about making a long playoff run.
Malone has a lot to figure out moving forward. He's still juggling around rotations with his bigs after the trade for JaVale McGee and now has to decide who's going to start in place of Murray. Campazzo or Monté Morris. Morris has been on minutes restrictions as of late with an injury to his shoulder but the 4-year guard has a lot more experience with this Denver team and helped contribute to their successful run last playoffs. He's averaging 10 points, 2 rebounds and 3 assists this season.
While the goal is still to win a championship, it won't be the same without Murray and his health is first priority. The Nuggets locker room is devastated of the news and continue to pray for a speedy recovery.
Mile High Sports will keep you updated as more news comes out.