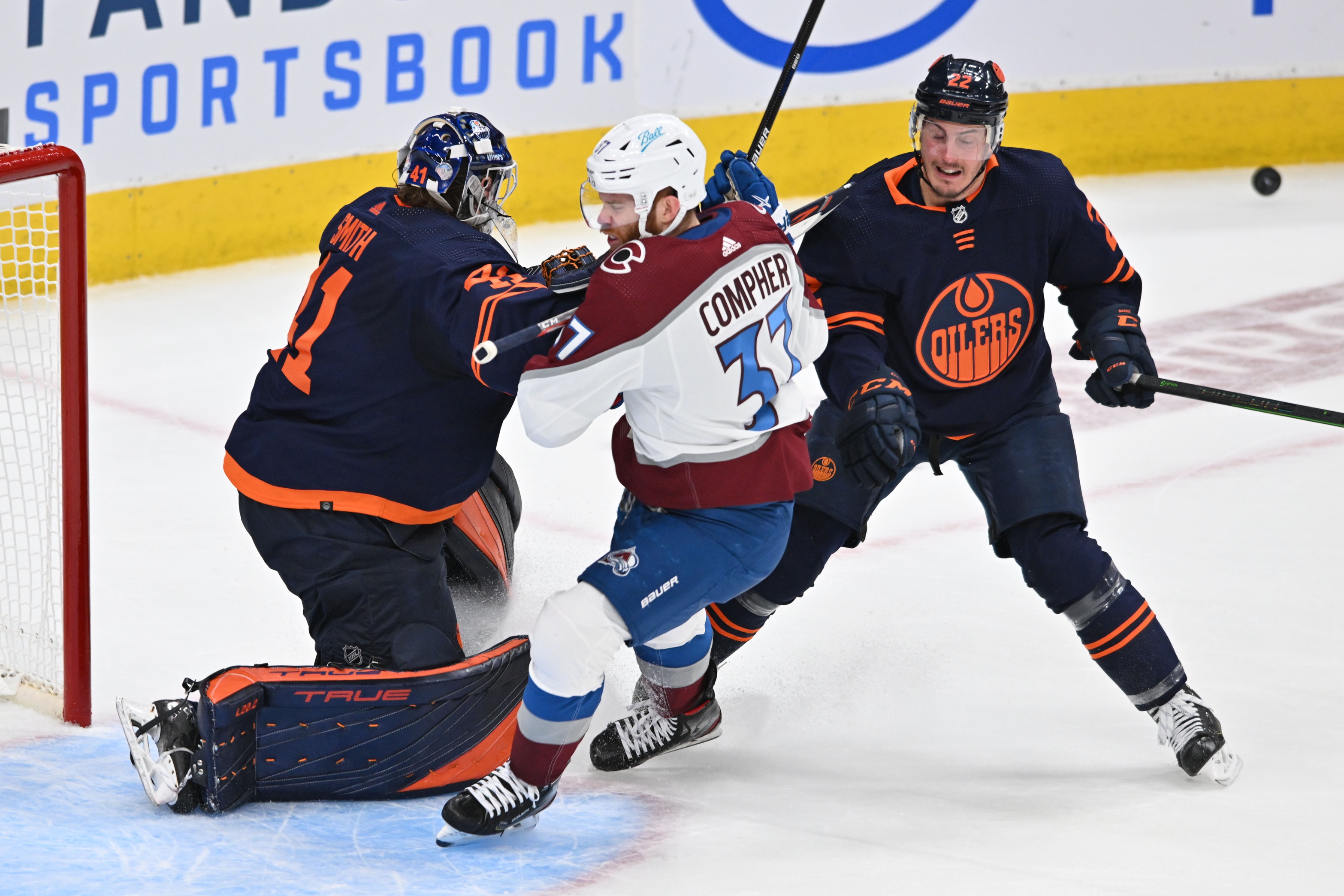 EDMONTON, Alberta — Nazem Kadri's injury in Game 3 on Saturday may have overshadowed an otherwise glorious night for the Avalanche.
Colorado pulled within a victory of its first Stanley Cup Final berth in 21 years and may have to play some of it — if not all — without Kadri. Head coach Jared Bednar is expecting a number of guys to step up in his absence.
"His role will be filled by committee," Bednar said. "That's how big of a player he is for us. It could be one guy one night and different guy the next. I'm comfortable with it. Obviously, it's a huge loss but it's out of our control. It is what it is."
According to multiple sources, Kadri has a broken right thumb as a result of the hit from Evander Kane on Saturday. Although Bednar would neither confirm nor deny the report when asked about it following the Avs' optional practice on Sunday.
The one thing we do know is Kadri will not play against the Oilers, meaning he will at least miss Game 4. If the Avs win that game, his availability in the Stanley Cup Final will be determined at a later time.
Here are three players that could step up as part of that committee Bednar speaks of in Kadri's absence.
Listen to "Kadri Hurt as Avs Take 3-0 Series Lead" on Spreaker.

J.T. Compher
He already has stepped up. And in a huge way.
Compher scored the game-winning goal after the Avs successfully killed an Oilers power play. He came out of the box as if he was shot out of a cannon and beat Mike Smith five-hole. Compher then skated to the crease looking for a rebound before realizing the puck was already in the net.
As he did the remainder of Game 3, Compher could slot in as the No. 2 center alongside wingers Mikko Rantanen and Artturi Lehkonen. Bednar also didn't rule out the option of using Rantanen at the center position — something that was common earlier in the regular season when superstar center Nathan MacKinnon was hurt.
When Kadri was out in the regular season, Compher centered Lehkonen and Valeri Nichushkin on the second line. So this won't be his first stint among the top six if that's the route Bednar takes.
Nico Sturm
Center Nico Sturm had missed the last number of games as a healthy scratch before dressing in Game 3 in Edmonton.
His faceoff abilities are important for Colorado without Kadri, who takes a majority of Colorado's draws in key moments. Sturm returned to the lineup in Game 3 because of an injury to Nicolas Aube Kubel.
If Aube-Kubel is ready to return on Monday, Sturm could potentially center him and Alex Newhook on one of the bottom two lines.
Mikko Rantanen
Kadri's offensive production will also need to be replaced by committee. It helps that Compher has five goals in his past four games. But it's even more important to the Avalanche that Rantanen has now scored in three straight games after having just a single empty-net goal through the first two rounds.
Rantanen, whether on the wing or at center, will be relied on to up his offensive production. And it's something that he's certainly comfortable with.
__
Aarif Deen is our Colorado Avalanche beat reporter. He covers Avs games live from Ball Arena and attends practices, media availabilities and other events pertaining to the Avs on the daily beat. He is also a co-host of Hockey Mountain High: Your go-to Avalanche Podcast. Deen joined Mile High Sports upon completion of his bachelor's degree in journalism and master's in business administration from the University of Michigan – Dearborn. Before Mile High Sports, Deen worked for the Michigan Wolverines Athletics Department as the assistant sports information director.
Listen to "Kadri Hurt as Avs Take 3-0 Series Lead" on Spreaker.