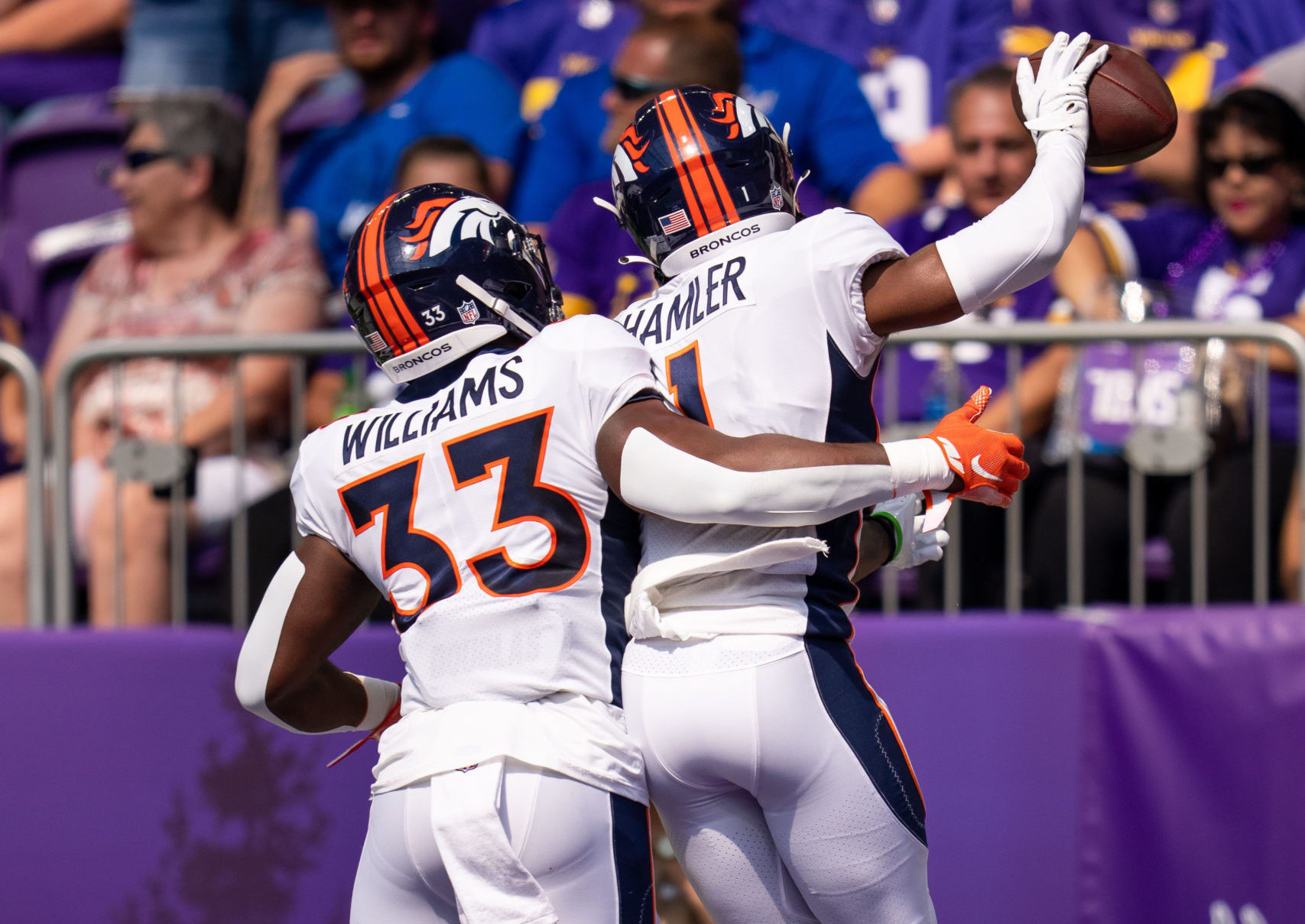 The Broncos rolled the dice when they traded up to select a running back — a position falling out of vogue — in the second round of this year's draft.
Only one game into his career, and the early returns are looking promising.
Javonte Williams played a mere 10 snaps in the debut but made quite the impact in that limited time. Williams finished the day with 29 yards on five carries, but his stat line would have been even more impressive than that if not for an offensive holding penalty on Jerry Jeudy that erased a touchdown.
The important showing was important for Williams, as it's hard to adequately evaluate the running back position until the bullets truly start firing.
"[I] was anxious to see him because you can look at running backs all you want in practice and they can do good and get better," head coach Vic Fangio noted after the Broncos' 33-6 victory over the Minnesota Vikings. "But ultimately the number one job of a running back is to be able to make people miss or break tackles. And he was able to do that. And you could only find that in a game. So I was really anxious to see him, and obviously, he didn't disappoint."
That contact also benefitted Williams himself in terms of getting back into the swing of things as a running back.
"It definitely got me back into football mode," Williams said in regard to the contact that came with playing in a live game. "Going through the offseason and training camp we didn't really have pads on. So just getting the pads back on and getting tackled again it just made it feel like football."
The rookie also impressed incumbent quarterback Drew Lock with his calm demeanor and toughness following his unintentional flip on an early run.
"It was a little nerve-racking [to see him flip] but he's a tough kid," Lock told the media after his impressive showing. "I said it on the sideline, he's probably one of the youngest, calmest guys I've ever been around. I say young being a rookie but he's just extremely calm. I haven't seen him quote-unquote 'rattled' or 'the moment's too big.' I know we just played in our first preseason game, it's not the regular season whatever it may be but being next to him back there it honestly gives me a little more calmness just being able to be relaxed because he knows his job, he knows what he needs to do and when he gets the ball in his hands he runs pretty hard."
That ability to run hard is Williams' trademark trait. He's always been able to run through tackles and shake off defenders at the college level, and it was somethign he was itching to try now, as a pro.
"Definitely I like breaking tackles," Williams admitted with a wry smile postgame. "That is something Coach (Vic) Fangio had told me before the game that they were going to keep a tab on how many tackles I broke. So that was definitely something I was trying to do during the game."
The Broncos have the foundations in place for a downright deadly run game, headlined by Melvin Gordon and Williams.