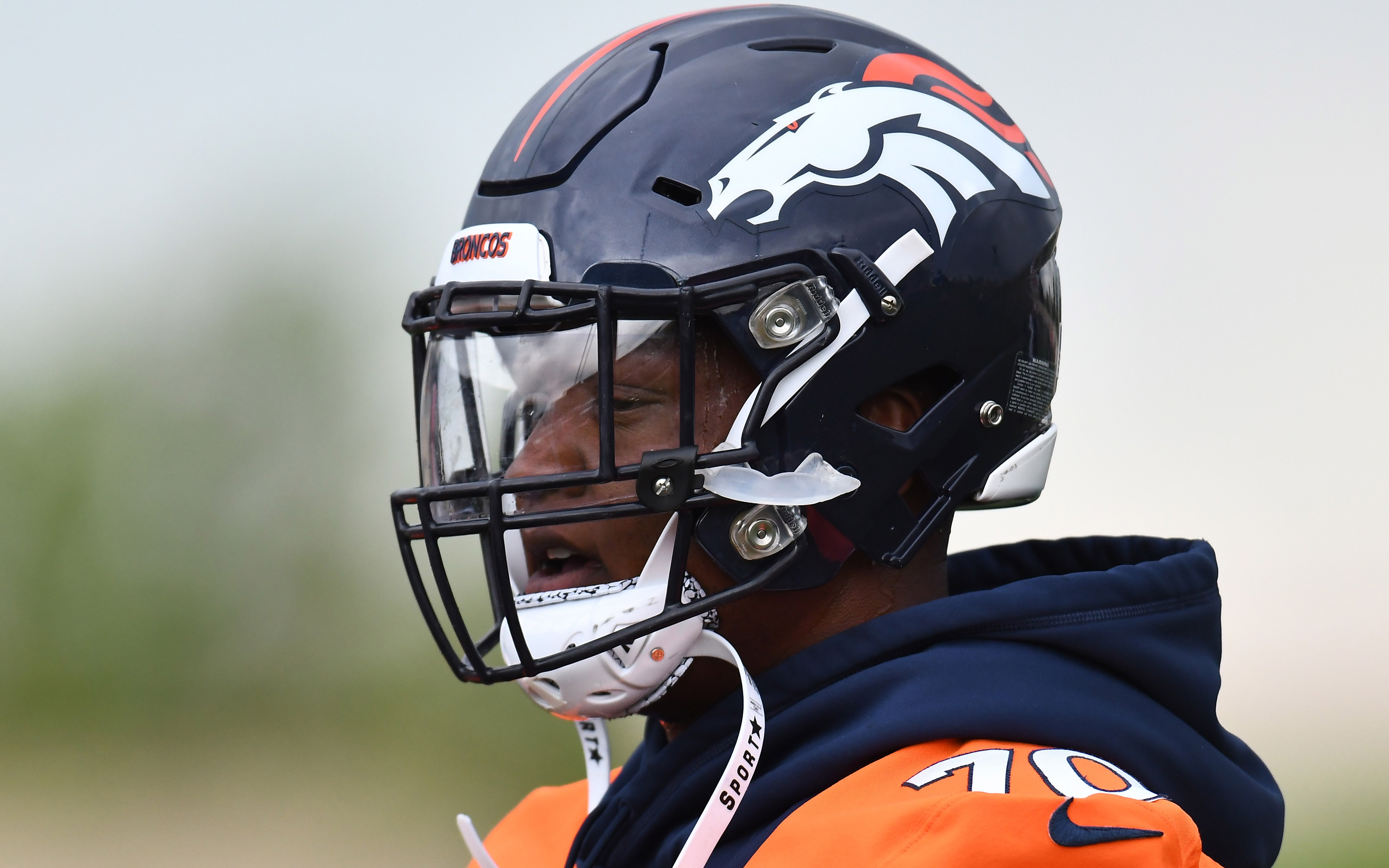 Ja'Wuan James' injury really hurts.
Especially in the days following the NFL Draft, where one of the few criticisms of George Paton's great first draft in Denver was not taking a right tackle.
"We targeted a few that were taken right before we took them, but it didn't fall our way," George Paton said in the Broncos' draft wrap-up presser. "We still feel good about our depth. We'll continue to look on the market—the free-agent market."
James, who signed at the time the richest contract for a tackle in NFL history in 2019, played a mere three games with the Broncos that year before being sidelined due to injuries. Then, he opted out of the 2020 season due to COVID-19 fears.
And now, James tore his achilles tendon while working out away from the team facility while getting ready for the 2021 season.
That really hurts Denver because, since they didn't address the tackle position in the draft, Calvin Anderson is now the next man up at that spot.
Just to clarify, this was after getting out of the gym and had nothing to do with what I just realized about my brother on the line!

I'm very sorry to hear about it and I see how it could be interpreted incorrectly. Praying for his swift recovery 🙏🏿 https://t.co/JeIn9RBqaI

— Calvin Anderson (@THE_CONDA25) May 4, 2021
Anderson, a 6'5″ 300 pounder, started two games for Denver last year but was mostly used as a special teams blocker on extra points and field goals.
So, Denver is currently looking to fill James' void by signing a free agent per Mike Klis. They have reached out to Demar Dotson, who started eight games for the Broncos last year and played well before injuring his groin. They also reached out to Charles Leno, formerly of the Chicago Bears, who actually had a better grade according to Pro Football Focus (74.6-70.6) than did Dotson.
The Broncos may have drafted one offensive lineman last weekend, but Quinn "the gut" Meinerz will start practicing at the center position — pushing Lloyd Cushenberry with competition — and then will also learn guard. He will not be the replacement at right tackle, nor will Daton Risner be moved to the opposite side and outside, as some have guessed on twitter.
"I think Munch (Offensive Line Coach Mike Munchak) is wanting to start him at center," head coach Vic Fangio said of Meinerz. "Those centers—unless you're the starter—have to be able to play guard, too."
As for how this potentially helps the Broncos, because he injured his Achilles away from team workout facilities, James' $10 million salary may not have to be paid by the team. If he's cut, the Broncos will have paid him $17M for a mere 67 snaps over three years.
The Broncos will likely look to take that extra $10M and pay the replacement tackle.
Of course, this is also difficult for Denver because with the growth of Garett Bolles in 2020, the development of Risner at left guard and Graham Glasgow's decent play, the orange and blue were likely to have the first or second-best offensive line in the AFC West this year.
That's rough for either Drew Lock or Teddy Bridgewater, the two quarterbacks who will be in competition in the leadup to the season, because teams look to possess dominant pass rushers from the left side of the defense. Or, the right side of the offense.
Bridgewater was lights-out for the Panthers in 2020 with a clean pocket, including a shocking 74.2 completion percentage and 14 of his 15 TDs. But, he only completed 36.0 percent when pressured. Lock completed 67.8 percent of passes in a clean pocket compared to a ridiculously low 32.6 percent when pressured.
Denver's built a top-5 worthy defense this offseason thanks to Paton. But the Broncos' offense has been bottom-5 in the league for years. There's hope with the addition of Bridgewater and the growth of young receivers the offense can finally have some fire power once again in 2021.
But they simply have to keep the QB off the turf.
Expect the Broncos to sign a new right tackle immediately as OTAs continue.