After spending one season in the Denver Nuggets starting lineup, Nuggets power forward Jeff Green appears to be returning for a second season.
According to Mike Singer of The Denver Post, Green is opting into his $4.5 million player option for the 2022-23 season.
News: #Nuggets veteran Jeff Green is expected to pick up his $4.5 million player option, a league source told @denverpost.https://t.co/9ffuShvLjf

— Mike Singer (@msinger) June 17, 2022
In 75 games during the 2021-22 regular season, the 35-year-old forward averaged 24.7 minutes, 10.1 points, and 3.1 rebounds per game. He started 63 games in place of the injured Michael Porter Jr. and maintained a 62.7 True Shooting %, a career high. The playoffs weren't as kind to Green, but the Golden State Warriors were of course a tough matchup for just about everyone in the playoff field.
With Porter returning to the starting lineup, the Nuggets forward rotation is undergoing a bit of a transformation. JaMychal Green will reportedly be traded to the Oklahoma City Thunder before the 2022 NBA Draft. Vlatko Čančar is a free agent. 21-year-old Zeke Nnaji is expected to step up into a larger role in the rotation.
Where Jeff Green fits into that mix is unclear. He's best used as a power forward in most lineups, but Porter, Aaron Gordon, and Nnaji can all say the same. The Nuggets have holes to fill in their perimeter defense on the wing, as well as at backup center if DeMarcus Cousins doesn't return. Green is certainly a good and helpful veteran player, but whether he's in Denver's plans as a rotation player remains to be seen.
Nuggets head coach Michael Malone, general manager Calvin Booth, and governor Josh Kroenke have all stressed the importance of the Nuggets staying aggressive, and that means that everybody outside of Nikola Jokić and Jamal Murray could probably be had for the right price. It doesn't make sense to trade Porter or Gordon though for different reasons.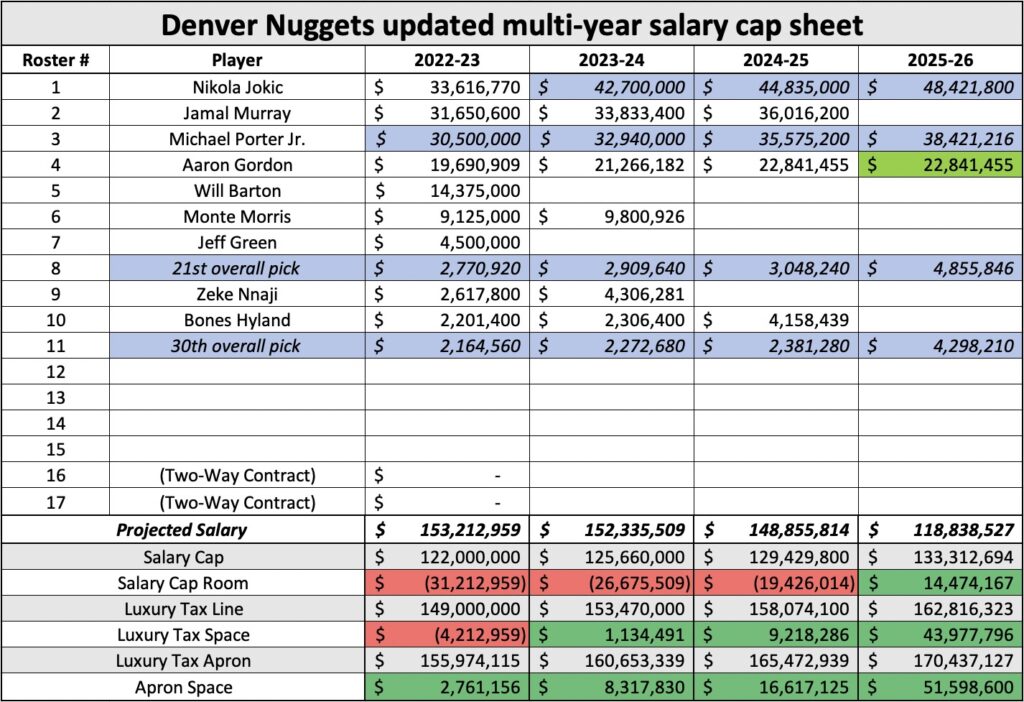 That leaves Monte Morris, Will Barton, Bones Hyland, Nnaji, and Green as the only other players under contract for the 2022-23 season. If the Nuggets are going to make trades and bring in an upgrade of some sort, the outgoing salaries will have to be made up from the group of five players listed above. That's just the reality of Denver's situation as a contender.
So, Green may be back for the 2022-23 season, but it's not a guarantee as of yet.