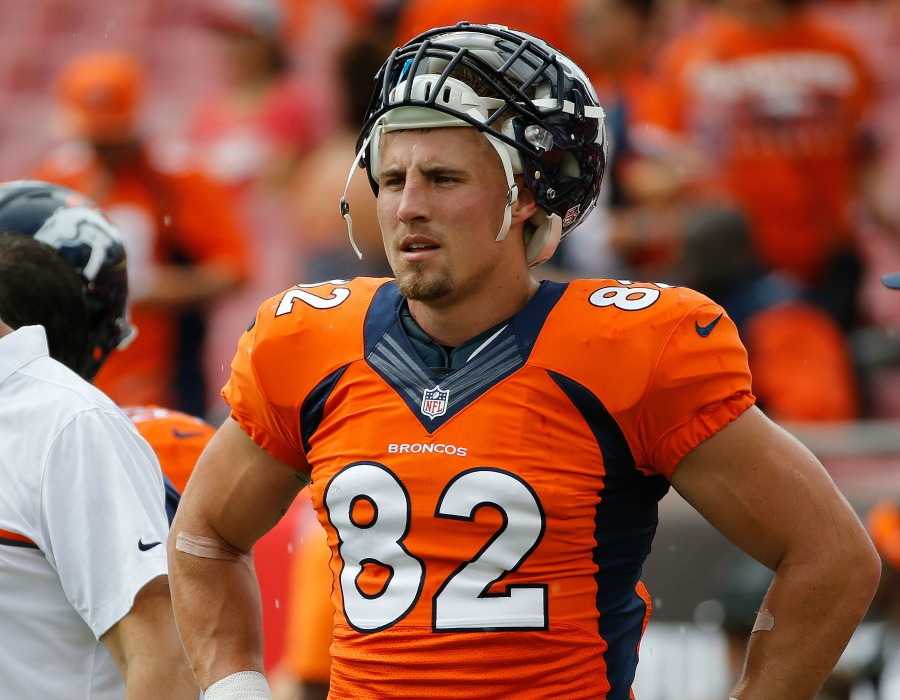 Jeff Heuerman is the only remaining member of Denver's 2016 draft class. With Noah Fant's arrival in Denver, his future may be in question too, though.
Following Tuesday's practice, Heuerman told reporters that he's feeling great after missing four games with broken ribs in 2018. Heuerman also responded to questions about Denver's decision to select Fant in the first round.
"Noah is a good player and when we add good players, it's good for the team," Heuerman said.
Heuerman went on to say that the team's priority is always to win games – and if Fant can help the team win games, then he'll be happy.
"We're working together and it's going to be good," Heuerman said. "We're all learning a new offense and it's going to be exciting."
No matter what his role ends up being this season, Heuerman hopes to impress the new coaching staff with hard work and dedication. Whether it's blocking or running routes, Heuerman feels he can handle whatever responsibilities are thrown his way.
Heuerman explained that having already adapted from high school to college, and then from college to the pros – where he's already played in multiple schemes – he's comfortable with the process of proving himself in a new system.
That being said, it helps to have a solid relationship with individual position coaches. Heuerman is aiming for exactly that with Broncos tight ends coach Wade Harman.
"He's awesome and a great coach," Heuerman said. "He's a really technical coach. He knows a lot of tight end technical stuff which is really good. He's teaching us a lot in that room so we're excited to have him."
Along with developing a relationship with the new coaches, Heuerman is trying to establish chemistry with his new starting quarterback, Joe Flacco.
"He's been great," Heuerman said. "Joe's been around. He's seen just about everything you can see in this league."
Heuerman explained that Flacco's presence is already benefiting the offense and that his presence is rubbing off in the locker room.
"He's a great quarterback… it's nice to play with him," Heuerman said.