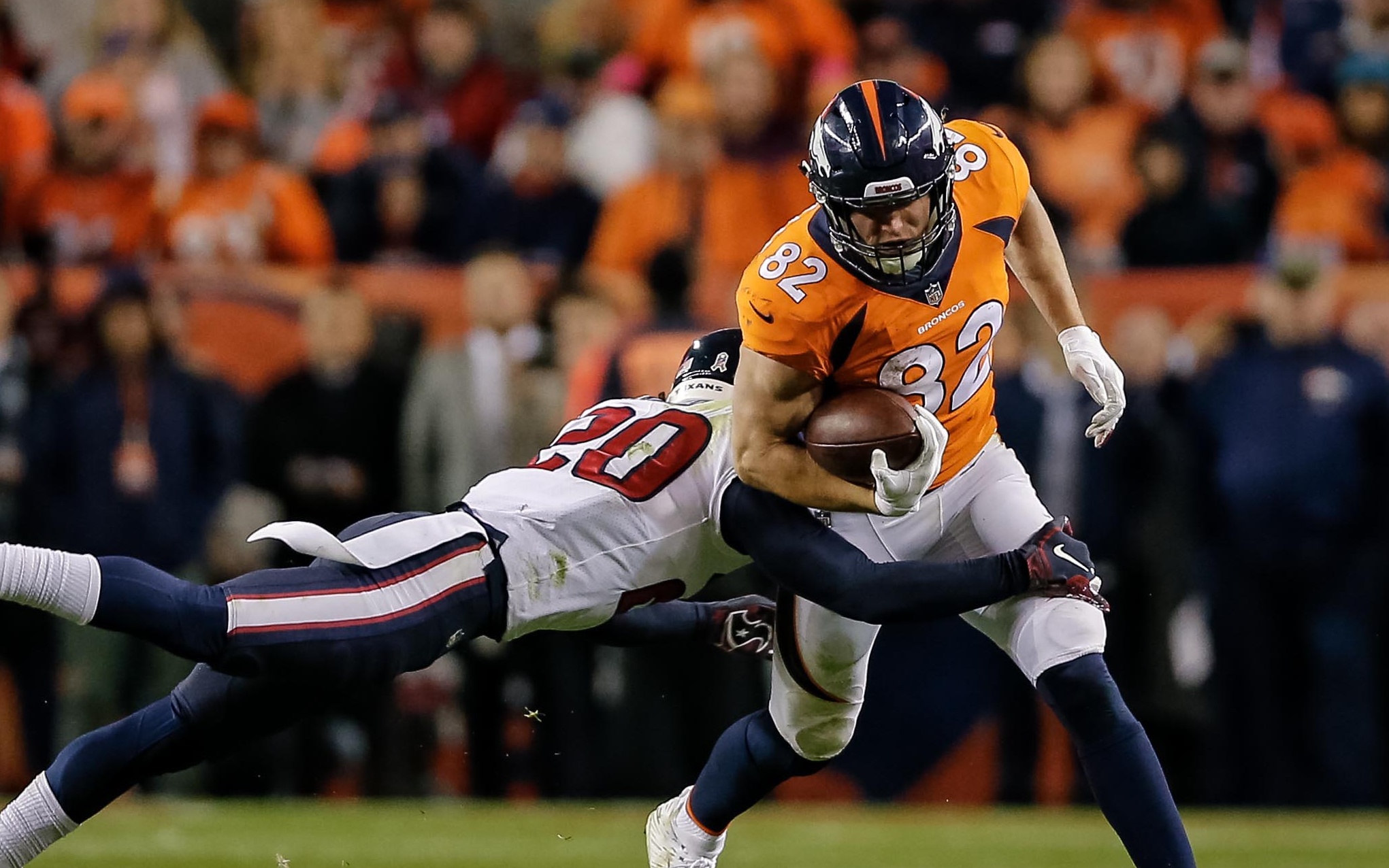 The Denver Broncos suffered yet another loss on Sunday, falling to the Houston Texans at home. The Broncos had multiple chances to win the game, but a missed 51-yard field goal from Brandon McManus sunk the Broncos' chance to come away with a win.
A week prior to the game, the Broncos traded former Pro Bowl receiver Demaryius Thomas, ironically, to the Texans. Losing a perennial receiver such as Thomas meant that other offensive weapons would need to step up for the Broncos to fill the hole left by Thomas' departure. Interestingly, Denver's leading receiver after the Thomas trade was tight end Jeff Heuerman this week, who has become one of Case Keenum's favorite targets as the season has progressed.
Heuerman was Keenum's security blanket throughout the course of the game. The Texans sent multiple blitzes against the Broncos ailing offensive line, and often under pressure, Keenum would look to Heuerman for a sure pair of hands while when under duress. Heuerman would finish the game as the Broncos leading receiver in catches (10) and yards (83) and a receiving touchdown.
Heuerman's best play of the game came on that touchdown reception, securing the ball while being sandwiched between two Texans defenders. The next highest-targeted receiver Emmanuel Sanders, who mustered just six catches for 47 yards in his first game as a Bronco without Demaryius Thomas.
Halfway through the NFL season, Heuerman's chemistry with Keenum has blossomed week-in and week-out. Heuerman saw targets from all over the field, particularly on third down. A 2015 third-round pick from Ohio State, Heuerman hasn't grown in to a No. 1 tight end role like the Broncos had envisioned.
Entering the 2018 season, Heuerman had been second on the depth chart behind tight end Jake Butt. After Butt was put on Injured Reserve with a knee injury, Heuerman has played well with his increased role and playing time.
Heuerman's breakout game might be a sign of good things to come. With Thomas no longer on the team, Keenum appears to be most comfortable throwing in Heuerman's direction. As the Broncos fall to 3-6 on the season, any offensive chemistry is a positive sign, as the Broncos desperately look to cling onto something to salvage their sinking season.