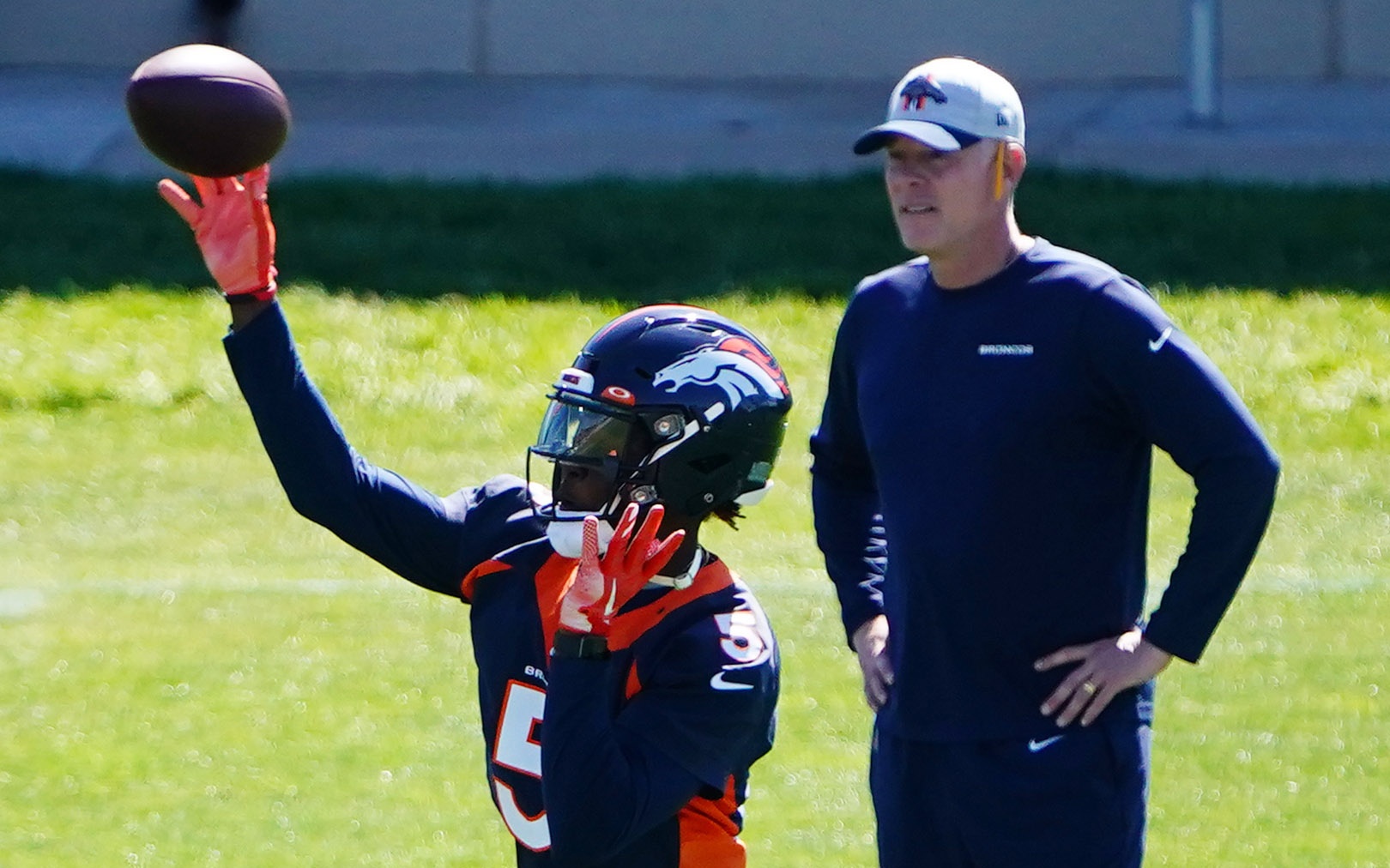 It's no secret the expectations surrounding Jerry Jeudy are a mile high.
Likely, both for the Denver Broncos and for the young, star receiver both.
Jeudy was the man at Alabama, where many wideouts have come through to then excel at the NFL level. Julio Jones, Calvin Ridley, Amari Cooper are three, and Jeudy wants to add his name to the list of athletes to do it at the next level, too.
That's why his rookie season was so tough to struggle through, for him and the fans alike.
Jeudy was drafted in the first round in 2020, expected to start and help elevate Denver's offense. Instead, he had to work with multiple quarterbacks, and his time with Drew Lock was strained by wild inaccuracies from the young gun-slinger.
Lock's 57.3 completion percentage was by-far the worst in the NFL, 35th to be exact, and his "bad throw percentage" (22.9%) was the worst among QBs who started more than four games last year.
Like a penguin in a kids' movie, Lock has happy feet, feeling the pressure and then either taking off to throw it on the run or chucking the ball up off his back foot. That helped result in an NFL-high 15 interceptions, and according to Pro Football Focus, the most incomplete targets to a receiver that were a QB's fault.
Of course, it wasn't all Lock's fault. Jeudy dropped a way-too-high 14 passes in his rookie campaign, which were second-most in the NFL.
So, it's no surprise Jeudy — who's one of the hardest working receivers in the game today — wants to move past a so-so rookie season and really start impacting the Broncos' offense in a big way.
Already in OTAs, he and newcomer quarterback Teddy Bridgewater seem to have something special going. OK, it's just OTAs, and it was only 7-on-7s yesterday, but Bridgewater and Jeudy made some awesome connections against the No. 2 defense, including this touchdown down the sideline.
File this under things we love to see: @jerryjeudy making plays. 🔥 pic.twitter.com/AxA3e7xS30

— Denver Broncos (@Broncos) June 1, 2021
"I feel like he's a great quarterback," Jeudy said of Bridgewater at the end of practice on Tuesday. "He knows how to anticipate. I feel like he's good at anticipating where players are going to be. I feel like that's a good thing he does."
It's not just Bridgewater's anticipation which is helping him gain favor with his young teammates, but tight end Noah Fant also said he loves the way Bridgewater asks where they want the ball placed and then the veteran QB works to do just that.
"I saw an improvement in him today and thought he did better than he did last week," head coach Vic Fangio said of Bridgewater. "We're trying to give him as much as we can. Play reps are down in the OTAs more than normal. We're giving them as much as we can so when we come back to training camp, it's not the first time they've heard something."
While Drew Lock seems to still be in the driver's seat in terms of winning the QB competition at Dove Valley, Bridgewater is working diligently to earn that spot. But Fangio and the rest of the decision-makers know this time in June during OTAs will be crucial to help him hit the ground running if he does end up winning the job.
For now, all we have are 7-on-7s, but Denver's head coach said the team will go into 11-on-11 drills next week, where we'll get an even better glimpse into what Bridgewater could possibly bring to the offense.
In the meantime, he's working hard to learn his receivers and their tendencies as the Broncos look to make it back to the playoffs for the first time since 2015.