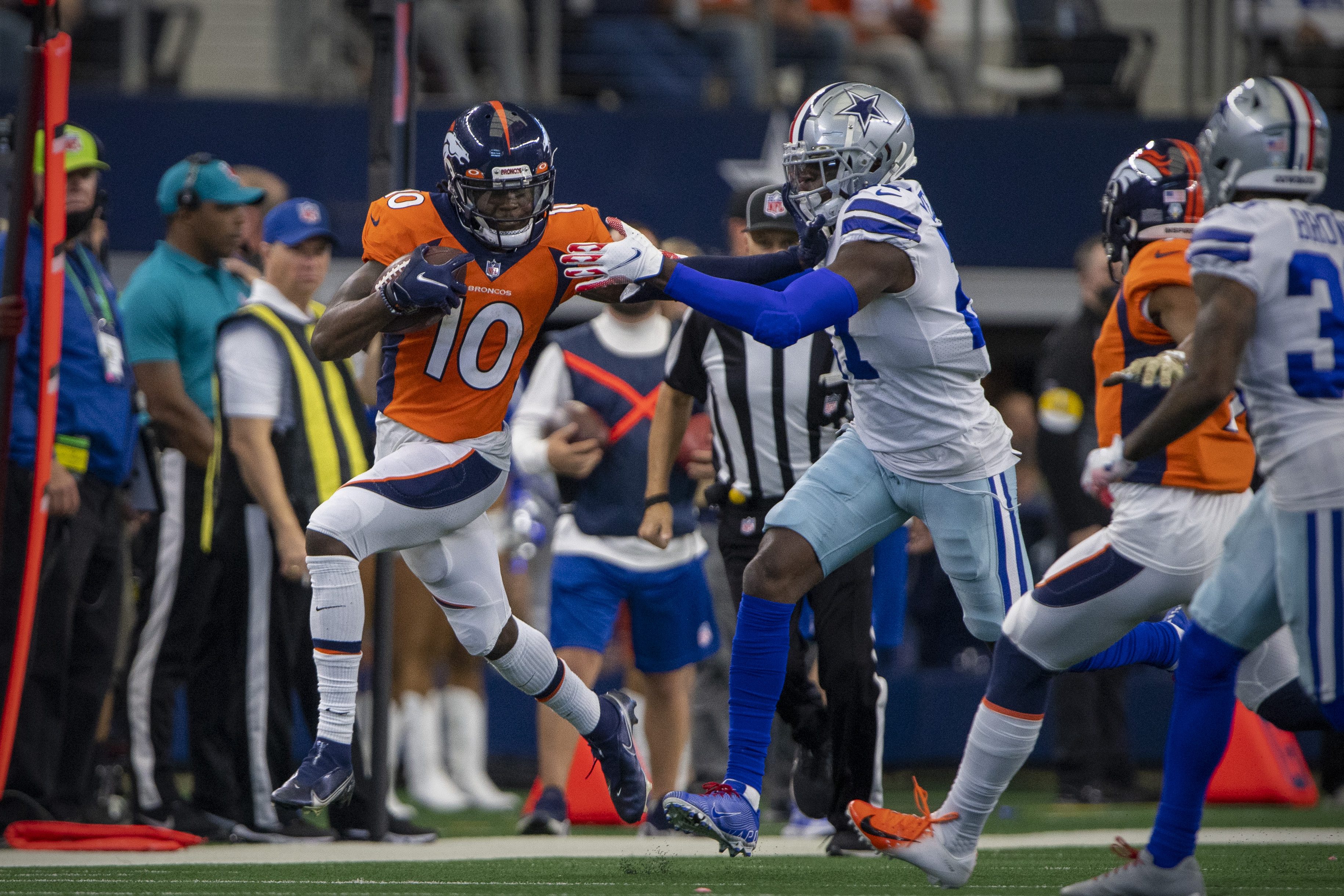 It's no secret that the first two years of highly touted receiver Jerry Jeudy's NFL career hasn't quite gone to plan, thanks to a painful cocktail of drops, injuries, and horrifically miserable quarterback play.
That said, Jeudy has an incredibly mature mindsight in regard to his struggles.
"There are things you can control and things you can't control," Jeudy told the media on Wednesday. "Those first two years are gone now, so I'm just focused on this year."
Joining him this season is a superstar quarterback in Russell Wilson, who should be able to aid Jeudy in his quest to get his career back on its intended trajectory.
"[Wilson] could help me a lot," Jeudy said. "He's a great quarterback—a Hall of Fame [caliber] quarterback that came to the offense as a leader. [He's] getting me better as well. He's going to help me a lot this year"
Another big change can be spotted with the coaching staff and their personality as the jovial, fun-loving Nathaniel Hackett replaces the ever-scowling tandem of Vic Fangio and Pat Shurmur. This should also benefit the now-third-year receiver out of Alabama.
"Coach [Nathaniel] Hackett is a really cool dude," Jeudy said. "I like the energy he brings to the facility every day. [He's] always joking around and always playing around. [He] always has fun with the game. That's the type of coach I like."
Lastly, the offense will also be aided by the return of Jeudy's 2020 NFL Draft co-star, K.J. Hamler — who is presently rehabbing from a season-ending knee injury, and who is ready to return to being an impactful player, Jeudy says.
"KJ [Hamler] has progressed a lot with coming out there, running routes, getting back stronger and getting back healthier. I feel like he's been doing what he needs to do to get back to where he needs to be."
If all these pieces are able to finally fall into place under Hackett and Wilson's leadership, it should mean big things for Broncos Country.