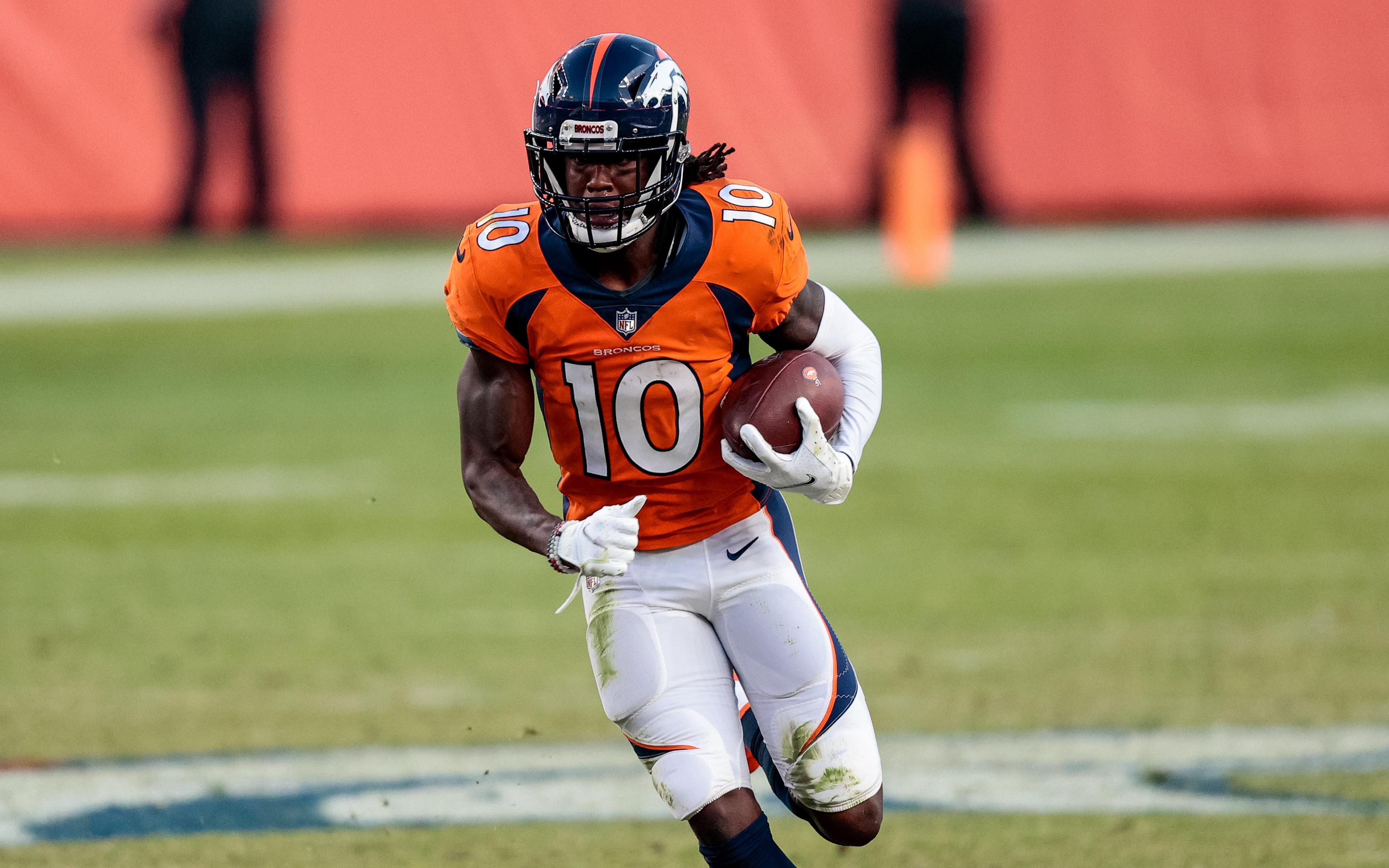 For a guy like Jerry Jeudy, 2020 was about as bad as it could go.
Jeudy was the consensus No. 1 receiver in the NFL Draft last April, and the Broncos were thrilled to take him No. 15 overall. But, that high of a selection always brings along high expectations, which was the case for Jeudy in Denver.
Unfortunately, his rookie year was a tough one for everyone, due to COVID-19. The lack of offseason workouts disallowed him to work through issues and find chemistry with Drew Lock. And, it likely made it difficult for the young wideout to get the reps he needed in the offense, too.
And we saw that rust on the field.
Last year, Jeudy struggled with 10 drops, the most by any rookies in 2020 and the second most in the NFL to Diontae Johnson (13). Broncos fans don't have to be reminded of them, because the offense was so bad, those glaring mistakes to end drives were notable.
First and foremost, that's an area in which Jeudy should be able to improve in this season. Considering he's one of the best route runners in the league already, and seemingly always working on his craft, Jeudy will likely be putting that much work in on the jugs machine this offseason.
Those double-digit drops were tough to stomach, and that also led to an absolutely awful catch rate of 46.0 percent. That was the third-worst in the entire NFL, which included 202 qualified receivers last year.
But, it's important to note here that all of those miscues weren't just Jeudy's fault. As Pro Football Focus points out, 26 of his incompletions were due to the quarterback, and there were four different passers for Denver last year.
Of course, the starter was Drew Lock, so most of the blame has to rest on his shoulders for off-target throws. In fact, Lock's 57.3 completion percentage was dead-last (35th) in the league last year, and his bad throw percentage (22.9) was among the worst in the league, too.
So, there in lies another reason why Jeudy should enjoy a breakout season. Either Lock will win the job over incoming veteran Teddy Bridgewater, and that will mean Lock has improved, or Bridgewater will take the reins of the Broncos.
Bridgewater's 69.1 completion percentage was fifth-best in the NFL last year, his most glaringly great statistic when looking at an otherwise pedestrian stat sheet. So, if the incoming veteran wins the QB battle, that should bode well not only for Jeudy, but guys like Noah Fant, Courtland Sutton and KJ Hamler, too.
That's because Bridgewater is using his experience to create chemistry with Jeudy, and he's asking Fant (and likely others) where they want the ball placed and more.
And continuing, according to PFF, who called Jeudy a breakout star to watch in 2020, he was in the upper half of both usage and efficiency.
So, the hope is just a regular regression to the mean in the positive sense of drops and catch percentage should help him become an incredibly valuable receiver in fantasy.
And, according to that same PFF article, Jeudy's average draft position is only WR36-to-WR45, if you can get him at the right time in your draft, he's going to be an absolute steal. Similarly, with likely less upside this year than last, Tim Patrick was a beast in the second half of last season in fantasy, racking up three touchdowns in the last five weeks and had zero drops.
Of course, Patrick's production will likely drop this year with the return of Courtland Sutton, but Patrick could be a nice little sleeper in a late round situation, or even a post-draft addition.
It's June, meaning we're in the dead period for the NFL, but soon enough it'll be time to draft your team and put together a fantasy football contender. Jeudy should be a WR3 or WR4 with ease this year.