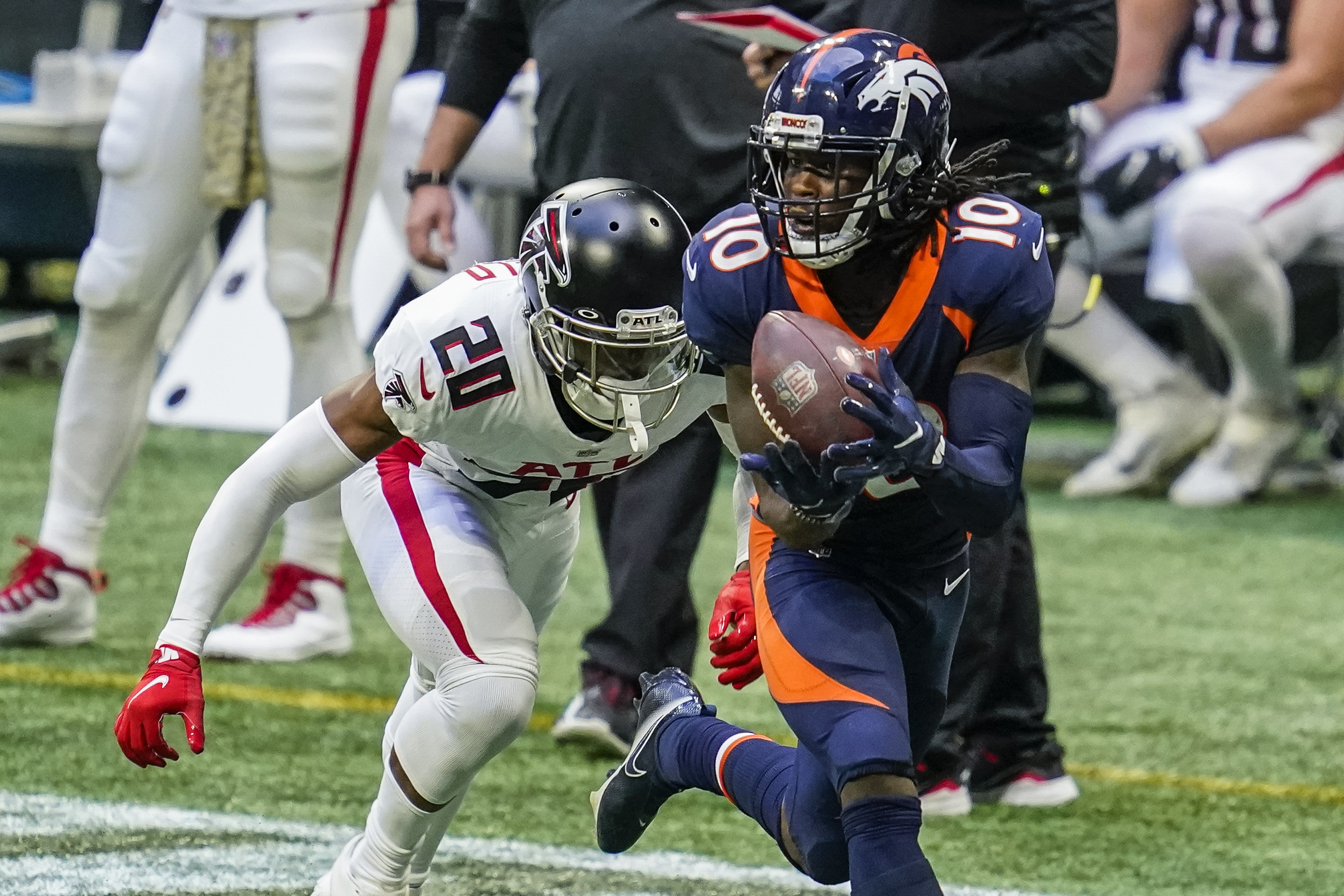 It's no secret that Jerry Jeudy's rookie campaign for the Denver Broncos was fairly disappointing.
He was outshined statistically by multiple rookies taken after him, despite the injury to Courtland Sutton inflating the number of targets Jeudy saw. He also struggled with drops to the point that he might have cost the team a game in Week 16 against the Los Angeles Chargers.
However, Jeudy is more than ready to bounce back and show everyone why he was drafted in the top 15.
In a recent article ranking the top 15 second-year players most likely to break out, ESPN slotted Jeudy No. 2, behind only Joe Burrow.
"Jeudy had a rough season, hauling in only 46 percent of his targets en route to a 52-catch, 856-yard campaign," Seth Galina, typically of Pro Football Focus, wrote for ESPN. "There is hope for upside, but that's assuming Denver's quarterback play is much improved. Jeudy led the league in targets that were incomplete via a quarterback-fault error (28), according to tracking from PFF. Accuracy issues from Broncos quarterbacks simply didn't allow for him to show off his true skill set."
In our own Mile High Sports study, which is set to publish in the August magazine, we also found that the No. 1 factor in Jeudy's rookie-year struggles was the quarterback. For every ball Jeudy dropped, there were two thrown his way that were so off target he couldn't even get a hand on them.
There's no guarantee that situation will be much better for Jeudy in 2021.
However, Jeudy's hands must improve as well.
"Jeudy wasn't completely faultless, though, as his 17.1% drop rate ranked as a bottom-five mark in the league among receivers with at least 25 targets," Galina continued. "But if those numbers — quarterback-fault incompletions and drop rate — regress toward average, Jeudy is in line for a great 2021 season."
In that regard, Galina is absolutely right. If you take Jeudy's rookie year production, but give him a league-average reception-rate and add in a 17th game, and his end-of-year numbers would be 74 receptions for 1,226 yards and four touchdowns. That's a massive improvement from the statline of 52 receptions for 856 yards and three touchdowns he had in actuality.