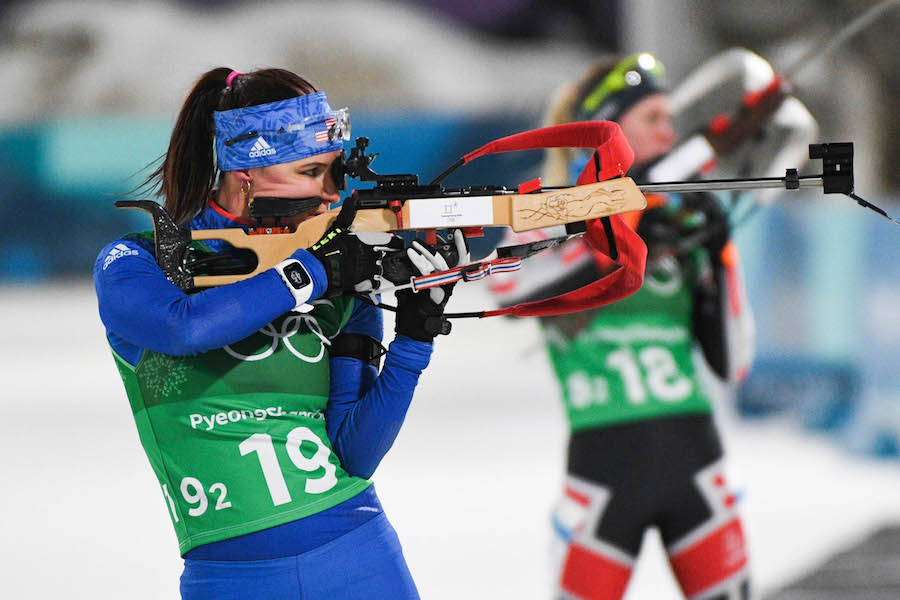 Former University of Colorado Nordic skier Joanne Reid's 2018 Winter Olympic campaign ended with some disappointment, but still much better than it began.
Reid competed Thursday in the women's biathlon 4x6K relay, helping Team USA to a 13th-place finish with a time of 1:14.05.3 at the Alpensia Biathlon Center.
Reid was paired with three other former collegiate athletes in Susan Dunklee (Dartmouth), Clare Egan (Wellesley/New Hampshire) and Emily Dreissigacker (Dartmouth) in what was the last women's biathlon competition of these Winter Olympic Games.
It was Reid's fourth race in her first Olympic appearance.
The result was a much-improved end to a Games that began with a second-to-last finish in her first event.
She finishes the 2018 PyeongChang Games with an 86th place finish (out of 87) in the women's 7.5K sprint, placed 22nd out of 87 finishers in the women's 15K individual and was a part of the 2x6K women plus 2x7K men mixed relay team that placed 15th in addition to her 13th place women's relay finish Thursday.
The U.S. was in fourth place at Reid's exchange, just 16.8 seconds out of first and only 0.7 seconds from medal position. However, Reid used all three spares in prone and still left a target standing. That meant she had to ski the team's only penalty loop of the race, pushing them back to ninth place.
"My first prone it was a little disappointing to miss two right off the bat," Reid told U.S. Biathlon after the race. "When I looked up to load my spare I realized it was a particularly difficult stage. I think all the people around me were missing and then I calmed down quite a bit because it looked like everyone was kind of missing left and right."
After a strong standing round, Reid had the U.S. back into sixth place, but a rocky outing for Dreissigacker in both the ski and shooting disciplines dropped the Americans to 13th.
The shooting portion of the competition was a major challenge for Reid in her first event, when she missed seven targets — the most of any competitor in the 7.5K sprint.
"I'm tired," she said after the race. "That was actually the worst shooting of my life, so I can't go much farther downhill from here, so there's that."
She steadily improved through the remainder of the games, though, and now has valuable Olympic experience to build on as she turns her focus to a bid for the 2022 games in Beijing.
Reid, 25, is the daughter of 1980 Olympic speedskating bronze medalist Beth (Heiden) Reid, and the niece of Eric Heiden, a five-time Olympic gold medalist in speedskating.
In her days as a Buff, Reid won 11 races from 2010-13, which ranks in a tie for the seventh-most wins by any Buffalo, regardless of discipline or gender, in school history. Her nine victories in her magical 2013 senior campaign are the third-most ever in a single-season, and she capped off that winter by winning the 15K freestyle race at the NCAA Championships to help the Buffs win what was then the 19th national title in school history.
Reid earned five first-team and two second-team All-America honors in her career, was the 2013 RMISA Most Valuable Skier for Nordic and named to the 2013 National Collegiate All-Academic Ski Team, which is essentially an Academic All-America honor that requires a minimum 3.5 GPA.