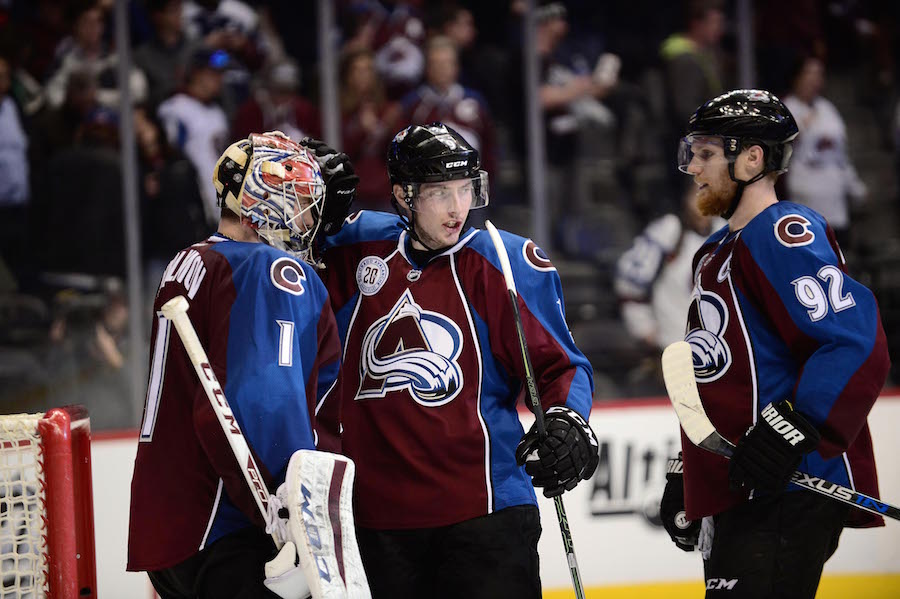 Tonight's final road game for the Colorado Avalanche marks the beginning of a two-game audition. After officially being eliminated from the playoffs Tuesday night in Nashville, the Avs have some soul searching to do. That starts at the top with Patrick Roy, Matt Duchene and Gabriel Landeskog and filters all the way down to the players being scratched from the lineup on a nightly basis.
Three years ago it was unthinkable that the Avalanche would be in the position they're in today. Colorado finished 52-22-8, won the Central Division and secured the No. 2 seed in the Western Conference. Nathan MacKinnon won the Calder Trophy, Patrick Roy won the Jack Adams Award and Semyon Varlamov was a Vezina Trophy finalist. The Avs young core finally looked as if they'd turned a corner.
If you combine a top-5 goalie, a fiery coach that knows how to push all the right buttons and a talented core, what do you have? You have a team ready to join the top echelon in the West.
Oh, how the mighty have fallen.
Injuries and a slow start pulled the Avalanche back down to earth last season. They went first-to-worst in the Central, finishing with only 90 points and a 39-31-12 record. Pile on this season's results.
Colorado was slated to bounce back. Varlamov was going to return to form, Duchene and Landeskog were going to skyrocket into superstardom and Roy's coaching magic was going to reemerge. But here they are – out of the playoffs, searching for answers.
Over the last seven games with a spot in the playoffs on the line, the Avs have gone 1-6. Roy openly questioned his core's leadership and called out Duchene for celebrating a goal when his team was down 4-1.
Fans are panicking. So what's next for the Colorado and who's got the most on the line in the next two games?
Duchene and Landeskog
Trade who? Yep, the birds are chirping loudly and they aren't happy with Colorado's biggest two stars. With Roy questioning the character of his core – and make no bones about it Duchene and Landeskog are huge pieces of that core – No. 9 and No. 92 should have pretty big chips on their shoulders. They're being blamed regardless.
It's hard to place all the blame squarely at the feet of Dutchy and Landy, but that comes with the territory when you're the faces of the franchise. Duchene has never donned the captain's "C" and Landeskog hasn't looked like a guy ready to right the ship. If either, or both, look more interested in their golf games than finishing the season strong, it might be time to start looking for different locker room leaders.
Semyon Varlamov
What a train wreck of a season it was for Varly. He's been pulled from more games than anyone can recall, he posted a .915 SV% and he allowed 2.77 GAA. It's an understatement to say that doesn't cut it. Calvin Pickard has been nipping at Varlamov's heels for playing time and he looks ready to handle the load as Colorado's top goaltender.
Does Joe Sakic bet on Varly for the future or turn the reins over to the only guy that has ever stepped up to Roy's challenges?
Forty-nine points from a defensemen is fanatic, posting a minus-14 is not. Sakic's biggest offseason concern will be addressing Colorado's Swiss cheese-like defense. Barrie is great with the puck and has proven to be a dangerous offensive weapon from the blue line, but his defense is suspect at best. Colorado's need for defensive defensemen is extremely high, which makes Barrie expendable and tradable. Everyone loves Barrie, but he needs to show a willingness to play solid defense.
Patrick Roy
Three years ago, Roy truly embodied the nickname St. Patrick. He could do no wrong. The opposite has been true over the last two seasons. Pulling the goalie earlier than anyone thought reasonable hasn't worked, nor has his domineering mentorship. Roy's motivational style simply hasn't worked recently… or maybe it's worn thin. Either way, a 130-90-24 record as a head coach only looks good when you make the playoffs. Roy has led the Avalanche to back-to-back disappointing seasons. It's time to take a hard look at whether or not he can get it done as a head coach.
Colorado's problems can't be solved with the wave of wand. They need to solve the holes on defense. Their head coach needs to prove he's more than just a Hall of Fame goalie and they have a core of players that need to take the next step.
Pride. Redemption. Job security.
It doesn't matter how you spin it, there's a lot riding on how the Colorado Avalanche finish the season, because changes are coming. Missing the playoffs for a second straight season is unacceptable, as Patrick Roy stated.