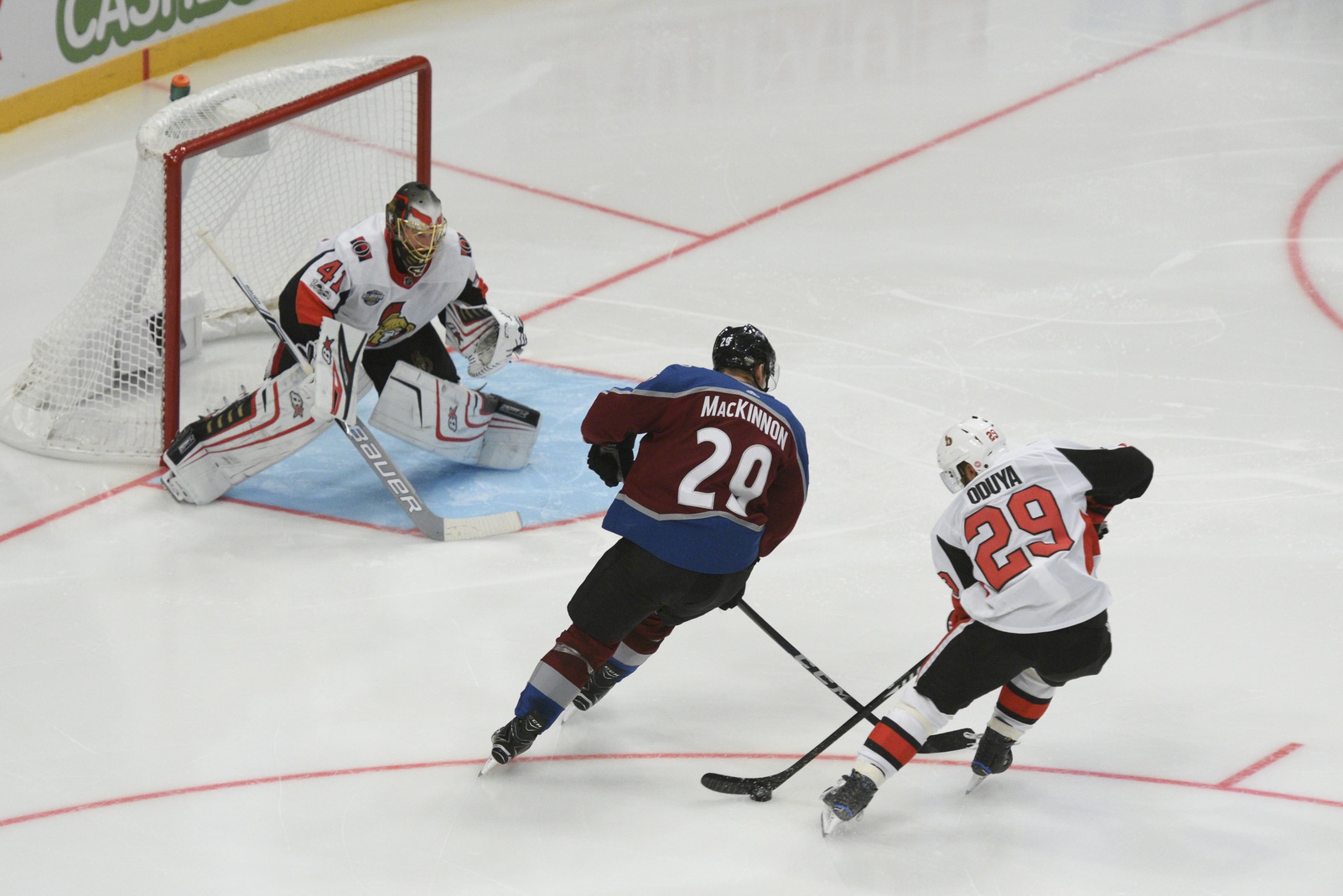 Heading into a likely condensed schedule in 2021, many teams have turned to the goaltending market in free agency to add a third-string goalie with NHL experience.
In Toronto, where starter Frederik Andersen and backup Jack Campbell are already under contract, the Leafs added serviceable goalie Aaron Dell as a third-string option before bringing back Michael Hutchinson as an additional safety net.
It's hard to truly gauge just how valuable the extra goalies are going to be. But for the Avalanche, who have a history of losing goaltenders to injury in recent years, a dip into what's left of the free-agent market may be a more viable solution than turning to American Hockey League goaltenders Hunter Miska and Adam Werner of the Colorado Eagles.
"We like the situation we have with the Eagles with Adam Werner. We thought he did a good job for us last year," Avs general manager Joe Sakic said. "Obviously we're very comfortable with Philipp Grubauer and Pavel Francouz. It's unfortunate they both got hurt in the playoffs but we expect them to both be fully recovered and not have those issues next year."
Grubauer and Francouz, Colorado's top-two goalies, both suffered injuries against the Dallas Stars in the Western Conference quarterfinals, which led to coach Jared Bednar turning to Hutchinson while facing elimination. The 30-year-old, acquired from Toronto at the Feb. 24 trade deadline, won two straight games before his magical run came to a crashing end in Game 7.
Sakic has not ruled out the possibility of adding a veteran goalie to replace Hutchinson.
"Just like last year, we'll see what we have to do and we'll try to make the best decision possible at the right time," Sakic said. "But we do want Werner playing a big role with the Eagles as well."
If that decision is in fact a free agent, Sakic won't have many options. But of the remaining free agents, there are three names that stick out:
Craig Anderson: The 39-year-old former Avalanche starter had a magical run in 2010 in Colorado. The player and team had a tumultuous relationship a year later, leading to an eventual trade. Anderson was shipped to the Ottawa Senators and has been a starter with the Senators for a large part of the past decade. He was 11-17-2, with a .902 save percentage in 31 starts for the 30th place Senators in 2019-20.
Jimmy Howard: The long-time Detroit Red Wings goalie has had a respectable career in the NHL. Until 2019-20, that is. Howard was 2-23-2 in 27 starts for the last-place Red Wings and was winless in his last 18 starts. Howard expressed his desire to continue his career and could revive his career in the Avalanche organization.
Ryan Miller: It's hard to believe that Miller is still playing in the NHL. The American played the bulk of his career with the Buffalo Sabres and was voted the most valuable player during the 2010 Winter Olympics. The 40-year-old spent the last three years as a backup in Anaheim and is coming off a 9-6-3 performance. Like Anderson and Howard, Miller played for a lottery team last season as the Ducks finished 27th in the NHL.