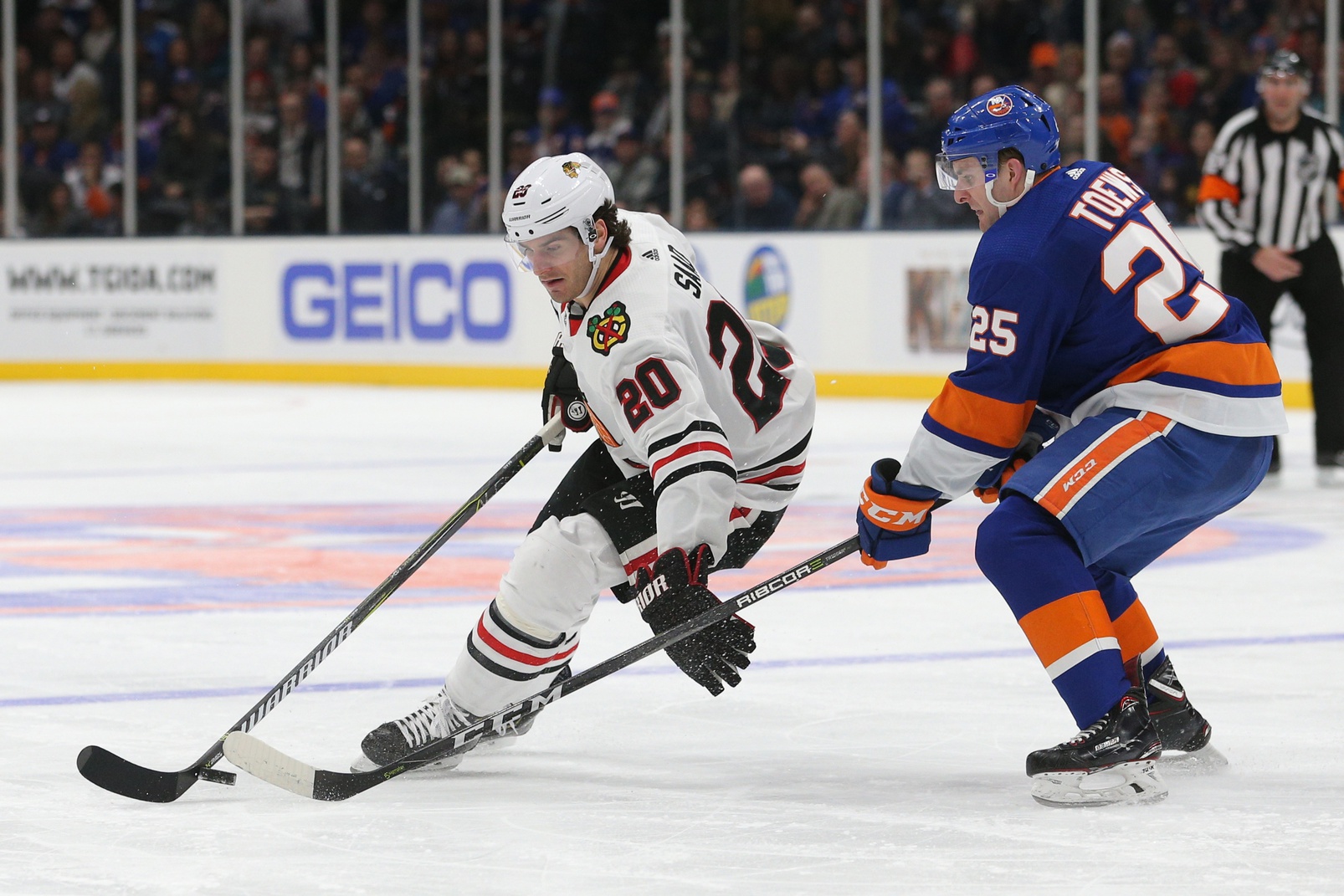 There is a phrase that best describes the Avalanche's general manager and the moves he's made through the first week of the offseason.
Joe Sakic is playing chess while every other NHL general manager is playing checkers.
Leading up to the opening of unrestricted free agency last week, the Avs were connected to nearly every big name on the market. From former Hart Trophy winner Taylor Hall to offensively-gifted defenseman Torey Krug and even two-time Stanley Cup-winning goaltender Corey Crawford.
Colorado, with all the presumed cap space at their disposal, was surely going to be a player in free agency, right?
Wrong.
Sakic turned to the trade market, just as he did in 2019 with the acquisitions of Nazem Kadri and Andre Burakovsky to bolster the Avalanche's forward depth.
This time, he flipped defenseman Nikita Zadorov to Chicago to round out his lethal top six with the acquisition of Brandon Saad. And to replace him on the blueline, Sakic sent two second-round draft picks to the Islanders for top-pairing defenseman Devon Toews.
"We're trying to put together as deep as a team as possible to make a run this year," Sakic said.
Neither Saad or Toews were the most talked about names connected to the Avs leading up to the trades. But both deals once again prove that in the time of COVID-19, a flat salary cap and an uncertain future, Sakic's focus remains on acquiring young assets that can grow with his core group.
"You have to have depth to win," Sakic said. "And we feel like we addressed that."
The thought of adding Hall for a year may have been enticing, but Saad, who is a free agent next offseason, is already contemplating the option of making Denver his home for years to come.
"Colorado has always been on my list as a team where I can see myself playing for a long time," Saad said. "It's still a little early to say, but like I said, I'll look forward to playing here for a long time."
What exactly do the Avs get in a forward of his ilk? A proven champion who plays physical and thrives in high-pressure situations. Saad has three playoff game-winning goals to his name and was a factor in either scoring or assisting on four of Chicago's 16 game-winning goals during the 2015 Cup run.
Last year's arrival of Burakovsky and Kadri gave the Avs two players that scored over a point-per-game in the playoffs and combined for six game-winning goals. A proven playoff commodity like Saad will likely be paired with the two, setting the Avs up with a second line unlike any they've had since arguably before the cap era.
"We were looking for a second-line player, I think that's the one thing that we wanted to address," Sakic said. "We are extremely happy to have Brandon with us. He is a guy that we watched for years, and we think he is going to be a great fit as one of our top six. We feel like we've solidified our top-six group."
Toews, a 26-year-old late-bloomer, played over 20 minutes a game for the Islanders last season. He spent time quarterbacking the top power-play unit and has grown into one of the NHL's more clandestine defensemen.
With his addition, the Avs can alter their defense pairings. Toews can slot into the third pair role once occupied by Zadorov, or Avs coach Jared Bednar can use him with Cale Makar on the top unit, pushing newly re-signed defenseman Ryan Graves to the third pair with veteran Ian Cole.
Toews' arrival also means Colorado can continue to patiently develop young defensemen Conor Timmins and Bowen Byram.
"We've seen enough of Conor, we know enough that he might be ready to take the next step," Sakic said. "Byram, we're going to give him every opportunity but also knowing that we don't want to put a lot of pressure on them. We want them to come in slowly and at their own pace."
Sakic still has more work to do. Toews, a restricted free agent, is in need of a new contract. The former Quinnipiac star filed for arbitration while with New York and a hearing has been set for Oct. 31.
Sakic also has to re-sign Tyson Jost, who along with Toews, are the last two remaining restricted free agents.
Other than that, the Avs are likely to add some minor pieces in free agency to fill out their 23-man roster while also potentially exploring the goalie market for a third-string goaltender to replace Michael Hutchinson. Sakic has publicly stated he's comfortable with Adam Werner as the third goalie, but with a number of NHL-quality netminders still on the market, Sakic may be enticed to change his tune.
Colorado has just under $7 million in cap space to achieve all of this.
There's no saying if Sakic has any other big moves up his sleeve. But if he doesn't, and the trades for Saad and Toews are the highlights of the offseason, then it's a job well done for the one they call 'Super Joe.'