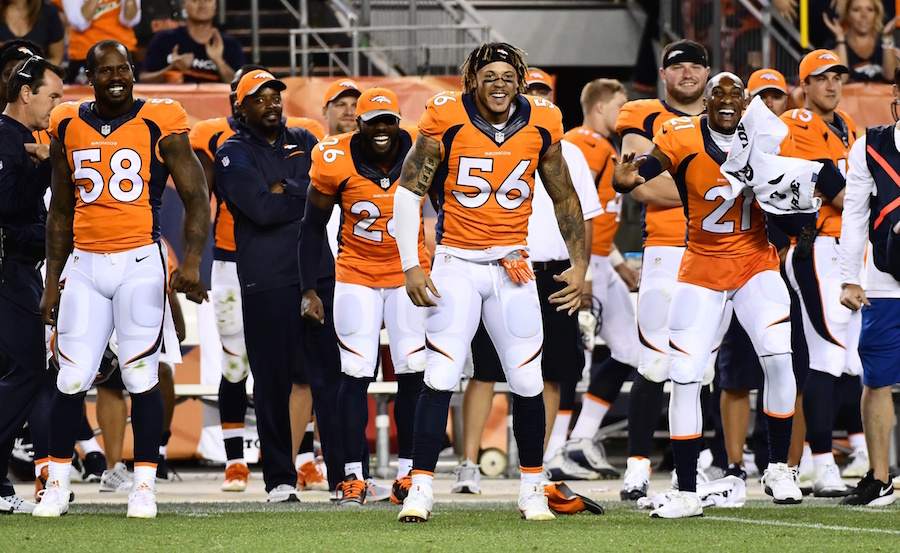 Back in training camp, defensive backs coach Joe Woods had his unit on the field running drills in the football equivalent to horse blinders.
That tactic (among others) paid dividends for Chris Harris Jr., who turned in his third All-Pro season, his first as a First-Teamer.
"I think those blinders are good," Harris said back in July. "They keep your eyes right and make sure you're focused on the right target and focusing on your man. It's something new. Coach Woods always comes at us with his bag of tricks that help us continue to evolve our game."
With his promotion to defensive coordinator, that bag just got a whole lot bigger.
If it feels like Woods' ascension to defensive coordinator has been pre-ordianed since the moment Gary Kubiak walked out of Broncos HQ a retired man, you might be wrong. It's been coming for two years. And now he has seven more defenders at his disposal to disrupt opposing offenses.
Even before Vance Joseph was named the new head coach of the Denver Broncos, Woods' name was already popping up as a possible man in command of the Denver Broncos defense in 2017. Even before Wade Phillips took a job with the Los Angeles Rams, Woods was suspected to take the reins upon his eventual departure. Shoot, even before Gary Kubiak had coached his first OTA as head coach in Denver, Woods was beginning his path to the job. Well, the Broncos are finally making it official, according to the Denver Post.
Woods has supervised the "No Fly Zone" over the past two seasons as Denver's defensive backs coach, helping lead the unit to a No. 1 pass defense ranking over those two years. He spent time in Tampa Bay, Minnesota and Oakland prior to joining the Broncos in 2015. He has 25 years of coaching under his belt – 13 of those at the NFL level. He takes command of a defense that has finished in the top four in total yards and scoring in four of the last five seasons. The Denver defense claims three returning All-Pros including Harris. Aqib Talib earned his first First-Team designation and second overall in 2016, and Von Miller picked up a third First-Team honor.
After allowing a league-low 200 yards per game in 2015 that contributed to the league's top overall defense, Woods' unit did even better this year. Not only did they best the yards-per-game mark by allowing only 186, they also improved on their yards allowed per attempt. In 2015 they tied for the NFL lead with 6.2 and in 2016 were the only team in the league below six at 5.8.
Woods didn't miss a beat with the loss of veteran safety and special teams captain, David Bruton. Instead, he helped turn Justin Simmons and Will Parks into immediate contributors and game changers. The two rookies combined for 52 total tackles and three interceptions.  Veteran safety T.J. Ward also upped his productivity from 2015 to 2016, ranking second on the team in tackles with 87 this past season.
While the wider team decision to move on from former defensive coordinator Wade Phillips was met with some skepticism, Joseph's decision to promote Woods should come as no major surprise. It was, in fact, Joseph who tipped off former Broncos head coach Gary Kubiak to Woods' abilities as a coach.
When Joseph was not hired in 2015 (the Bengals blocked Denver from bringing him on as defensive coordinator), he put a bug in Kubiak's ear about Woods.
"When I came here, one of my very close friends in this business – he's a defensive coordinator in Miami and a really good coach (Joseph) – told me, 'You go get this guy.' I didn't know Joe. Boy, was he right," Kubiak said in December.
Kubiak brought Woods on and had high praise for him.
"He's been special. He does a great job with his group of guys," Kubiak continued. "That's a group of characters. They have strong personalities and Joe does a great job with them. They play extremely hard. He has a way of getting them ready to play every week. They have really gravitated to him. Joe has a bright future. He's a heck of a coach and a great communicator. I let him talk to the team a lot. He's really good with the football team."
That "group of characters" includes the like of Aqib Talib, T.J. Ward, Darian Stewart and Harris (and those are just the the starters). He's also developed some extremely talented young players in Bradley Roby, Kayvon Webster, Justin Simmons and Will Parks. Woods has pushed all the right buttons over the past two years with that unit, turning them into the most dominant pass defense in the league. Now he'll have seven more buttons to push – including five-time (three First-Team) All-Pro Von Miller. There's no bigger, or more talented "character" on the team.
Also added to Woods' cast are Derek Wolfe, one of the top all-around defensive linemen in the league, Shane Ray, who proved last year he's ready to step into a full-time starting role, Adam Gotsis and Jared Crick, who became a dangerous rotation late in the season, and flexibility to add another body in the middle with Sylvester Williams' impending free agency. Denver's inside linebackers will be a stronger unit next year, as well, having had a year to gel in their new roles.
It's a highly talented, savvy bunch with a bad taste in their mouth after not making the postseason this year. The perfect combination for an up-and-coming coach ready to unleash some new tricks on the NFL.
Bradley Roby, for one, is looking forward to seeing Woods open up his bag of tricks on opposing defenses next season. On Wednesday, the day before Phillips accepted the job with Los Angeles, Roby joined Mile High Sports Radio and said he'd be excited if Woods took over the defense.
"We might get some more DB blitzes," Roby said with a laugh. "We didn't get that [many] last year. We'd probably get a little more involved in the 'affliction' game."
Woods, it seems, is the perfect personality to take over this talented and boisterous group. Back in training camp, Harris talked about Woods as a coach:
"Joe Woods keeps us on our toes and he challenges us. That's what you need from your coach."
Two years after Joseph first met with the Broncos to be their defensive coordinator, he's now naming the man he recommended for a job there as his own defensive coordinator for the team. Now he'll get to see how big that bag of tricks really is.