Pat Bowlen's son, John Bowlen Jr. was arrested Wednesday night and held overnight without bond in Arapahoe County Jail, according to 9News and the Denver Post. Bowlen was held on a domestic violence harassment charge, per 9News, a harassment charge, per the Post.
A screen capture of the inmate charges and bonds, according to the Arapahoe County Sheriff's Office is below: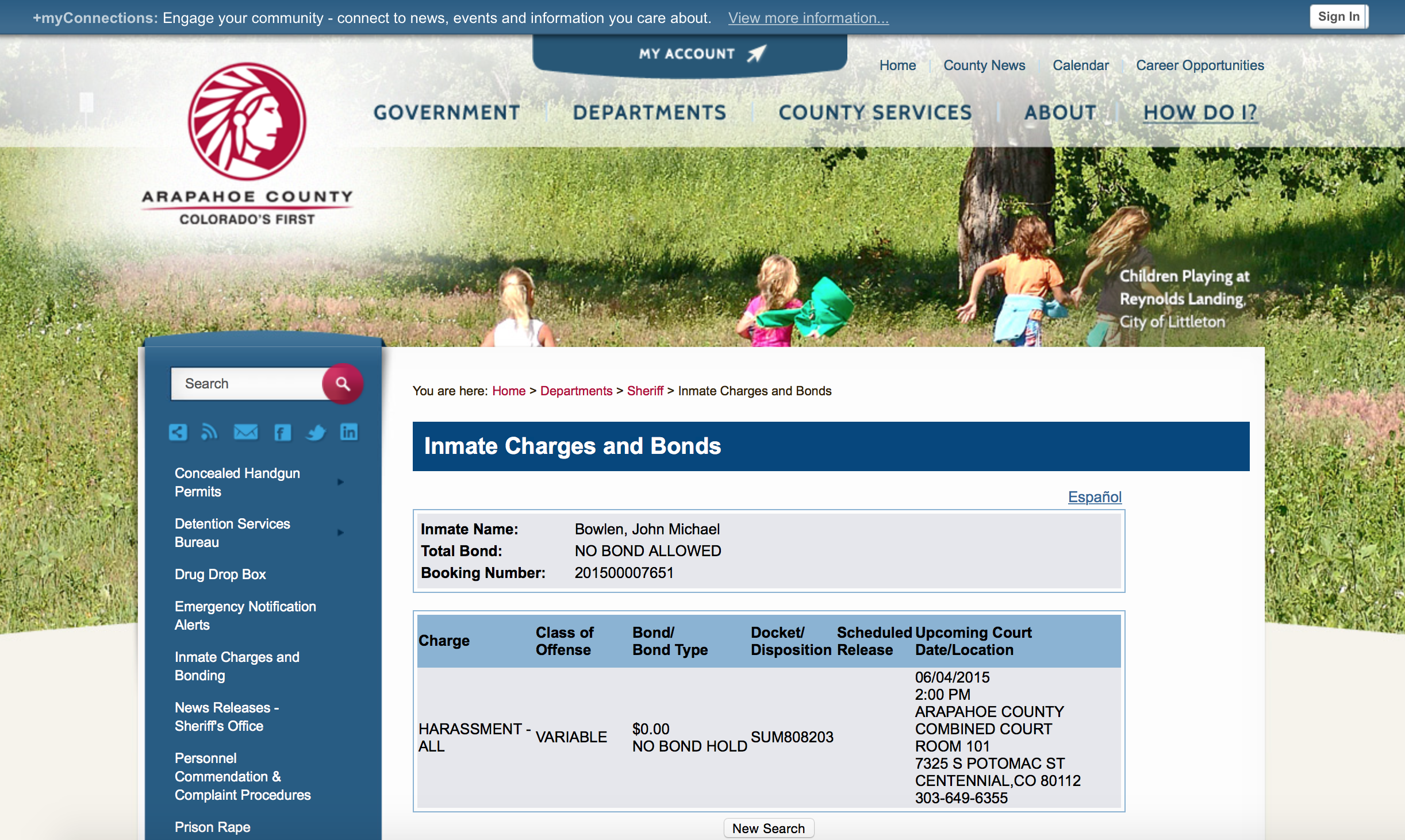 According to TMZ Sports, Bowlen was under the influence of nitrous oxide and alcohol. The arrest came after a 911 call was made by a woman who claims to have been dating John Bowlen. The call was ended before connecting with an operator.
The operator reportedly returned the call and Bowlen answered, saying, "This is the owner of the Denver Broncos. I am sorry. K. Nothing is wrong. This is John Bowlen."
The woman alleges that Bowlen was acting strange and shoved her against a wall. She also admitted to drinking alcohol earlier in the evening.
The younger Bowlen is one of seven Bowlen children and currently works as a corporate partnerships coordinator for the Broncos.
Bowlen Jr. will appeared before an Arapahoe County Court on Thursday afternoon. He was released on $1,000 bond with sobriety and co-habitation limitations, per Klis via Twitter. His next court appearance will be on July 6.
John Bowlen will be released on $1,000 bond with conditions of monitored sobriety and he can't co-habitats with victim. #9News

— Mike Klis (@MikeKlis) June 4, 2015
The Broncos released the following statement on Thursday:

"We are disappointed to learn of the matter involving John Bowlen, who is a son of Owner Pat Bowlen and an administrative employee with the organization.
"While this is a personal issue, he is accountable to all club and league conduct policies. As such, John will be placed on an indefinite leave of absence from the organization."
In December 2014, the NFL issued a statement regarding its response to domestic violence and sexual assault, which stated:
"…nearly every man and woman in the NFL, including some family members, participated in broad-based domestic violence (DV), child abuse (CA), and sexual assault (SA) education. Mandatory for all league and club office personnel, owners, cheerleaders, coaches, and players and available to and highly encouraged for friends, family members, and loved ones, the education sessions were conducted at all 32 clubs and all league offices except China and Mexico on December 19, 2014."
Webinars and other online versions of the presentation were made available for those who could not view it in person.