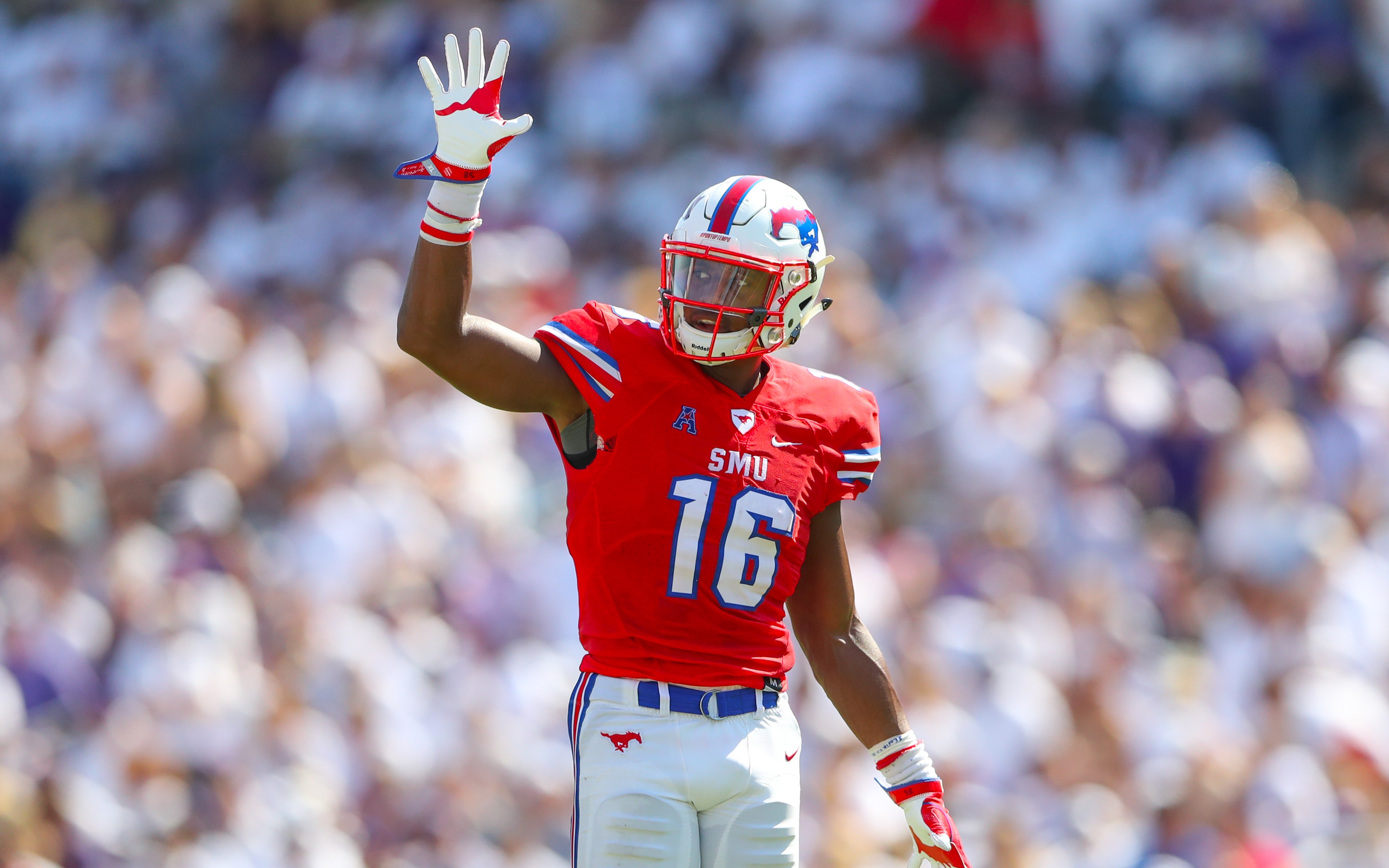 At No. 40, the Denver Broncos selected Courtland Sutton.
That's somethin'.
The Broncos needed many different positions — a guard, a linebacker, a running back, a cornerback and preferably later in the draft, a wide receiver — but they went after that wideout first. And for Sutton, No. 40 overall was far too early.
According to NFL.com, Sutton was graded out as a 5.87 overall, the 53rd-best player in this year's draft class. That's a late second-round projection. However, as general manager John Elway tweeted after they took Sutton, they had the wide receiver out of SMU graded in the first round.
So, the Broncos had Sutton rated much higher than most of the NFL scouts out there. Of course, rankings can be subjective and CBS had him at No. 20 while Mike Mayock had Sutton ranked at No. 41 overall.
Maybe NFL.com had him ranked so low because Sutton runs a slow-for-a-receiver 4.54 40-yard dash. Or maybe he was rated as "chance to become an NFL starter" because he needs to become a much better route runner and is considered a possession receiver. Or, because he's the biggest "boom-or-bust" receiver in this class.
Sutton is solid — he put together back-to-back 1,000-yard and 10-touchdown seasons at SMU — but there were others Denver could have taken instead.
Instead of Sutton, if the Broncos wanted to go for a wide receiver, they could've selected Anthony Miller, who was one of the best receivers in this draft and went No. 51. Or, James Washington, the Belitnikoff Award winner. Or, Colorado State star Michael Gallup, the Belitnikoff Award runner-up.
And instead of wide receiver, the Broncos could've taken a guard. Connor Williams, the tackle from Texas who will be moved down into the guard spot at the NFL, was graded just as high as Sutton. And the Broncos need a starting right guard much more than they need a third-best receiver.
Or, the Broncos could've taken a cornerback, like Isaiah Oliver from Colorado, he went No. 58. Or Joshua Jackson, who went No. 45, and was rated as an "instant starter" by NFL.com.
But, the Broncos took Sutton at No. 40 overall. Denver has Emmanuel Sanders and Demaryius Thomas — one of the best one-two duos in receiving in the league — and yet they took a receiver with their second-round pick. Yes, one, or maybe both of those receivers may leave the team soon, and the Broncos needed depth at the position.
Receivers, though, are a dime a dozen. The Broncos could have found a receiver later, and taken Williams to fill that role of need on the offensive line. Instead, they reached in a spot they didn't have an immediate need.
To wit, the Broncos went and got a second receiver much later in the draft, at No. 113 overall with DaeSean Hamilton. Hamilton was graded as a 5.70 — not far behind Sutton at 5.87 — and some believe he will be even better than the second-round pick.
I think Hamilton is a BETTER wide receiver than Courtland Sutton right now, #Broncos fans. Y'all got a stud:https://t.co/hwr8W92On5

— Jon Ledyard (@LedyardNFLDraft) April 28, 2018
In fact, Ledyard had Hamilton ranked as his fifth-best receiver in the class, with Sutton way back at No. 11.
While the Sutton pick was a reach, the selection of Hamilton looks to be a great play by Elway and Co. Now, if they could just go back to the second round and take a guard there, waiting until Day 3 to land talented receivers, this draft would go from so-so to spectacular.
As of now, three picks into Day 3, Denver has yet to take a guard, or any offensive lineman for that matter. Which is simply puzzling for a team which has been searching for consistent line play for years.