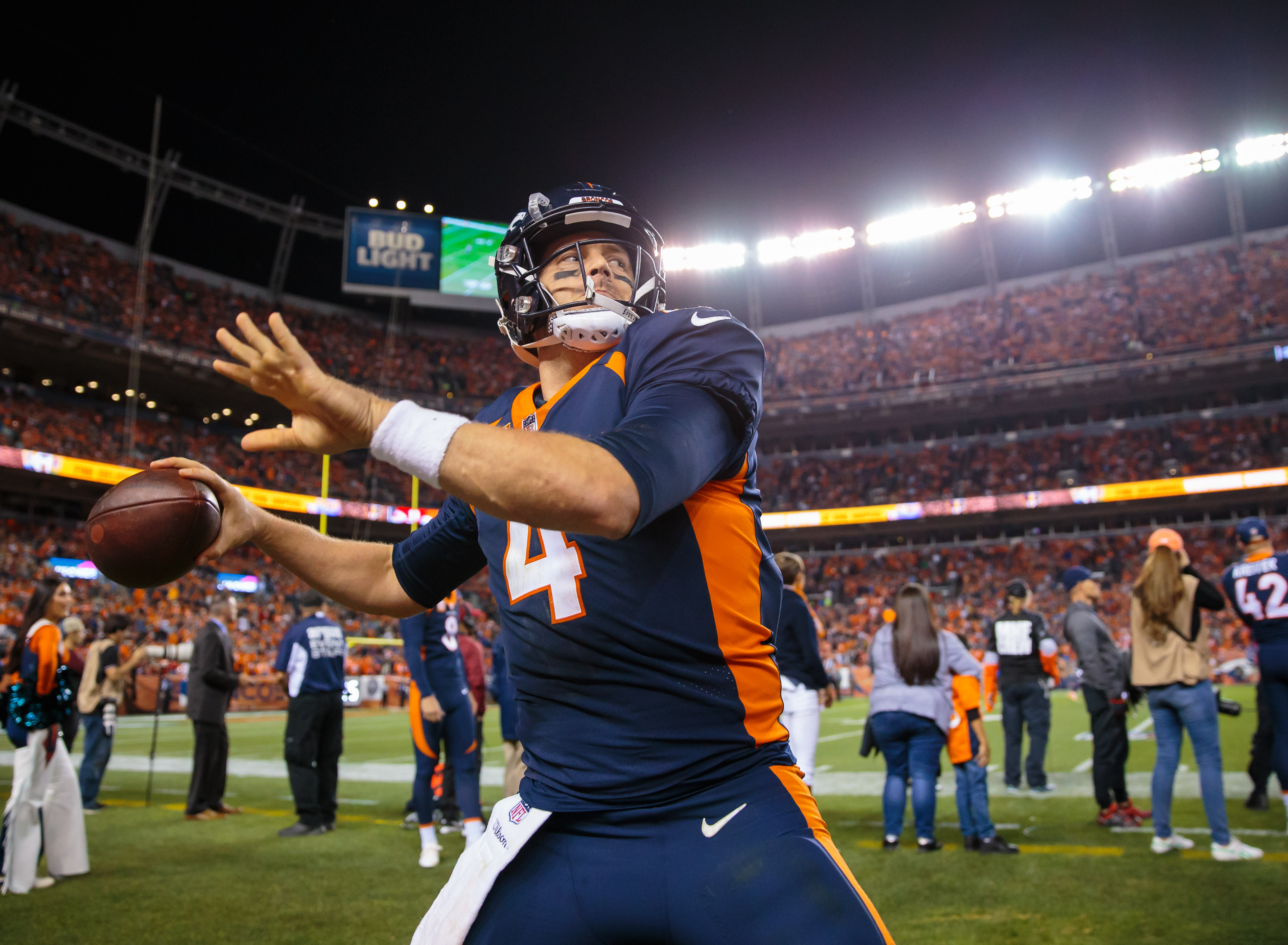 A year ago, the Broncos were gearing up to pursue Kirk Cousins, the best free agent quarterback to hit the open market since Peyton Manning. They swung and missed, instead having to settle for the very quarterback Cousins was set to replace in Minnesota, Case Keenum.
Keenum agreed to a two-year deal worth $18 million annually, and ever since, Broncos Country has been ablaze with cries of Keenum being overpaid.
But, he isn't.
The NFL quarterback market has exploded over the past three offseasons. In 2015, the highest paid quarterbacks made somewhere between $20 million and $22 million, now that number is up to $30 and $33 million and should only continue to skyrocket over the coming years.
Keenum's $18 million deal, which would've been elite quarterback money a mere three seasons ago now ranks 17th in the league. And in a few weeks, it will rank even lower. Simply, his deal is a middle of the road paycheck, for a middle of the road quarterback.
Some may argue that Keenum is still overpaid because he isn't the 17th-best quarterback in the league, but that doesn't take into account players like Tom Brady, who is taking a discount deal at $15 million, or players that are still on their rookie deal.
Jared Goff, Carson Wentz, Baker Mayfield, Sam Darnold, Patrick Mahomes and Deshaun Watson are all still on their rookie deals, but would all certainly be paid more than Keenum if they were able to negotiate for a new deal right now. There are also players like Marcus Mariota and Mitchell Trubisky who are also on their rookie deals and would almost certainly make more than Keenum on the open market right now.
So, his pay is that of an average to slightly below average quarterback, but does his play measure up? Yes, it does.
In fact, using Pro Football Focus' newly released quarterback annual, it looks like Keenum is almost perfectly valued. A PFF grade between 60 and 70 is considered average. In Keenum's 16 starts, he played seven games that were graded above 70, seven games that were graded below 70, and two games that were graded as average.
When comparing Keenum to the rest of the league though, the picture becomes even clearer. Keenum's rate of big-time plays and turnover-worthy plays are both below average but only slightly so. The average adjusted completion percentage (takes into account drops, spikes, throwaways and other plays normal completion percentage doesn't) in the NFL is 75.3, Keenum's is 75.4. Keenum also ranks just below average in percentage of plays that were graded negatively, and just above average in time from snap to throw and ball location accuracy.
So, should the Broncos look to upgrade at quarterback in free agency considering how pedestrian Keenum has been? No. As already mentioned, the quarterback market is in the middle of an explosion akin to that of Dell Computers in the early 90s or Dutch tulips in the 1600s. The likelihood of the Broncos signing a quarterback for anything less than $20 million is a pipe dream, and for that big price tag, they would only be getting a slight upgrade on Keenum.
Just take Nick Foles and Joe Flacco for examples.
Foles and Flacco both rank better than Keenum when it comes to big-time throws, but Keenum is much better in regards to avoiding turnover-worthy plays, which is more important considering the Broncos' style of play. Foles' adjusted completion percentage is 2.9 percent better than Keenum's and Flacco's is 0.6 percent worse. Flacco had a higher positive grade rate than Keenum but also a higher negative grade rate, while Foles was worse in both categories. Keenum's average time to snap is half a second worse than Foles' but half a second better than Flacco's. Flacco and Keenum play very similarly when under pressure and when kept clean, while Foles is similarly average when kept clean he is much better when put under pressure.
These aren't just random stats being cherry picked, either. Those are each of the charts Pro Football Focus listed as "signature stats" in their 2019 Quarterback Annual. It's clear that Foles' and Flacco's styles are closer to that of a gunslinger than Keenum's, but at the end of the day, the results are about the same. Sure, the Broncos could maybe get a slight upgrade in Foles, but it would cost them $20 million, and that's before having to eat Keenum's hefty $10 million dead cap hit.
It would be in the Broncos best interest to instead try to polish Keenum up instead. New offensive coordinator Rich Scangarello could accomplish this pretty easily by adding more quick throws. On plays where the time from the snap to the throw was less than two seconds, Keenum's passer rating was 93.5, but on plays where the time from snap to throw was greater than two seconds, Keenum's passer rating was 75.8. The Broncos should also expect Keenum to bounce back from his worst third down and red zone passer rating of the past four seasons.
The Broncos are giving Keenum $18 million for 2019, and it just turns out, that is almost exactly what he's worth.