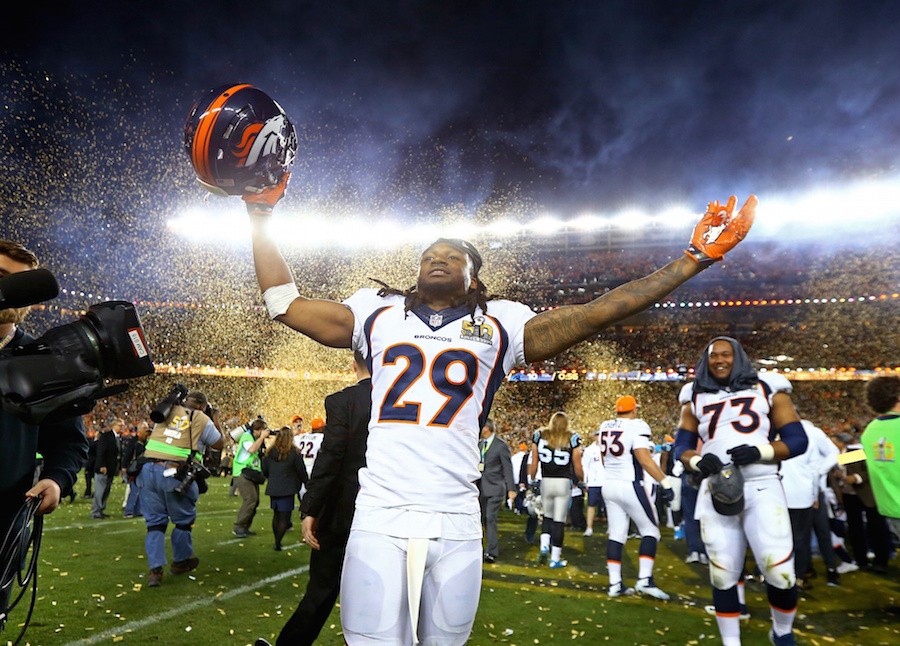 Von Miller's contract is finally in the rearview mirror (thank heavens). With that, it's time for John Elway to start looking forward. If he's learned anything from the Miller negotiations he won't wait until the last minute to get key pieces of this team locked up long-term. The player on the top of that list is Bradley Roby.
Elway needs to start planning to pay No. 29 next offseason. That is going to come at a price as Broncos fans are going to see some of their favorite players shown the door.
If Broncos Country thought this offseason was taxing, wait until next year. Everyone already knows about the Emmanuel Sanders dilemma, but there are other tough decisions on the horizon. Denver can get out of Aqib Talib and T.J. Ward's contracts relatively cheaply. Mark Sanchez will be looking for one last big contract (if he plays well). DeMarcus Ware will be an unrestricted free agent.
There are a couple of easy decisions to make. Ware isn't coming back and neither is Sanchez. The emotional leader of Denver's defense is simply too old to invest in past this season and Paxton Lynch is the future at quarterback. Even if Sanchez has a career year there's no way Denver can justify paying him.
There are also some unpopular moves that will need to be made. Sanders and the Broncos need to part ways. Demaryius Thomas isn't going anywhere (it'd cost Denver more to cut him than keep him on the roster), so the Broncos can't afford to pay another wide receiver $10 million-plus a season. Super Bowl 50 proved once again that elite production from the wide receiver position isn't necessary to be crowned champion. Cutting ties with Sanders will be tough, but fiscally sound. The same can be said with Talib.
On the field Talib has been very good; off the field he's been a disaster waiting to happen. Next season Denver owes him $12 million in base salary and bonuses, cutting him would save the team $10 million of that. Elway won't even need to think twice about making that move.
Dealing with Ward isn't as cut and dry. Ward is only due $5.75 million next season and represents a dead cap hit of $1.25 million. Safeties start a notable decline when they are flirting with 30, but unless Denver has Ward's successor ready to go the $4.5 million in savings doesn't seem worth it. If Ward can manage to stay healthy this season, something he has struggled with, fans can expect to see him in orange and blue in 2017.
Add the fact that Elway will need to weigh the pros and cons of picking up the 2017 and 2018 team options on Russell Okung's contract (a value of $22.9 million) and you can see why next offseason is going to be important.
Ignore the fact that Denver has Roby under contract for two more years; this offseason needs to be the year they lay the groundwork of his extension. Elway and Company can't make the mistake of kicking the can down the road on Roby's eventual raise the same way they did with Miller. Creating cap flexibly next year will help the Broncos get a deal done before the final year of his rookie contract and hopefully help them get him at a hometown discount.
Elway has been a shrewd negotiator during his time as executive vice president of the Denver Broncos. It has come with mixed results. Elway ended up costing Denver millions in the Miller negotiations but saved millions with Derek Wolfe and Chris Harris. There's something to be learned in those three situations. The earlier you can get a young, talented core player locked up, the better. The real question is whether or not Elway learned that lesson.
Roby is huge part of this core. Going into his third season he may be as important to the success of this team as any player (who doesn't play quarterback), especially if the league suspends Talib.
The future of Denver's defensive backfield centers around a shutdown cornerback combination of Harris and Roby. Harris is locked up until 2019. Elway needs to find a way to do the same with Roby sooner than later. If he hasn't learned that lesson, it may not only cost himself money but a great player.