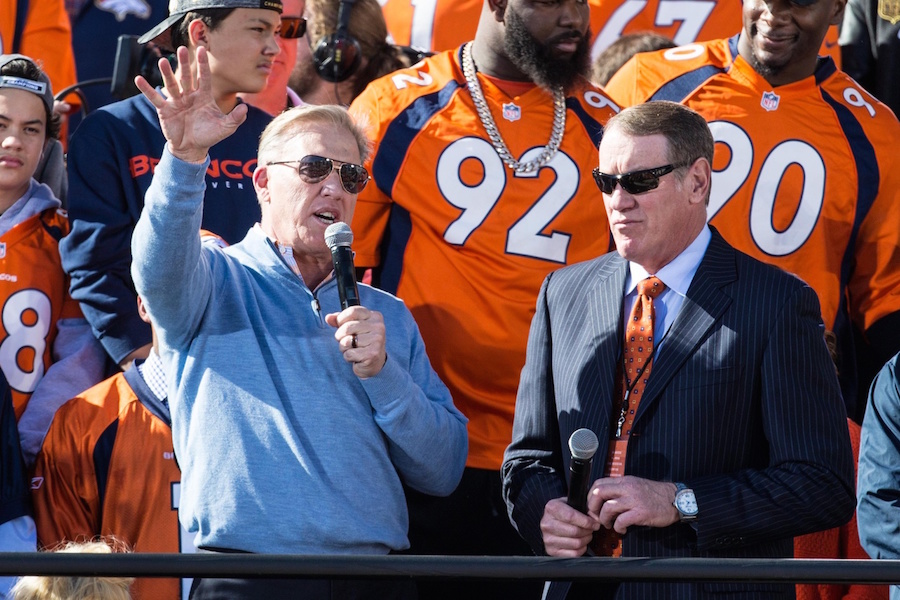 Anyone worried that John Elway's contract extension hasn't been signed can breathe a little easier after Wednesday night. In his own words, the Duke of Denver is "not going anywhere."
The Broncos executive vice president of football operations and general manager spoke with reporters ahead of the Mizel Institute 2017 Community Enrichment Award Dinner at Wings Over the Rockies Air & Space Museum, reassuring the group that his contract negotiation process is proceeding on schedule.
When asked about the negotiations, Elway said things are "Good, we're continuing to work at it. I don't see any problems with that. I look forward to being here with the Broncos for a long time."
When asked if a deal will be done before the start of the season, Elway said, "Yeah. I don't think there will be any doubt."
On Wednesday, Elway received the Mizel Institute 2017 Community Enrichment Award in recognition of his more than three decades of community service in Colorado.
According to the organization, "Elway has been devoted to charitable causes in the Denver community since his rookie year. In 1987, he started the Elway Foundation, a nonprofit organization that assists in the prevention and treatment of child abuse. He is also involved with The Heroes Foundation, which was created to provide support and funding to America's heroes and their families. Elway has supported the Buoniconti Fund to Cure Paralysis, Muhammad Ali Parkinson Center and Make-A-Wish Foundation, among others. Together with his wife, Paige, he has collaborated with the Barbara Davis Center for Childhood Diabetes and volunteered with the Boys and Girls Club of Metro Denver.
"Elway also narrated and helped produce Recognizing 8 Signs of Terrorism, the award-winning, nationally recognized training video from the Counterterrorism Education Learning Lab (CELL). The CELL is a nonprofit entity of the Mizel Institute that is dedicated to the prevention of terrorism through education, empowerment and engagement."
Colorado Governor John Hickenlooper and Denver Mayor Michael B. Hancock served as masters of ceremonies at the dinner and presented Elway with special honors from the state and city.
About the honor, Elway said, "As far as what Larry Mizel's done for the community with the Mizel Institute and everything, I'm proud to be a part of it. I'm obviously humbled. There's been a lot of great people that have won this award before tonight. [Broncos owner] Pat [Bowlen] was one of them; Peter Coors and Barry Hirschfeld. The list of awardees before me is tremendous. I thank Larry so much, and I'm humbled by the award."
Elway was equally humbled to have members of the Bowlen family in attendance at the dinner.
"I know they get pulled in a bunch of directions," Elway said before the dinner, "but to have Annabel [Bowlen] and the family here is a treat and very humbling for me. The fact that for the last 34 years they've given me the opportunity to be able to do what I do in football and the Broncos have given me that opportunity as well as the whole Bowlen family, I'm thrilled that they're here."
The Bowlen family and fans across Broncos Country are no doubt thrilled themselves that Elway intends to stay in Denver, the place he considers home.
"This will always be my home. [I'm] not going anywhere," Elway said. "As a kid, I moved around quite a bit. But, Colorado and Denver will always be my home."