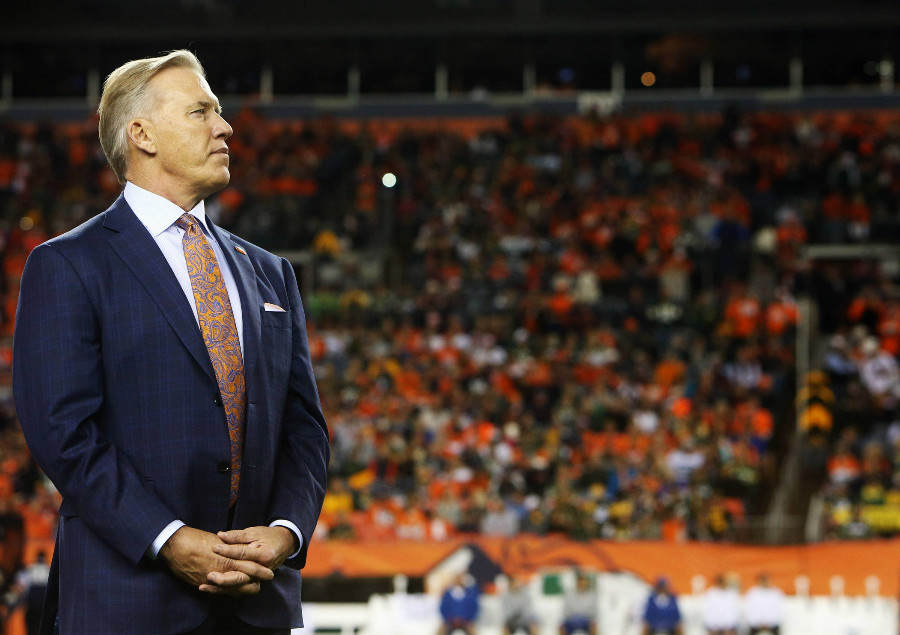 Since John Elway took over the Denver Broncos, he's transformed this roster more often and to a greater degree than just about anybody in the NFL.
When Tim Tebow wasn't enough, he brought in Peyton Manning. When Manning wasn't enough, he gave him the best supporting cast a quarterback could've hoped for. When that wasn't enough, he bought one of the most talented defenses the game had ever seen. When they weren't tough enough, he cleaned house and brought in a regime that would go out "kicking and screaming."
But what's next? What won't Elway have enough of, and how will he go about fixing it?
Well, luckily he'll have all the flexibility he needs to rebuild once again, and no matter what happens at the end of this season, he'll need it.
Right now, the Denver Broncos are projected to enter next offseason with just over $20 million in cap space, good for 20th most in the league, and that sounds about right; you'd expect a championship contending team with the level of talent the Broncos have on their roster to have most of their cap space locked up in their star players. In fact, the Kansas City Chiefs and Cincinnati Bengals are the only two teams with winning records that are projected to be in the top 10 in terms of cap space next season.
But that doesn't do the Broncos' situation justice.
If the Broncos were to release the trio of Peyton Manning, Ryan Clady and DeMarcus Ware, they would immediately open up another $38 million in cap space, moving them up to $58 million in total, third most in the league. Now, with the way the Manning situation has gone down, and given the fact that Clady has essentially missed two of the last three seasons, I don't think anybody would be surprised if those two were set free during the offseason; Ware is a little tougher, but with the development of Shaquil Barrett and Shane Ray, it would make sense for them to save some money and move on.
Whether or not you believe they'll release all three, let's just work under that assumption for right now.
The point, though, is that Elway will have ample opportunity to reformulate this team to his liking, and that's good news for Denver Broncos fans hoping for continued success in the post-Manning era.
But just because you have the capabilities, doesn't mean it's going to be an easy task; there will be plenty of guys worth giving that money to. Actually, from this roster alone, there are at least 15 starters or regular contributors that will be looking for new contracts in the offseason:
Von Miller ($9.75M cap hit this season)
Evan Mathis ($2.92M)
Vernon Davis ($2.48M)
Antonio Smith ($2.00M)
David Bruton ($1.65M)
Malik Jackson ($1.60M)
Danny Trevathan ($1.57M)
Ryan Harris ($1.42M)
Derek Wolfe ($1.40M)
Brock Osweiler ($1.12M)
Ronnie Hillman ($942K)
C.J. Anderson ($589K)
Brandon Marshall ($585K)
Brandon McManus ($510K)
Matt Paradis ($435K)
One quick glance at that list, and it's pretty clear that there are a lot of Denver Broncos looking to get paid — some, a lot. But who do you pay and who do you look to improve upon?
In my eyes, there are five guys who absolutely have to be on this team next season: Miller, Trevathan, Osweiler, Marshall and one of either Anderson or Hillman. You could make the case for Jackson and Wolfe, too — I absolutely can — but tough decisions are going to have to be made somewhere.
The two biggest names, obviously, are Von Miller and Brock Osweiller, and my guess is that one of them will end up getting slapped with the franchise tag, at least temporarily. When it comes to Trevathan and Marshall, those two formulate the best inside-linebacker tandem in the league — PFF has them both ranked inside their top five — and with all do respect to the Panthers, I don't even think it's close. With the running back position, my guess is that Elway will choose one and roll with Juwan Thompson as the backup.
Still, even with all those contracts the Broncos are sure to hand out, Elway will have plenty of room to make a splash in free agency, especially if he's willing to make some more tough choices; that's quite the luxury.
It's not often that a franchise can lose a generational talent at quarterback and have the ability to hit the ground running the next season; the Broncos, and Elway, know that all too well. But given what we've seen from Elway through the years, given how he's been able to transform a roster to fit whatever deficiency he's diagnosed following the previous season, you have to be confident that he can do it again.
There are plenty of individual decisions and roster moves you can second guess, but in the big picture, Elway has shuffled a lot of guys in and out of Denver without missing a beat; the difference, though, is that now he'll have to do it without Peyton Manning as his anchor.
That's a pretty big caveat.
Nonetheless, he'll have the opportunity and the ammunition; that's about all we can ask for right now.