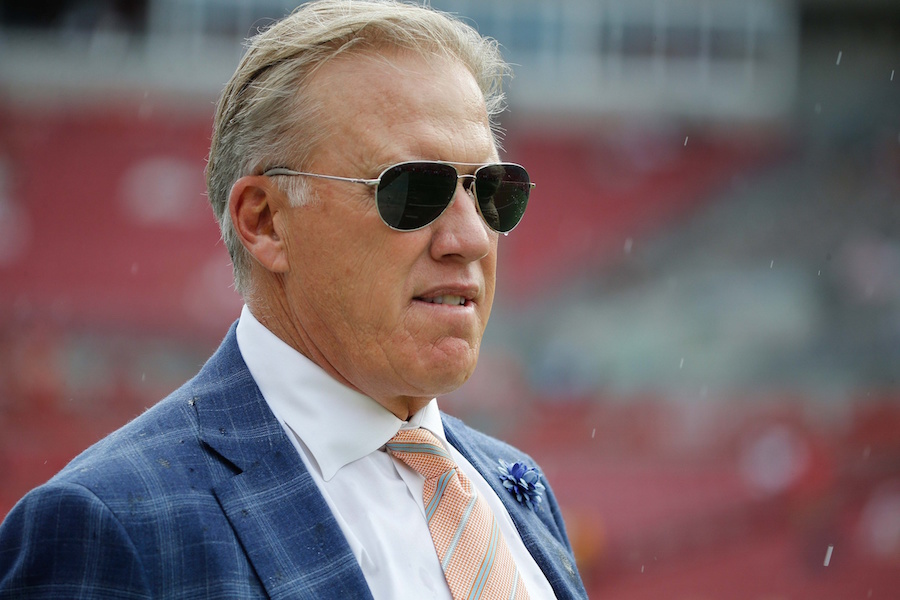 It stinks to be a Broncos fan right now. No doubt about it. After bringing home a Lombardi Trophy last season, an 8-6 record after 14 weeks is much more than a disappointment; it's a failure.
But let's put things in perspective for a second, okay?
The Denver Broncos don't need to "blow things up." There's no need for mass firings or public (media) lashings. No, they're not perfect, but they're not broken beyond repair, either.
Listen, the moment Peyton Manning hung up his cleats and walked off into the sunset, this offense was doomed. Plain and simple. Siemian, Sanchez, Lynch, Kaepernick, Osweiler, whoever — nobody was filling The Sheriff's shoes in 2016.
Are we wasting a Super Bowl-caliber defense? Absolutely. Has Kubiak and the coaching staff made some critical mistakes? Definitely. Did John Elway drop the ball on the offensive line? You betcha.
It's been a mess of a season, but no matter how many times we lied to ourselves (and I'm guilty of this too), this was never going to be a Super Bowl winning team, not with this offense.
And you know what? That's okay. It happens.
What's important is that we get back up on that horse (a bucking bronco, I would hope) and turn things around as quickly as possible.
The Broncos have nine of their 12 defensive starters under contract for next season; the other three are Sylvester Williams, Todd Davis and DeMarcus Ware. Unlike last offseason, when the Broncos were faced with losing guys like Malik Jackson and Danny Trevathan, those guys are replaceable — sorry, Ware, but Shane Ray is ready for the spotlight.
So while the Denver defense may have a few new faces, they're still going to be an exceptional group.
That, again, leaves the offense as the main point of concern, and Elway will have all the ammunition he could ever need to go out and fix it.
Right now, the Denver Broncos are projected to have $39 million in cap space, according to Spotrac.com, good for 20th best in the NFL. But if they release Russell Okung and cut Aqib Talib (a move that has it's pros and cons), that number will jump up to over $60 million.
That's a lot of money for a general manager who has made his bones in free agency. That's enough money for a quarterback, a handful of lineman and a shiny new tight end if Elway wants it.
And listen, I'll be the first one to tell you that Elway isn't perfect, but he's pretty darn good nonetheless. We can pick apart his mistakes, and there are quite a few, but there's no denying this: In the span of five seasons, Elway has constructed both the greatest offense in NFL history ('13 Broncos) and the most impactful defense ('15 Broncos), while appearing in two Super Bowls and winning one, almost entirely through free agency.
If you give No. 7 $60 million and tell him to go buy an offense, I'm going to expect him to come back with an offense.
What does that entail? I'm not sure, but anything is possible.
Obviously, quarterback will be a main topic of conversation, and while you'd think the franchise would want (have) to put their eggs in the Lynch or Siemian basket, they don't have to; they're not the Houston Texans, tied down to Brock Osweiler and his $72 million contract.
Combined, the two quarterbacks will make less than $3 million next season, which means that if Elway wants to go in another direction and trade for Tony Romo or sell the farm for Philip Rivers or Drew Brees, he can. If he wants to jump aboard the Paxton Train and spend all of that $60 million on the best offensive line money can buy, he can do that too.
That's the flexibility this franchise has.
So, yes, it stinks. Barring a lot of things going right, the Broncos are probably going to miss the playoffs. And in Denver, that's unacceptable. But the window is not closed. All it takes is one strong offseason from Elway and the Broncos are right back where they want to be: the Super Bowl.
There are plenty of teams that can't say the same.