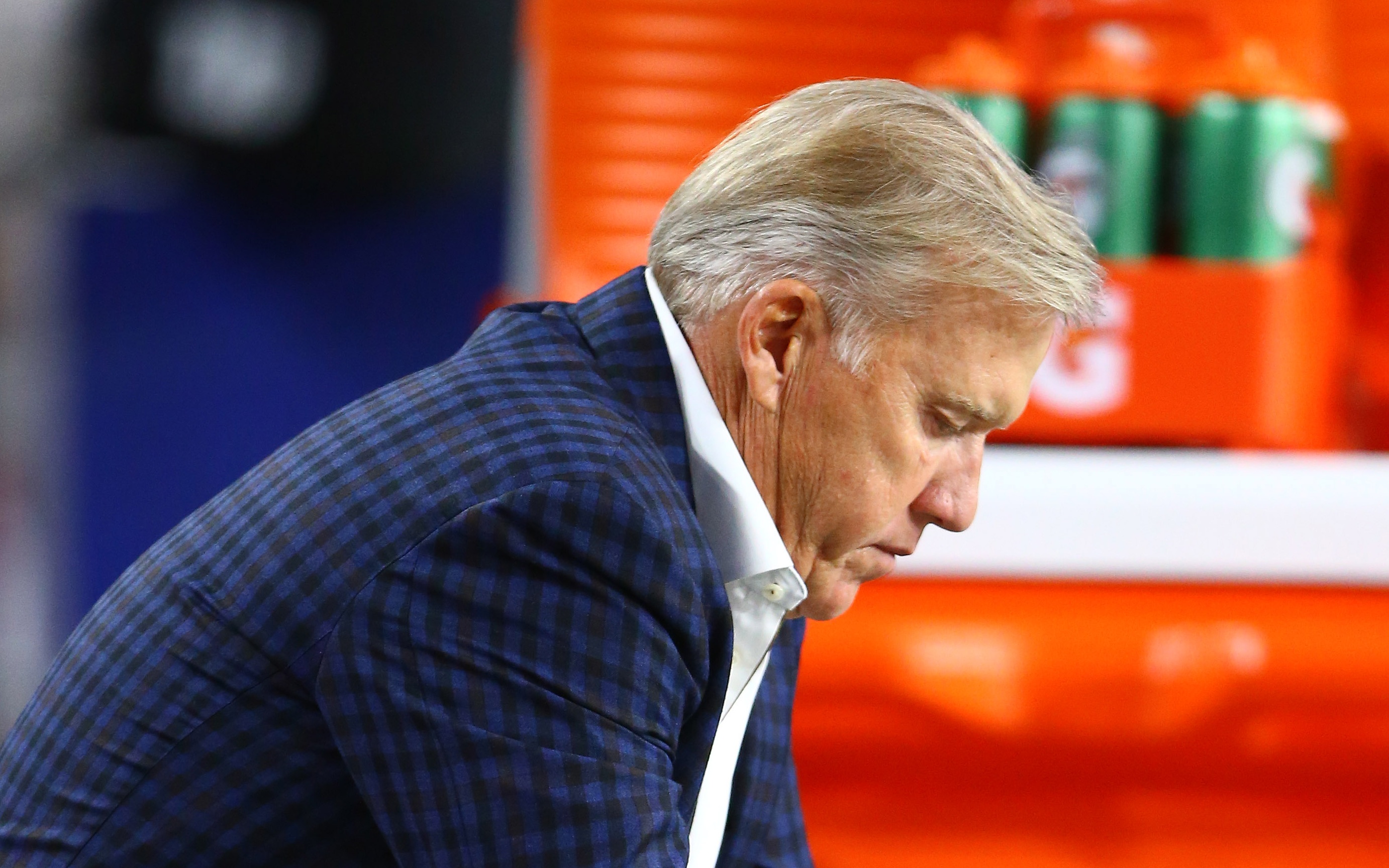 The Duke did it again.
John Elway's greatest strengths include throwing a football, engineering a comeback and assembling a Super Bowl worthy roster.
But what's criminally underrated about No. 7 is his ability to command a room, like he does seemingly every time he addresses the Denver media.
The Broncos President of Football Operations and General Manager was excellent as usual on Wednesday during the team's annual media BBQ.
With bellies full of pulled pork, BBQ chicken, macaroni and cheese, baked beans and green beans, the assembled scribes waited for Elway to make his way up from team headquarters.
As the man in charge strutted to the microphone, Elway looked like he might have just gotten off No. 18 at Cherry Hills Country Club. Sporting khaki shorts and a fresh polo, Elway took his seat at the podium and rattled off satisfying answer after satisfying answer. And continued to ensure Broncos' fans the right man is in charge.
"We know what our goals are. The bottom line is I never went into a season saying, 'We're going to be 10-6.' I think we walk into every game with the idea that we can win it. The bottom line is we've got to go out and execute and play well," Elway said when asked what his expectations were this year.
Not exactly playoffs or bust, but you get the idea. Why say 10-6 when the standard is you could win every game? By no means did Elway come close to saying that would be the case, but you have to like winning as the mindset entering each game.
And while the quiet confidence that oozed out of Elway was encouraging after back-to-back disappointing seasons, it was his subtle honesty that was the most interesting part.
It all comes down to the quarterback in the NFL. It always has.
And while sports talk radio hosts have screamed into microphones for 3.5 years that Elway hasn't done a good job managing that position, on Wednesday he also acknowledged it's been tough to watch.
"Obviously we've been looking for (a QB) since Peyton [Manning] retired. That's always a difficult position to fill, but we finally feel pretty good about that position and where we are," Elway said.
When asked to explain further if the search to find a capable quarterback (particularly as a great one himself) was difficult, Elway delivered on of his best lines as the boss.
"We tried to shake all these trees around here the last four years and quarterbacks didn't fall out of (them). It's difficult, but we've taken a lot (of) shots. We've tried a lot of different situations, and I've felt like that was the way to go until we got it solidified," Elway said.
Noted sports cartoonist Drew Litton might have just found his next bit of material.
It's such a good visual.
There is John Elway shaking a magical QB tree in the spring of 2015 and falling out of it comes Brock Osweiler, only to sprint all the way to Houston.
The next shake yields Paxton Lynch, who drops down holding his Xbox controller in both hands.
Another desperate push yields Trevor Siemian, grasping his clipboard like the backup he was destined to be.
A final QB comes tumbling out of the tree and it's Case Keenum, clinging to the book he wrote about himself before his NFL career was over.
Not such a magic QB tree after all.
But did Elway finally discover the next great Denver QB after a frustrating three seasons?
"Hopefully with Joe (Flacco) this year, we've got it solidified, with Drew (Lock) learning underneath him. It's been a battle, but this league is a battle. We're excited about where we are at that position now," Elway said.
John Elway's commanding presence dominated the room again on Wednesday. But his honesty about his recent QB struggles subtly stole the show.
The Duke did it again – you just had to be paying attention to know why.