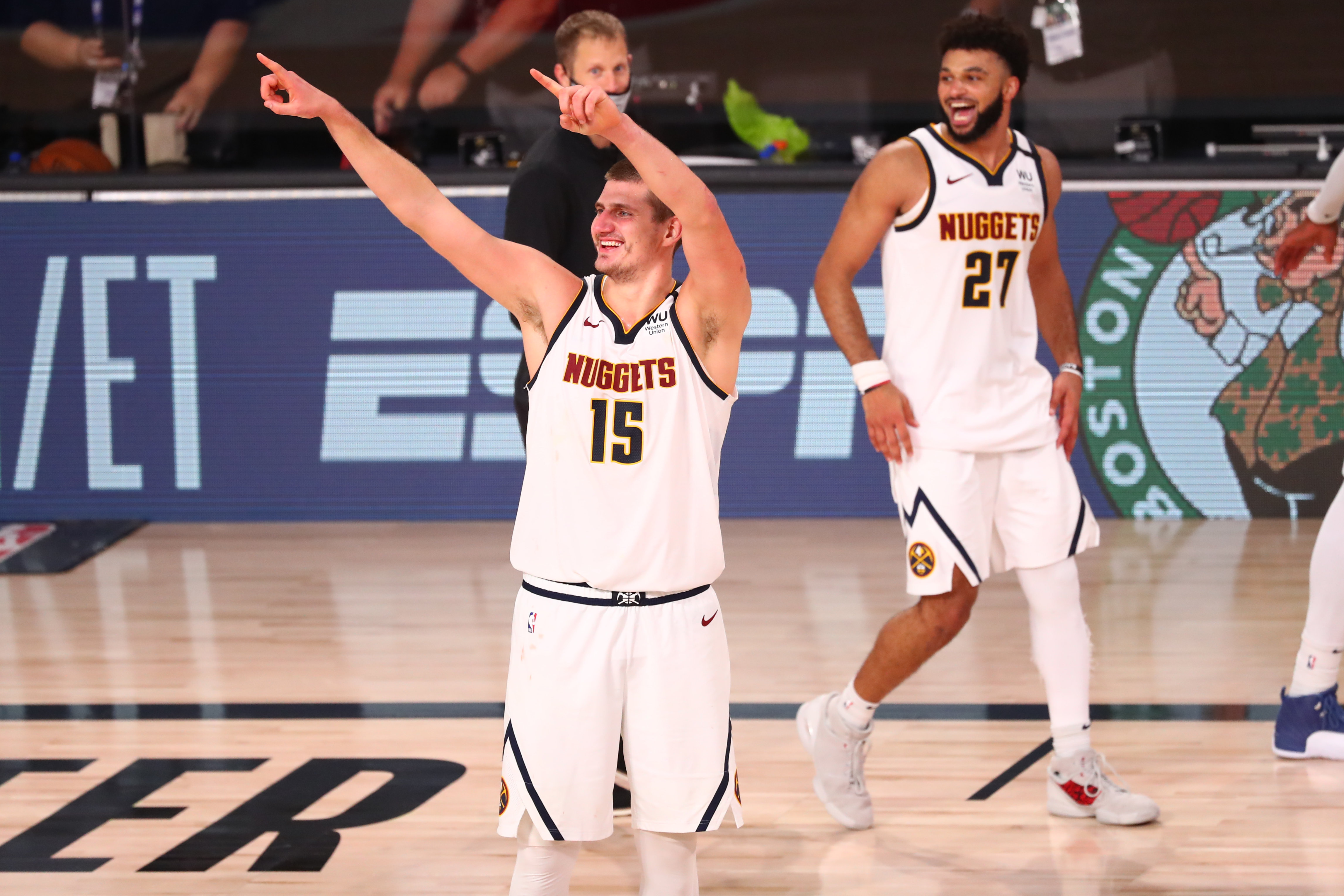 Sure, Nikola Jokic is an MVP "candidate."
Given the season he's having, inclusion in the conversation is a given. In 2021, he's not an afterthought. He's no longer a "nice story" or a player whose game is quirky and unprecedented – really, really good – but not really the stuff that makes up an MVP. At the midway point of bizarre season still stuck in a pandemic, Nikola Jokic is a very real MVP candidate.
That's not just "Denver" talking – not anyone and everyone at Altitude, not the Denver Post or Denver Stiffs – it's everyone.
Of course, there's the age-old argument as to what exactly "MVP" means.
Best player overall?
The player most vital to his team?
The player who takes his team the furthest?
And that's why Nikola Jokic is a legitimate candidate: He's all of those things. He's making a case for being the best player in the NBA at the moment (and no, that's not a misprint or hyperbole). He's easily the Nuggets most important player (this drink don't stir without the Joker). And he took his team to the Western Conference Finals last year.
Sounds like an MVP candidate, doesn't it?
The cynic says though: He's not flashy. His team didn't win it all. He's not Lebron James.
But isn't he Giannis Antetokounmpo?
Sure, Jokic doesn't rack up the style points like the Greek Freak. Antetokounmpo is certainly more athletic – the pride of SportCenter – and has been the beneficiary of a steady does of national exposure. But beyond that?
On Sunday night, anyone who watched the Nuggets-Bucks game in Milwaukee would have concluded that Jokic – not Antetokounmpo – was the game's best player. But one game does not a player make. It's important to dive deeper.
From a historical standpoint, Jokic has done (and is doing) things that have never been done before. For example, he's one of just two centers in the history of the NBA to reach 50 career triple-doubles. Wilt Chamberlain, who some include in the "greatest ever" conversation, hit the 50 mark 677 games into his career at the age of 31. Jokic has reached 50 at the tender age of 26 in just 416 games. Yes, it's a different age and era, but Jokic seemingly flirts with the triple double every game. He's widely considered the best passing big man in basketball (if not best passer, period).
Back to Antetokounmpo, a two-time, back-to-back MVP. Nuggets fans should be excited that the two-time MVP is from a smaller market than Denver. Hey, lil' guys, there's hope. If Denver is a flyover city, then Wisconsin a car-bingo state. Milwaukee is not exactly a highly populated hub of hip and trendy, not a traveler's destination. In other words, if a player from Wisconsin can win an MVP, market size is no longer a barrier.
They should also note that Antetokounmpo hasn't taken his team any further than Jokic has taken his. In 2018-19, Antetokounmpo's Bucks advanced all the way to the Eastern Conference Finals. The next season, they were bounced in the second round. Jokic already has "step one", taking the Nuggets to the Western Conference Finals last season. Since MVP is an award based-on regular season, reputation might factor in, and Jokic's recent history in the playoffs can't hurt him like it might have before.
And then there are statistics, probably the single biggest factor for any MVP candidate. In the two seasons in which Antetokounmpo won the honor, he averaged 27.7 and 29.5 points, 12.5 and 13.6 rebounds and 5.9 and 5.6 assists. Currently, Jokic is averaging 27.1 points, 11 rebounds and 8.6 assists. Give the Freak a slight nod in points and rebounds, while Joker is the best passing big man the game has ever seen. All told – statistically speaking – the two players are highly comparable on the stat sheet. Antetokounmpo's biggest edge lies on the defensive end, where he was also named the NBA's Defensive Player of the Year last season.
Perhaps another silver lining for Jokic is that no player since Larry Bird did it in 1984, '85 and '86 has won the award three-straight times. Bill Russell, Wilt Chamberlain and Larry Bird are the only players to ever claim MVP in back-to-back-to-back fashion, so the odds for Antetokounmpo on that front are long.
This year's MVP race is (probably) a four-horse race that features Joker, Antetokounmpo, LeBron James (25.8/8.0/ 7.8) and Joel Embiid (30.0/11.6/3.3). An argument can be made for any of them, but the idea that Joker could be MVP is no longer a joke – his case is more than the home crowd at Ball Arena chanting "M-V-P! M-V-P! M-V-P!" when he goes to the free throw line in April.
At the All-Star break, where Nikola Jokic will starting for "Team LeBron", Joker's bid for NBA MVP is very real. If his performance down the stretch of the 2020-21 season mirrors his first half, some unprecedented hardware could be making its way to Denver.