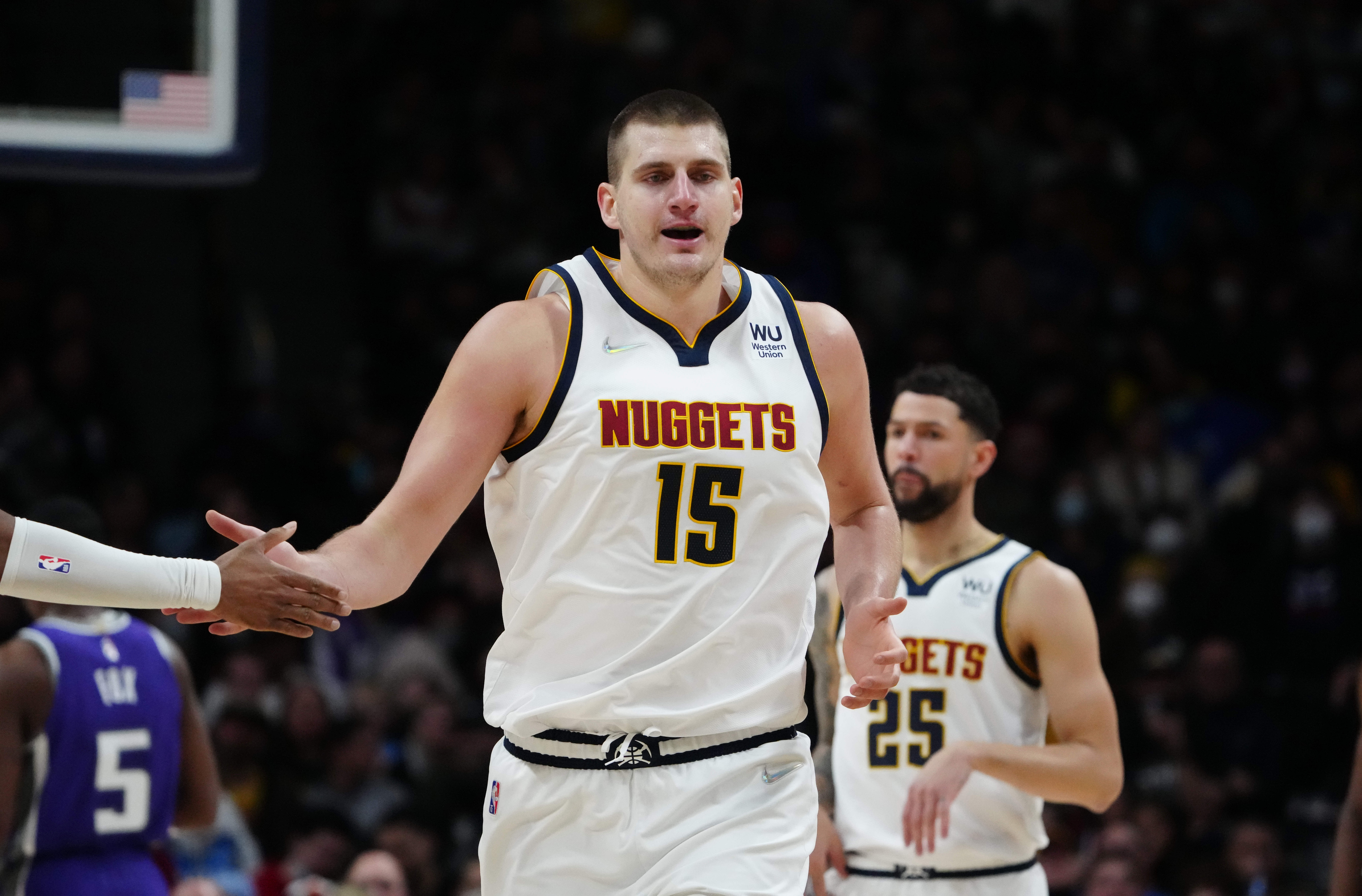 The Denver Nuggets bounced back from two straight losses and beat the Kings 121-111 on Friday night. Denver had seven players in double figure scoring. Nikola Jokic put up 33 points, 10 rebounds and 7 assists. Jeff Green added 18 points on 7 of 9 shooting off the bench. JaMychal Green, Will Barton and Bones Hyland all added 13 points each. They were firing on all cylinders.
Although this season has been challenging for the Nuggets from all the injuries to players in health and safety protocols, they never make excuses. They come back and play even harder. Against Sacramento, they scored a season-high 70 points in the paint and shot 55 percent from the field. They held the Kings to just 44 points in the paint and 44 percent shooting from the field. It was their tenacity on the defensive end that allowed them to go ahead by 21 points and ultimately win the game.
"When our defense starts off in the first quarter playing well we usually play well," Popeye Jones said. "We only allowed 23 points in the first quarter but the 32 assists that means we were sharing the ball, only eight turnovers, we're taking care of it."
Veteran Jeff Green was back on the floor for Denver after missing three straight games. He entered the league's health and safety protocols on Dec. 30. Jones had him coming off the bench for limited minutes while JaMychal Green played in his starting role.
"Because they play big we started JMych in the starting lineup and JMych was great," Jones said. "He was playing off Nikola, our guys finding him for easy dunks. We wanted to keep Jeff's minutes around 20. He had 16, so that's perfect."
The Nuggets took an early 16-11 lead and then went on a 14-6 run to close the quarter. The Kings had three costly turnovers toward the end allowing the Nuggets to take a 35-23 lead.
Sacramento went on a 7-0 run to start the second quarter to get within six points. Denver responded with a 9-0 run and had a 50-32 lead midway through. JaMcyhal and Jokic combined for 15 points. Those two played well together and there's one play in particular that stands out. Jokic blocked Marvin Bagley and had the perfect no look pass to a cutting JaMychal Green for the easy dunk. They talked about in-game expectations before the game.
"He pretty much tells you," JaMychal Green said. "He'll tell you before, during walk through what he's looking for and where you need to be. He's going to put it right there for you and it's just your job to get there."
The Nuggets as a whole shot 60 percent in the quarter and 55 percent from downtown. They took a 20 point lead with four minutes left. The Kings called a timeout and then closed out the quarter on an 11-3 run. Nuggets had a 66-54 lead at halftime.
There's just something about third quarters that the Nuggets haven't quite figured out yet. They get sluggish and allow their opponents back into the game. That was the case for the Kings as they went on 12-4 run within the first four minutes cutting the Nuggets lead to just four points. Denver called a timeout to regroup and got it together. It came out with two straight dunks from JaMychal and a pair of Jokic free throws to go up 76-68. Jokic continued giving Sacramento that work and scored 12 points in the quarter. Jeff Green added six straight points in the last minute for Denver to go up 96-85.
"Being able to use my athletic ability at this age, I'm thankful," Green said. "God blessed me with this to use it to the best of my ability. If I can jump I'm going to use it but a lot of the guys on the Kings that I'm cool with was making fun of it as well but I'm 35, I can still jump. LeBron is vetting the future for me. I got big hopes for myself."
Green continued going off in the fourth quarter and scored another five points. Hyland added seven and helped fuel a huge 16-6 scoring run for the Nuggets. They had a 110-91 lead with 7:40 left in regulation. The Kings went 10-21 from the field and 4-9 from 3-point range to score 26 points in the fourth but it wasn't enough to get back in the game. Denver wins it 121-111.
De'Aaron Fox scored a quiet 30 points for the Kings. He also had seven rebounds and five assists. Alex Len had 18 and 10 off the bench.
The Nuggets head to Oklahoma City to take on the Thunder on Sunday evening and then fly to Los Angeles to face the Clippers on Tuesday. They then play six straight games at home, a much needed home stand. There is still no word on Michael Malone's status and when he will be returning. He has been in health and safety protocols since Dec. 30.