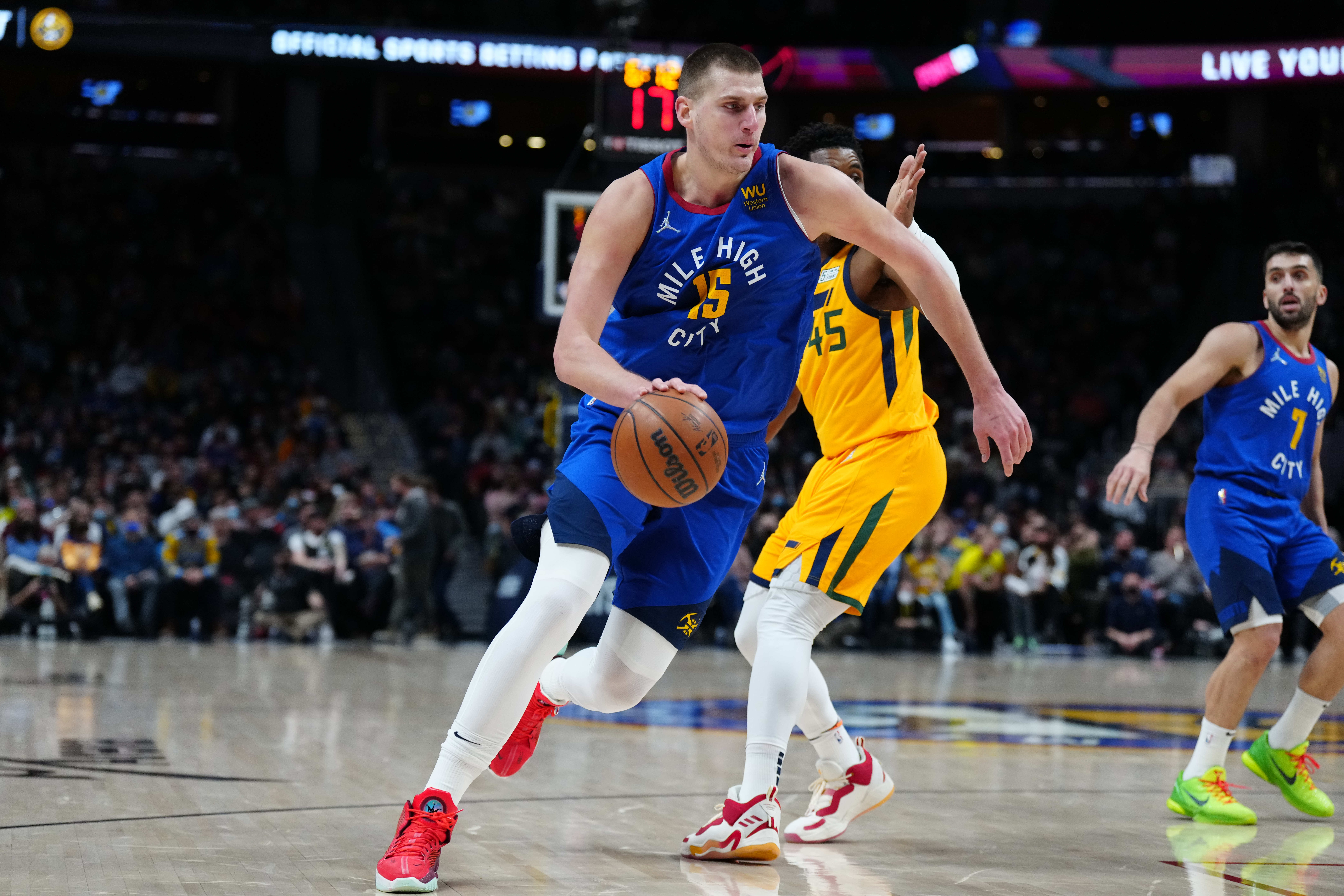 Nikola Jokic recorded his seventh triple-double of the season on Wednesday night with 26 points, 21 rebounds and 11 assists but it wasn't enough as the Denver Nuggets fell to the Utah Jazz 115-109.
"You feel it for him," Nuggets assistant coach Popeye Jones said. "Twenty-six, 21 and 11 and you lose. You feel it for him. Most superstars wouldn't take it. He comes back and he keeps fighting. He's a special guy."
There's not much else Jokic can do that he's not already doing. He mentioned how he'd like his teammates to step up and do the little things whether it's spacing, running to the correct spots, and setting good screens. Monte Morris agreed that more has to be done to help the MVP.
"He's pulling his weight," Morris said of Jokic. "Twenty-one rebounds, 11 assists, 26 points. You can't ask for nothing more than that. We just got to take ownership in ourselves to just help him. Do more. Anything. Rebound more. Help him out more. Help him get rest on defense because he's doing a lot on offense so we just got to turn up our play."
Morris was finally back in action for the first time since Dec. 26. He had been out in health and safety protocols after testing positive for COVID-19. He said he was pretty much asymptomatic besides a "couple mild headaches here and there." He also said he kept up with his shooting, in a way.
"I was just practicing jump shots in my house on my Pop-A-Shot," Morris said with a laugh. "It ain't realistic to a game but kind of kept my shots still there but that's all I was doing besides playing video games."
Morris had talked to Jones about playing between 25-26 minutes but he kept making his shots so Jones kept him in because they desperately needed baskets. He ended up playing 29 minutes and felt pretty good afterward.
"Just had a little cramp up in my stomach but other than that I was good," Morris said. "I was more so worried about my legs being up under me but that wasn't a problem. Other than that I feel good just wanted to get this win. This would've been a big win for us."
Health and safety protocols have been a difficult adjustment for everyone. Denver players are still getting used to not having head coach Michael Malone on the sideline, a guy who is always vocal and letting his players know exactly what they should be doing at all times. Jokic is still impressed with how Jones has taken over in the acting head coach role despite only having three games under his belt.
"It's different," Jokic said. "I have a really good connection and relationship with coach (Malone). Sometimes we just look at each other and know what he wants me to do or what I want him to do so it's different of course but I think he's doing a good job especially since it's his first time doing this job."
Another challenge for the Nuggets was containing Bojan Bogdanovic who scored a season-high 36 points and grabbed 13 rebounds. They knew the Jazz were going to play small and pose a threat at the 3-point line but they waited too long to double team Bogdanovic so he got everything he wanted in the paint.
"If we don't see the defensive energy, physicality, getting up into guys, we struggle," Jones said. "I kept telling the guys, we got to pick up, we got to get up defensively. They made 10 3's in the first half. They were going to play small in the lineup we knew that. We knew it was going to be a challenge for the Joker to matchup with somebody."
Basketball is a game of runs and that's exactly what the first quarter was all about. The Jazz went up 5-0 to start but missed their next six field goals allowing the Nuggets to take a 10-7 lead after an 8-0 run of their own. Utah called a timeout and then responded with a 9-0 run to go up 22-14 with three minutes left. Morris and Bones Hyland knocked down a pair of 3's to make it 22-20 with Jokic assisting on both. Jordan Clarkson and Mike Conley scored consecutive buckets gave Utah the 26-24 lead with 30 seconds left and then JaMychal Green closed the quarter to tie the game at 26.
Clarkson and Conley opened the second quarter hitting back-to-back triples to go up 32-26. Rudy Gay added another 3 to help ignite a 10-2 run pushing the lead to 36-28 and forcing Denver to call a timeout. Aaron Gordon started to get things going offensively for the Nuggets. He knocked down his signature midrange jumper followed by a 3-pointer and a dunk. He scored nine of his 13 first half points in the second, going 4-4 from the field. Bogdanovic was still cooking and scored 11 of his 19 points in the second to help give Utah a 57-56 halftime lead.
Donovan Mitchell had a slow first half start but scored six straight points to give the Jazz the 66-58 lead within the first three minutes of the third quarter. Bogdanovic was still going off and scored 11 more points. The Nuggets couldn't buy a bucket as they went 8 of 21 from the field. Jokic was the only one making shots and put up 12 in the quarter. The Jazz had as much as a 13-point lead but only led 88-80 at the end of the third.
The Nuggets showed some fight in the fourth quarter and cut Utah's lead to three after back to back Morris buckets. The Jazz then went on an 11-3 run taking a ten point lead with just under five minutes left in regulation. With one minute left to go, Will Barton hit a clutch three to make it 113-107 Utah lead. Mitchell missed the basket at the other end giving the Nuggets another chance to score and they did. Jokic dunked the ball to make the score 113-109 with 44 seconds left. Mitchell missed again giving Denver another opportunity. With 12.9 seconds left, Morris went up for the 3 and missed it. Bogdanovic hit two free throws to win it for Utah 115-109.
Morris came up big off the bench in his first day back registering 20 points. Will Barton added 20 points.
Denver hosts the Sacramento Kings on Friday night before hitting the road to take on the Oklahoma City Thunder and Los Angeles Clippers. After that the Nuggets will have the luxury of hosting six straight home games.