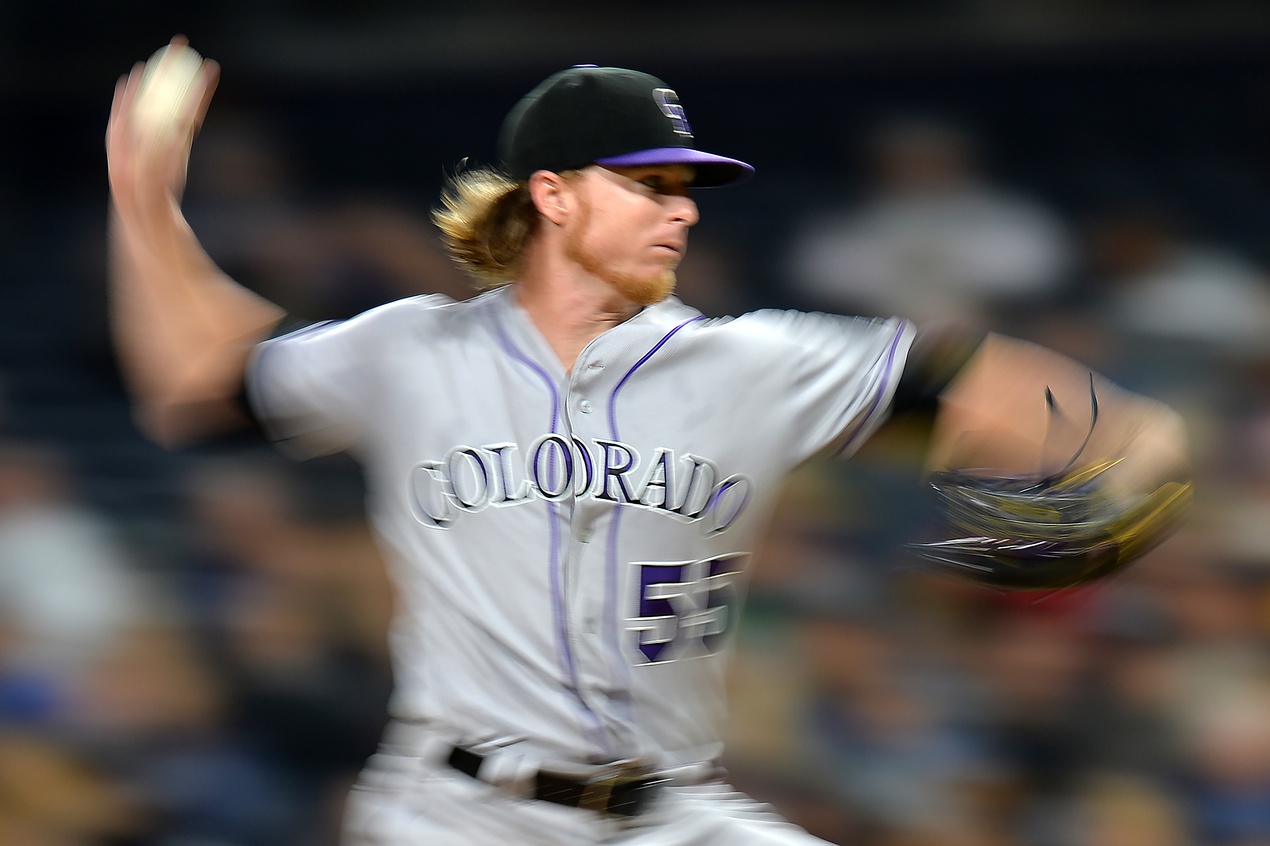 When the Rockies take the field for tonight's National League Wild Card game in Arizona, the man on the mound will divert attention from MVP candidates Nolan Arenado and Charlie Blackmon. Jon Gray, the third overall pick in the 2013 draft — and the Rockies' most-promising starter — will take his 10-4 record into the desert, hoping to lead his club back out of it and on to Los Angeles, where the 104-win Dodgers await.
Gray has been rolling since late July, sporting a 7-3 record in his last 13 starts, to go along with an impressive 2.64 ERA and an 80-to-16 strikeout-to-walk ratio. On the road, he's been even better of late, going 4-0 with a 1.44 ERA in his last four outings away from Coors Field — including his most recent start in Arizona, where he went seven innings and allowed only two runs in the Rockies' 4-2 victory on Sep. 12.
He's been missing bats, too — Gray struck out 10 Diamondbacks in that game, and didn't walk even one. Gray has quickly, and unquestionably, become the Rockies' best starting pitcher, but don't call him an "ace" — not yet, at least.
"This whole concept of 'ace'; I think a lot of it is a 'look-back' term in a lot of ways. You look back and… Roger Clemens really was an ace, right? Nolan Ryan, Sandy Koufax, Tom Seaver; some of those guys," Rockies general manager Jeff Bridich said on Tuesday. "Now, there are guys [like that, but] injuries play such a big part of these seasons now. Felix Hernandez? Everybody labeled him an 'ace' for the Mariners' staff for so many years. Is he an 'ace' now, because he had a tough year physically? We don't really pay a whole lot of attention, honestly, to those sorts of terms. I think if anything, it's a term that represents the type of talent that a guy has — and Jon certainly has that type of talent — but I don't think that there is one common definition of 'ace' that everybody uses across the game, and so it really doesn't matter."
Bridich is right; whether you call Gray an 'ace' doesn't matter. At least, not for the biggest game of Gray's young career; not that he sounds nervous about it. "I have a lot of positive emotions coming in here [Chase Field], and it leads me to think it's going to be a lot of fun," said Gray, smiling through his impossible-to-miss, flowing red locks. "I don't think it's going to be a tight game for me. I don't think I'm going to be feeling that nervous. I'm just going to go out there and control what I can. The results are the results. But the effort is going to be 100 percent for me."
In a winner-take-all game; labels don't matter. Whether you consider Jon Gray an 'ace' or not, he represents the Rockies' best chance to advance to the National League Division Series for the third time in 10 years. If he out-duels Diamondbacks superstar Zack Greinke on Wednesday, all of baseball will have to take notice — no matter what they call him.