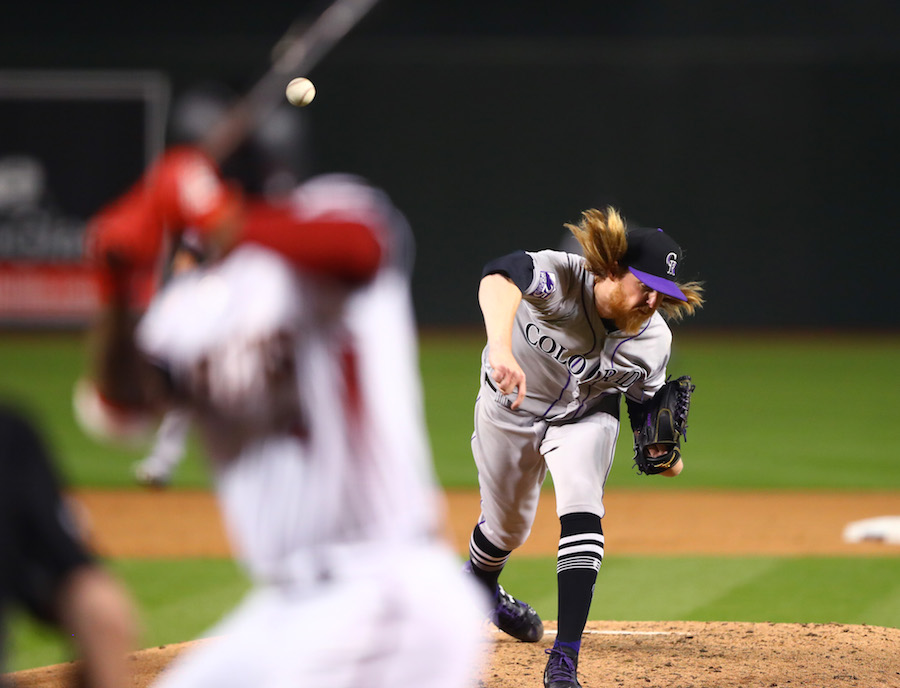 For the second time in as many outings against the Arizona Diamondbacks, Jon Gray put his team behind the 8-ball early in a big game.
In the 2017 N.L. Wild Card loss to Arizona, Gray allowed three runs on a pair of singles and a home run before recording and out. On Opening Day 2018, a pair of singles and a walk to load the bases all eventually came home to score in the bottom of the first inning. The Rockies went on to lose both games.
The reason Gray struggled again in the first inning, Manager Bud Black said postgame, is simple.
"Pitches up," Black told AT&T Sports Net Rocky Mountain following the loss. Black then offered a blow-by-blow explanation of exactly what went wrong against the first four hitters Gray faced.
"You know, the pitch to [David] Peralta — a little bit up. Ahead in the count to [A.J.] Pollack — hanging breaking ball. Tough at-bat to [Paul] Goldschmidt a walk, a 3-2 walk — some pitches around the plate though. And then the hanging breaking ball to [Jake] Lamb — up."
The MLB Statcast data from those four hitters backs up Black's claim. Each of the three balls put in play for hits were in the middle-third of the strike zone (top to bottom). Here's MLB.com's pitch-by-pitch and graphic representation of each of those at-bats.
David Peralta – 0 on, 0 out – 3-2 Count – Single (Four-Seam Fastball)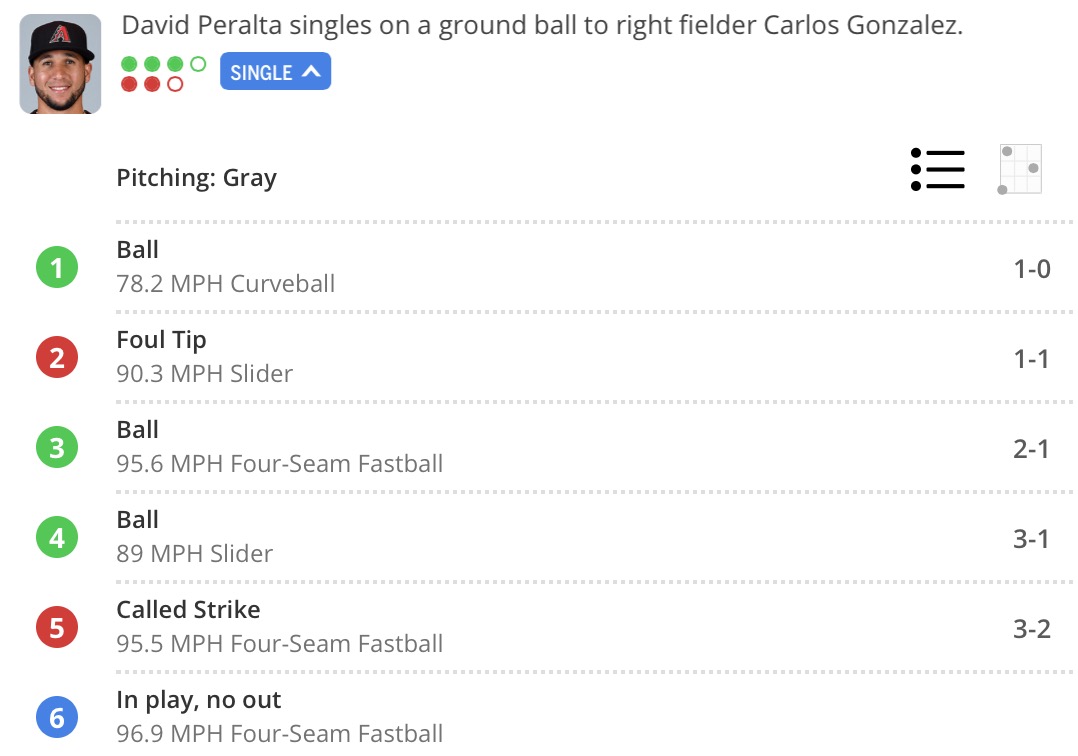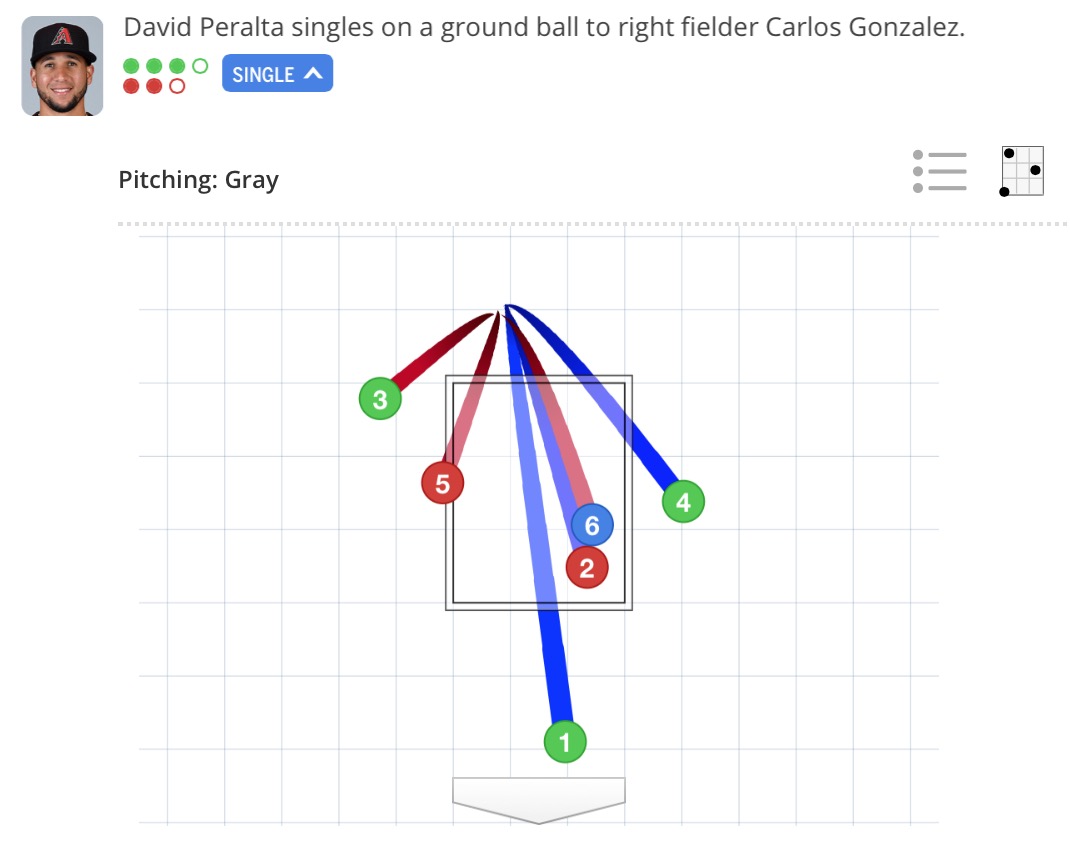 A.J. Pollock – 1 on, 0 out – 0-2 Count – Single (Slider)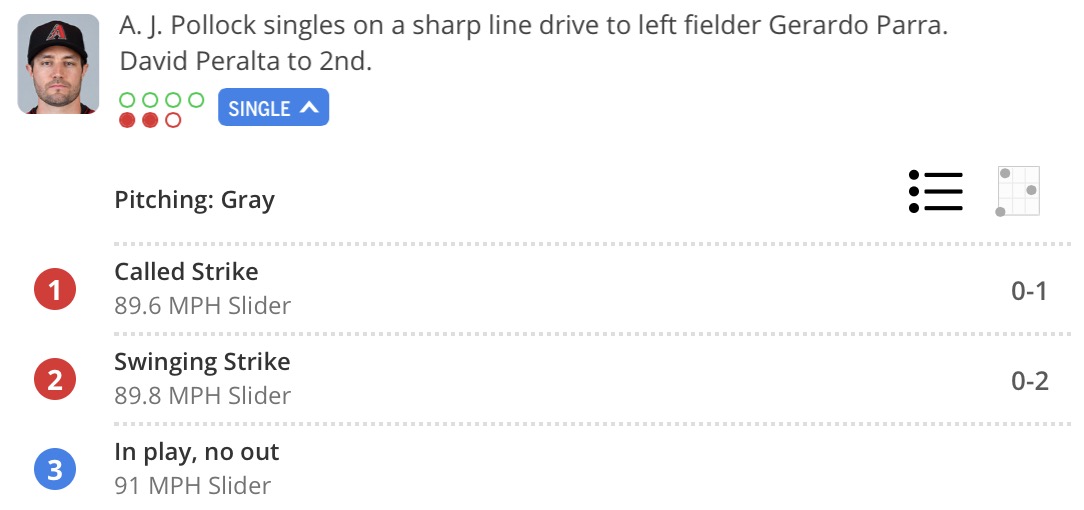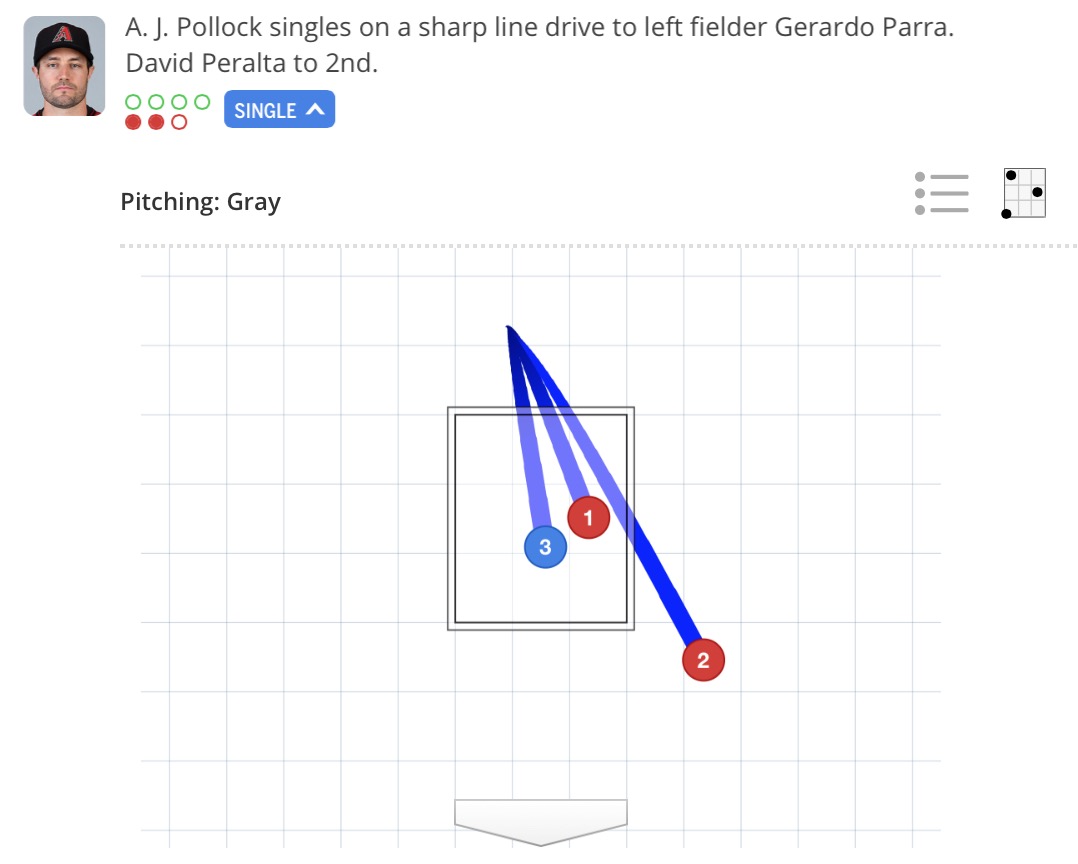 Paul Goldschmidt – 2 on, 0 out – 3-2 Count – Walk (Four-Seam Fastball)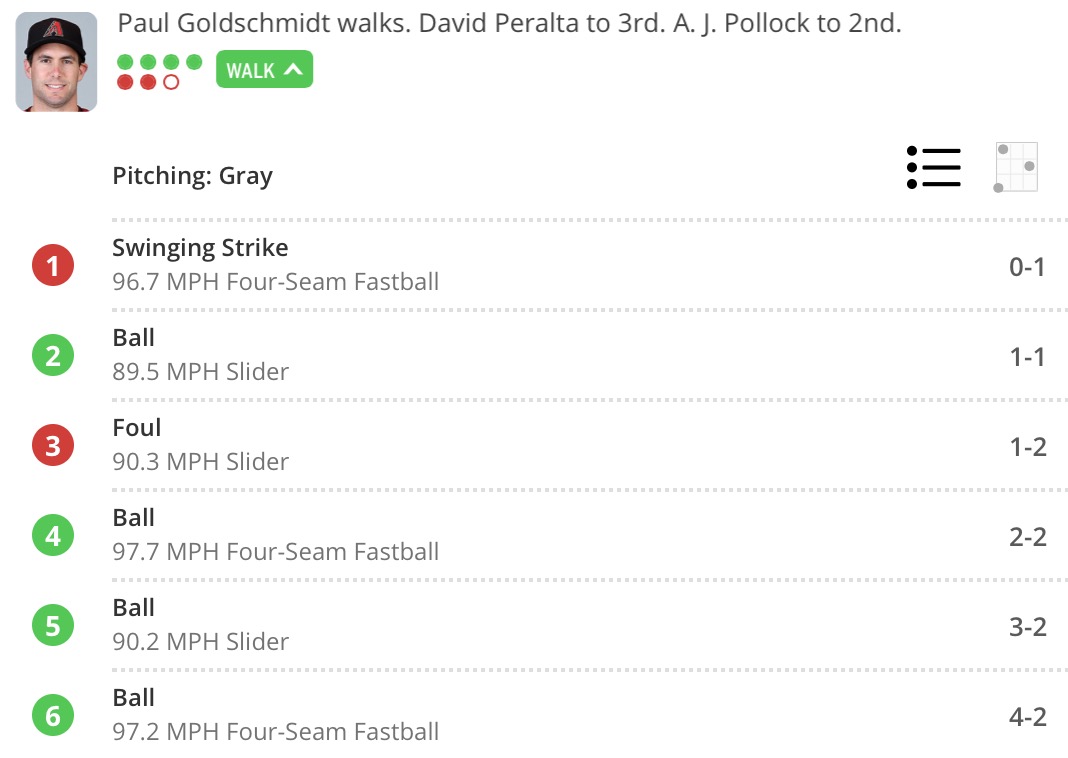 Jake Lamb – 3 on, 0 out – 0-0 Count – 2-RBI Double (Curveball)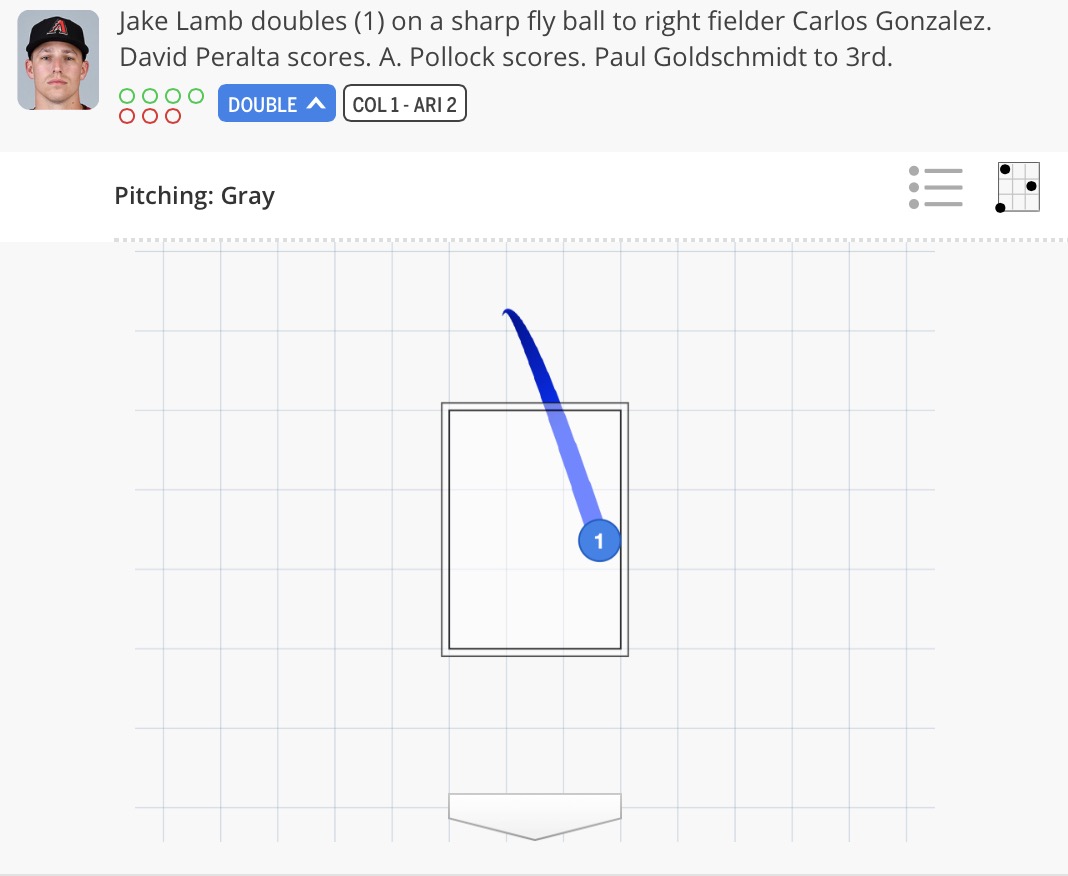 "So?" Black continued, "You can't pitch 'up' to big-league hitters. At times, you might catch a break — you know, pop it up or take it [or] foul it off — but tonight that wasn't the case in that first inning."
Gray had pitcher's counts on both Pollock (0-2) and Goldschmidt (1-2), but was unable to put them away. Black was quick to credit his No. 1 starter's turnaround after that rocky first inning, though.
"Then he righted the ship," Black continued. "Then I think he tired a bit in the end. When you throw 30 pitches in the first inning, that might come back to haunt you a little bit as the game goes on. But, I thought the middle — the second, third, fourth [innings] — he hung in there. Made some pitches. But, the first inning was a bit of a back-breaker for us."
The three runs allowed in the bottom of the first inning came on the heels of Rockies second baseman DJ LeMahieu giving Colorado an early lead thanks to a one-out home run in the top half of the inning. Colorado did not lead again in what became an 8-2 final score.
Gray in the later innings started pitching exclusively from the stretch, instead of a full windup. It was a decision the 26-year-old made on his own, Black said.
"He just felt comfortable … His indication to [Pitching Coach Steve Foster] and I was that he felt as though he was making better pitches out of the stretch than the windup. It's as simple as that."
Gray finished the night with four-plus innings pitched, allowing three runs on six hits while striking out four and walking three. He struggled again in the fifth inning, allowing another leadoff hit to Peralta, then walking Pollock and Goldschmidt to load the bases.
Chris Rusin helped Gray's line stay within reason, delivering a clutch relief effort by stranding the three runners after entering the game with no outs.
Statcast data suggests that Gray may have been tiring, as Black suggested.
David Peralta – 0 on, 0 out – 1-1 Count – Single (Slider)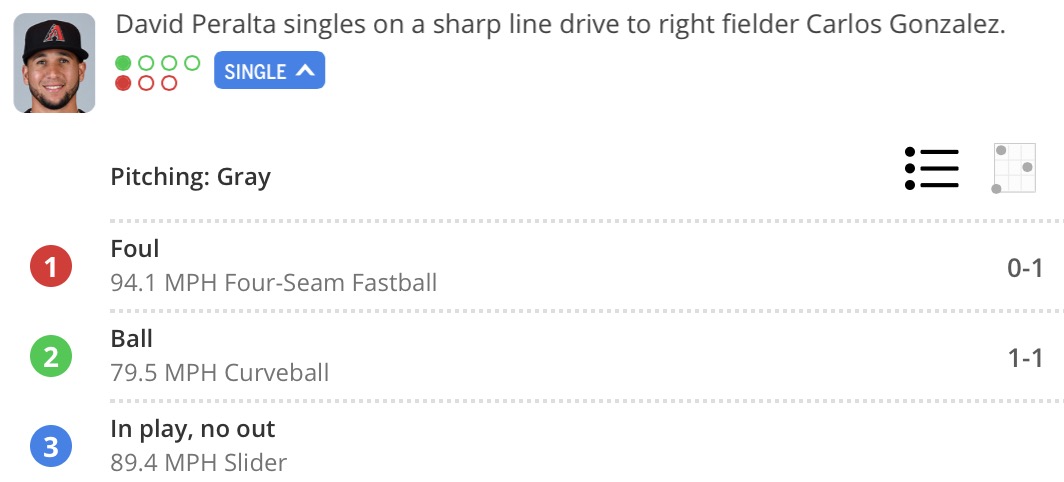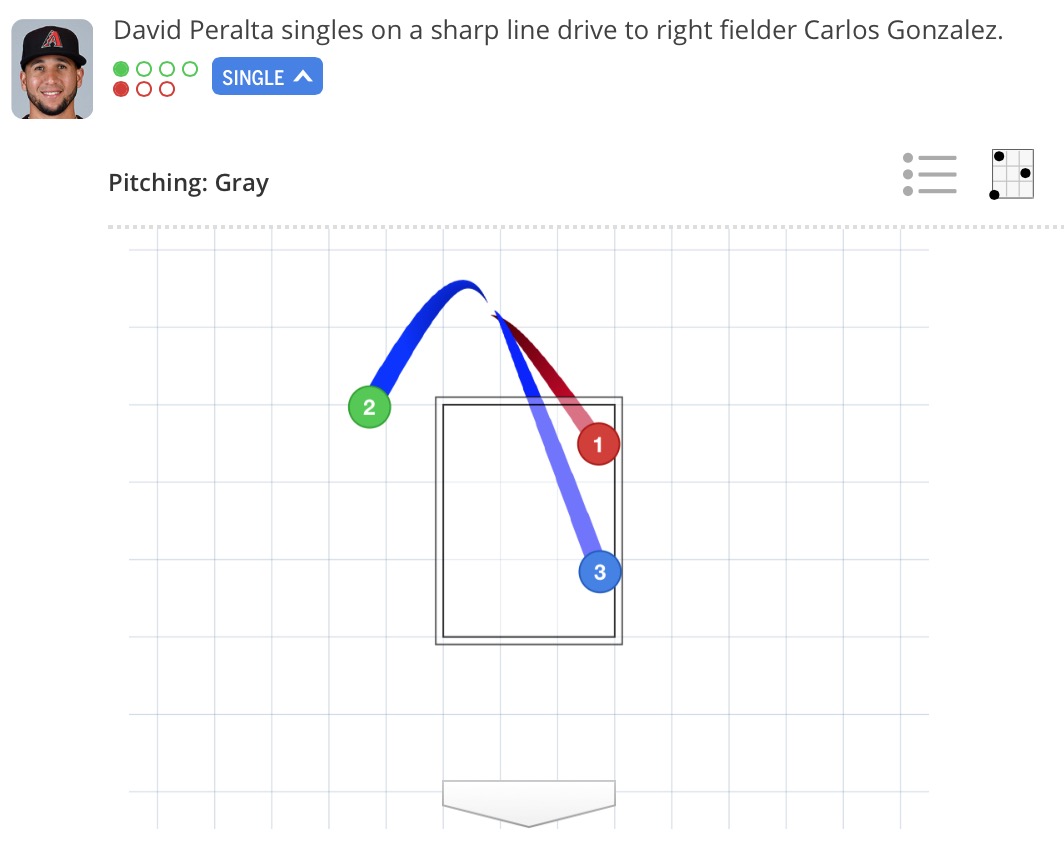 A.J. Pollock – 1 on, 0 out – 3-0 Count – Walk (Four-Seam Fastball)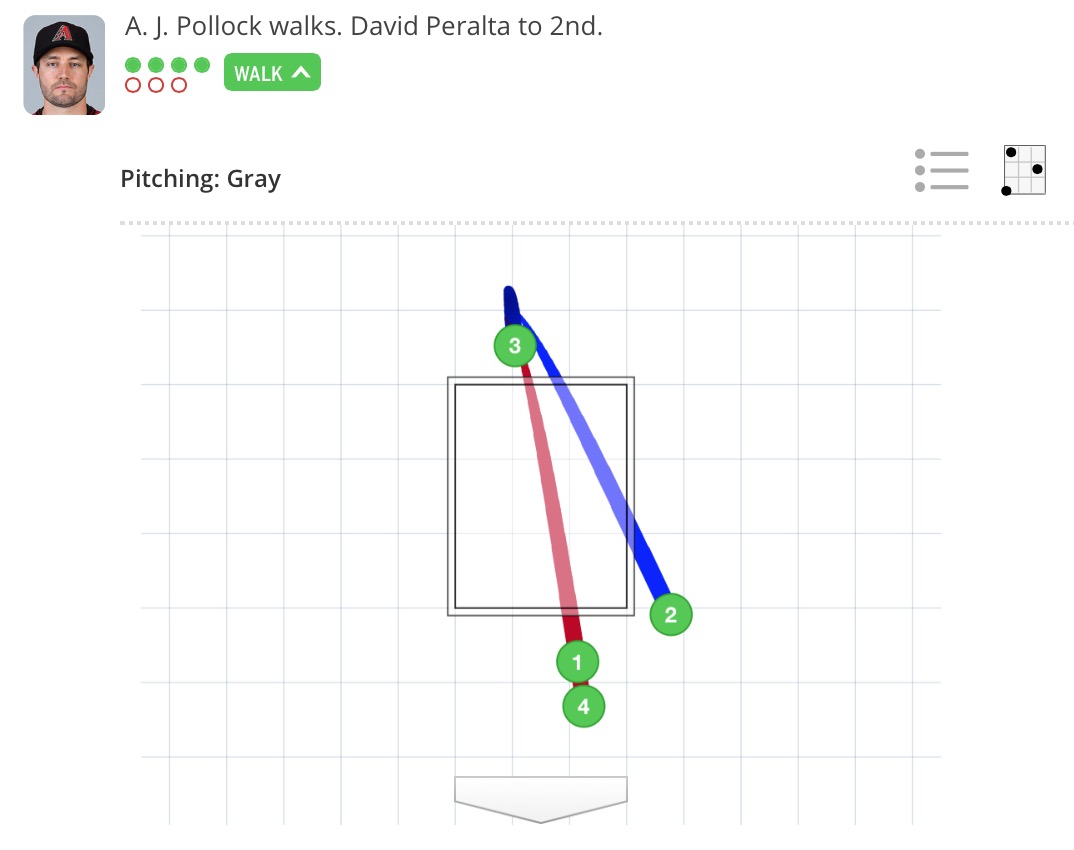 Paul Goldschmidt – 2 on, 0 out – 3-2 Count – Walk (Slider)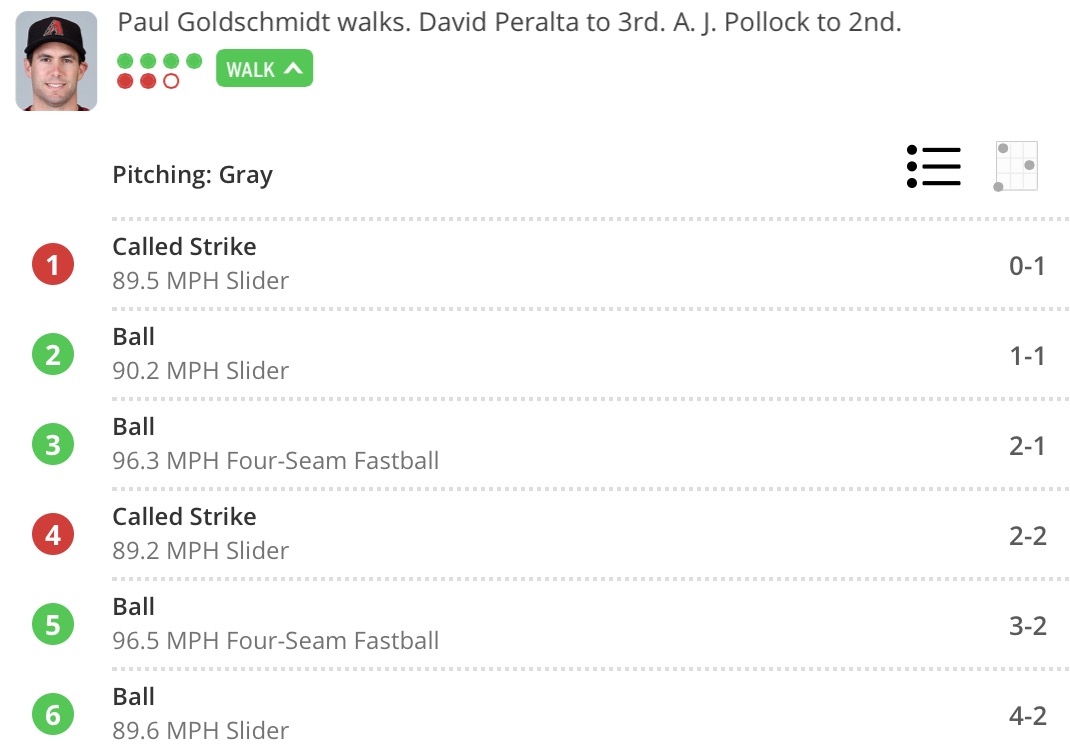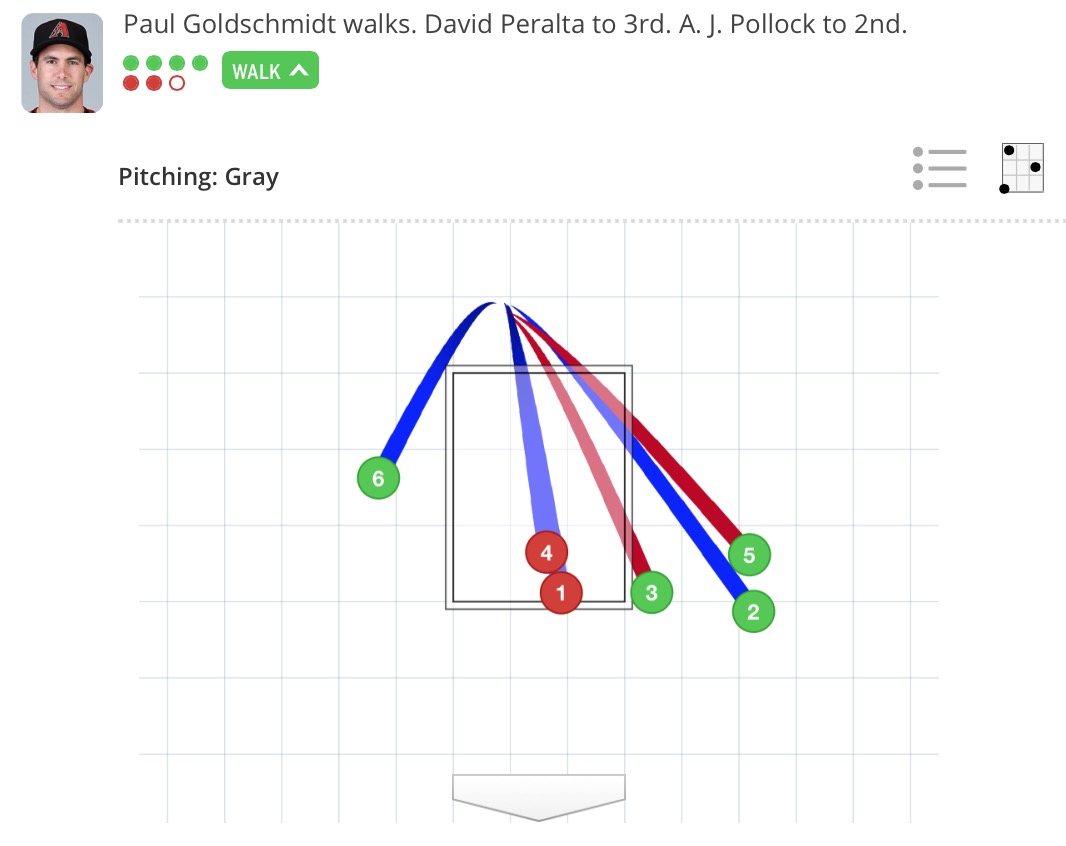 Gray had a similarly rocky fifth inning on Opening Day 2017, when the Brewers touched him for five runs without retiring a batter. The good news for Gray is that he responded with a better start in his second game last year, pitching 5.1 innings and allowing just one run against the Dodgers.
Black has not announced his starters for the second series of the year, which begins Monday in San Diego, but Gray would conceivably be in line to start the finale on Wednesday based on a five-man rotation.